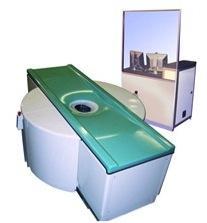 KBCT system image courtesy of Koning Corp.
 
November 16, 2015 — Koning Corp. announced the first commercially available 3-D breast computed tomography (CT) scanner that overcomes the current limitations in 2-D diagnostic mammography. Koning's technology, the Koning Breast Computed Tomography (KBCT) system, eliminates overlapping tissue concerns and addresses a common patient complaint – breast compression.
The KBCT was approved by the U.S. Food and Drug Administration (FDA) as a diagnostic device in February 2015 and is the first commercially available 3-D breast CT scanner designed specifically to image the entire breast with a single scan. Through the application of 360-degree multi-slice acquisition, breast tissue may be reviewed in multiple planes or in "genuine" 3-D reformation and at dose levels similar to diagnostic mammography. The system is designed to provide breast imaging specialists with the ability to view breast tissue with tools that have been in use for decades by CT body and neuro imagers.
The system offers several advantages to patients:
Image detail - Integrating conventional CT technology into this dedicated breast imaging device results in excellent spatial and contrast resolution in multiple planes. In addition, image information of the uncompressed breast produces a spatially representative mode, allowing accurate measurement of size, volume and density of breast tumors.
Comfortable prone positioning - Unlike upright conventional mammography, which requires specially trained technologists who use their skills to obtain an acceptable mammogram, KBCT image acquisition allows the patient to lie in a comfortable and natural prone position with minimal technologist manipulation of the breast tissue and without compression.
Other advantages from KBCT include 3-D targeting for minimally invasive breast biopsy (MIBB), and an alternative to magnetic resonance imaging (MRI) for neoadjuvant therapy monitoring and disease staging.
Approximately 1,000 patient scans on KBCT were conducted at Elizabeth Wende Breast Care, Rochester, New York, and the University of Rochester Medical Center. Additional collaboration at the UMass Memorial Medical Center, Worcester, Massachusetts, culminated in a large reader study conducted at the Medical University of South Carolina (MUSC) with Etta Pisano, M.D., a breast imaging expert, serving as the reader study principal investigator.
"I have been very impressed with the quality of the Koning images. It will be helpful to radiologists in identifying the true location of known lesions and providing diagnostic accuracy," said Pisano. "I believe 3-D imaging will supplant 2-D imaging in the future."
The KBCT technology will be displayed at the annual meeting of the Radiological Society of North America (RSNA), Nov. 29 – Dec. 4, 2015, in Chicago.
For more information: www.koningcorporation.com