May 25, 2023 — According to an accepted manuscript published in ARRS' own American Journal of Roentgenology (AJR), deep learning–based computer-aided diagnosis (CAD) for breast lesion classification on ultrasound significantly improved radiologists' diagnostic performance—particularly for reducing the frequency of benign breast biopsies.
Compared with the literature supporting CAD at tertiary and/or urban centers, results from this prospective multicenter study of radiologists without breast ultrasound expertise "support CAD in settings with incomplete access to breast imaging expertise," wrote corresponding author Li-Gang Cui, MD, from Peking University Third Hospital in Beijing, China.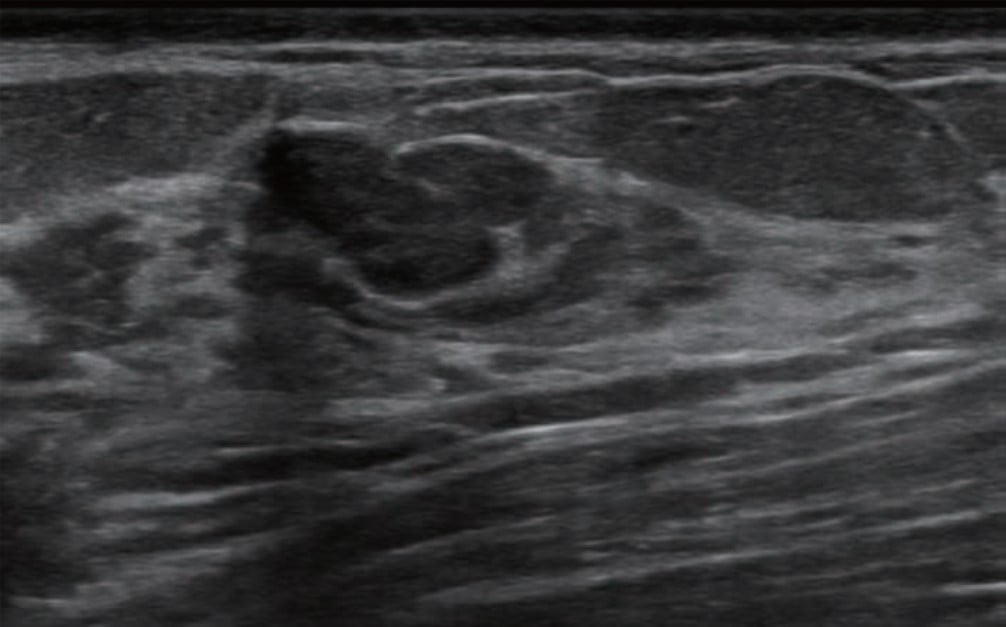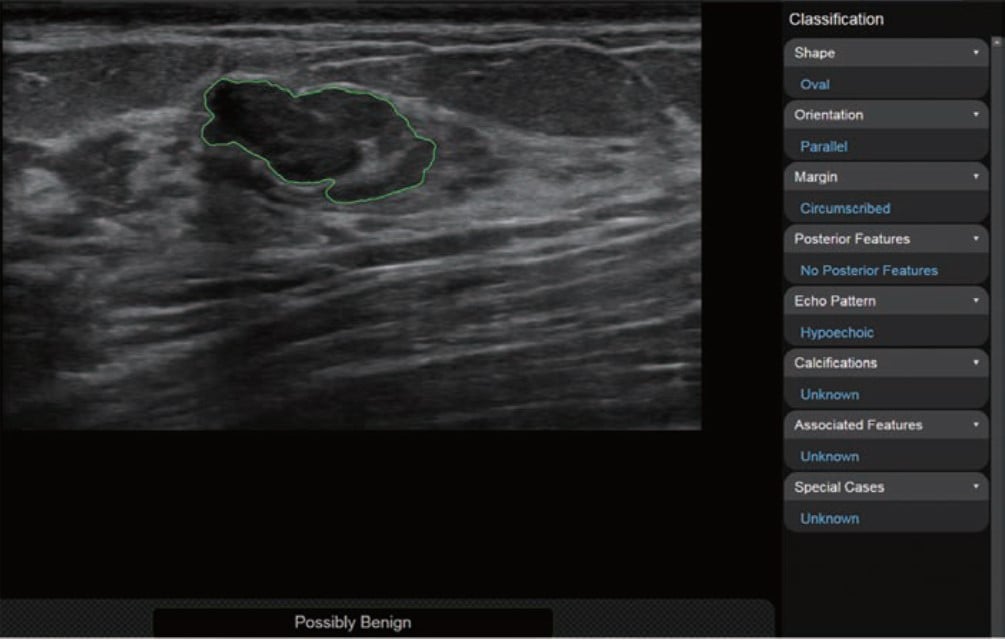 52-year-old woman who underwent prior breast ultrasound due to MRI abnormality, which showed suspicious breast lesion measuring 1.3 cm. Subsequent ultrasound was performed by radiologist without breast ultrasound expertise for investigational purposes. 
Top: Long-axis gray-scale ultrasound image shows hypoechoic lesion. Lesion was classified by study radiologist as BI-RADS category 4A. Bottom: Long-axis greyscale ultrasound image shows results of CAD analysis. CAD provided result of "possibly benign" for both images. Lesion was therefore downgraded to category 3 based on CAD output. Pathologic assessment based on surgical resection was fibroadenoma.
Cui et al.'s AJR study included patients scheduled to undergo biopsy or surgical resection of a breast lesion, classified as BI-RADS category 3-5 on prior breast ultrasound, at eight Chinese secondary or rural hospitals from November 2021 to September 2022. Patients underwent an additional investigational breast ultrasound, both performed and interpreted by a radiologist with no expertise in the modality. Hybrid body-breast imagers—radiologists lacking breast subspecialty training or in whom breast ultrasound accounted for less than 10% of their ultrasounds performed annually—then assigned a BI-RADS category. CAD results were used to upgrade reader-assigned BI-RADS category 3 lesions to category 4A, as well as for downgrading BI-RADS 4A lesions to 3. Histologic results of biopsy or resection served as the researchers' reference standard.
Ultimately, application of CAD to interpretations by radiologists without breast ultrasound expertise resulted in upgrade of 6.0% (6/100) of BI-RADS category 3 assessments to category 4A, of which 16.7% (1/6) were malignant, and downgrade of 79.1% (87/110) of category 4A assessments to category 3, of which 4.6% (4/87) were malignant.
Because institutions lacking breast imaging expertise may also suffer from capacity issues to perform image-guided breast biopsies and pathologic evaluation of biopsy specimens, decreasing benign biopsies care of CAD "would be impactful," the authors of this AJR accepted manuscript added.
For more information: www.arrs.org
---
If you enjoy this content, please share it with a colleague