Dave Fornell is the editor of Imaging Technology News magazine and Diagnostic & Interventional Cardiology magazine.
COVID Greatly Reduced RSNA Attendees But Vendors Were Very Happy
Customers are packed into the Siemens booth for conversations and demonstrations, despite attendance being one-third the usual number of attendees. Photo by Dave Fornell.
A key takeaway from the 2021 Radiological Society of North America (RSNA) meeting was that size does not always matter. Despite RSNA in-person professional attendee numbers being down by about two-thirds from 2019 pre-pandemic numbers (down to about 11,000 in-person professional attendees in Chicago), the expo floor seemed very busy. Vendors also universally said they had more focused interactions with attendees than in previous pre-pandemic years. 
I was expecting a slow expo floor and booths being largely empty. I expected to complete walking the floor and visiting the booths I wanted to see in the first two days. But I was wrong. I was busy until the end of the four days of expo floor hours. The show was very much alive and I found many booths I went to were actually packed with people. Not the crazy, packed-solid crowds of some pre-pandemic RSNA's in the past, but still very busy. I found in many booths it was hard to get access to a workstation for demos, because there were more people than expected showing up from hospitals for demonstrations.
RSNA reported preliminary attendance numbers the first day of the show. RSNA is usually around 60,000 attendees, split about 50-50 between professional and vendor attendees. This year, on-site registration was at 21,300, which was also split roughly in half between 11,200 professional attendees and the balance being vendors. There also were about 5,400 virtual-only professional attendees online. Combined, this adds up to about 26,400 attendees.
Several vendors told ITN they had very meaningful conversations with attendees who stopped at their booths for demos. The consensus from vendors I spoke with was that after two years of not being able to see products in person, and now that healthcare organizations have a better handle on the new normal of working in the COVID-era, hospitals and clinics have decided to move ahead with buying decisions. Many of the planned capital expenditures from 2020 were put on hold with the uncertainly the pandemic held, especially after many providers shut down non-essential services for three months in an effort to curb infection rates and lost a lot of revenue. There now appears to be a thaw in the expenditure freezes from the past year.
COVID-19 remains the elephant in the room that will impact all medical conferences into the future until the pandemic ends. It is a wild card, and it can make or break a show. It all depends on the timing, the local positivity rates, if there is another major wave of cases that prompts hospitals to implement travel restrictions for clinicians, and what precautions the conferences implement.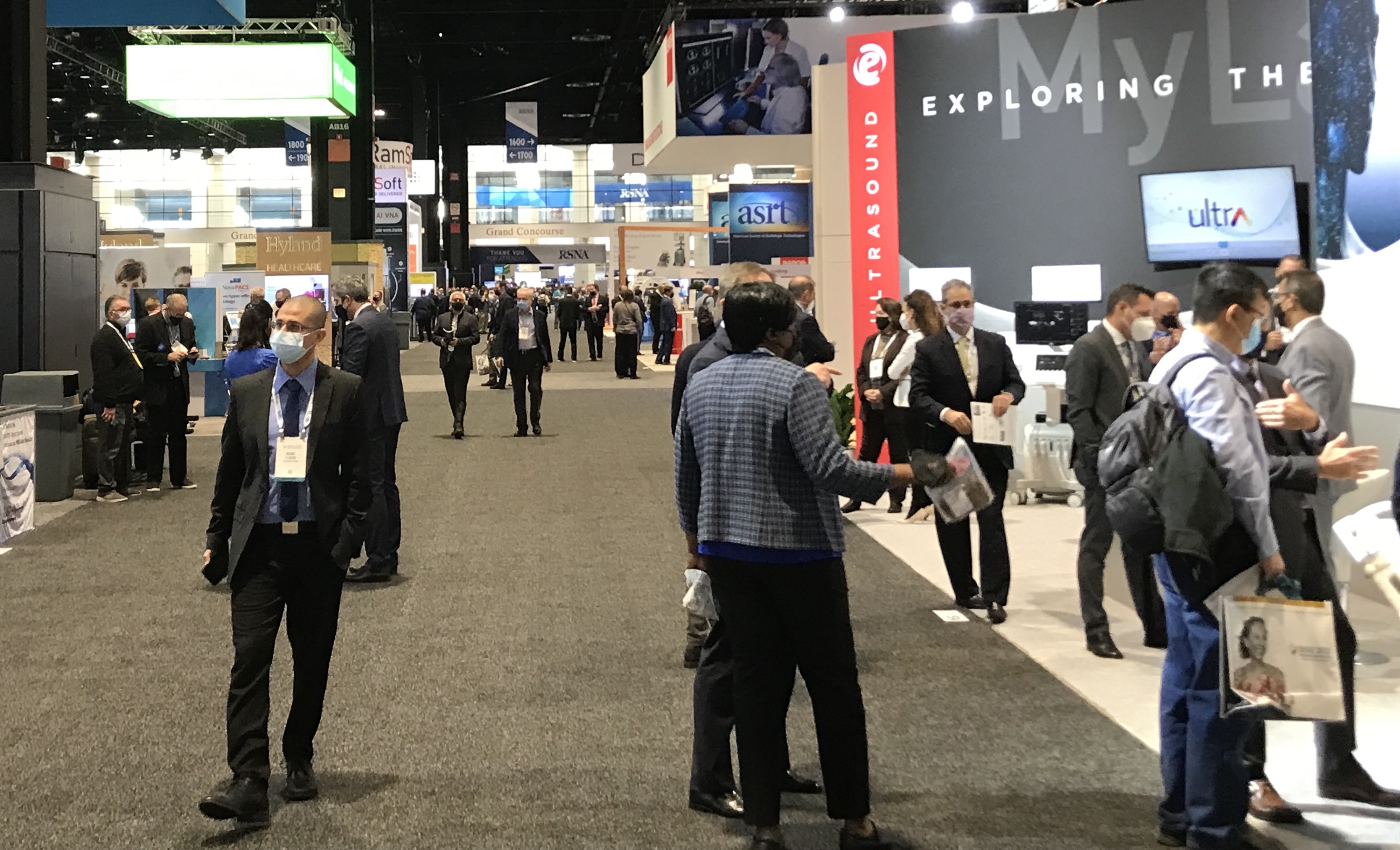 The RSNA 2021 show floor was very busy despite a lower numbers of attendees.
Subscribe Now