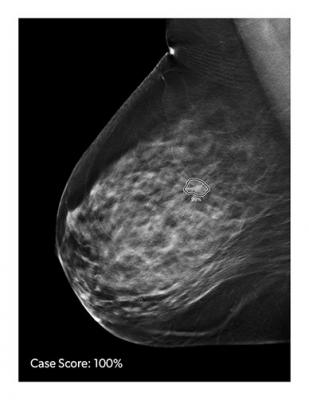 iCAD's ProFound AI is one example of artificial intelligence used to improve detection of anomalies in radiological images. The software identifies breast lesions and assigns a score representing its confidence the lesion is malignant.
Much has been made in recent years about the explosion of artificial intelligence (AI) in radiology and how it might impact the role of radiologists themselves. But artificial intelligence is, by definition, artificial. In an itnTV video from the 2018 Radiological Society of North America (RSNA) annual meeting, ITN Contributing Editor Greg Freiherr explored how AI cannot take the place of people, but it can help people get what they need. You can view the video at https://bit.ly/2FMgDvH.
"I doubt any radiologist could build an MR or a CT scanner from scratch. They probably couldn't even build it from pieces," said Bradley J. Erickson, M.D., Ph.D., chair, radiology informatics/associate chair, research-radiology at the Mayo Clinic in Rochester, Minn., in the itnTV video. "I think the same is true with artificial intelligence — they need to know the general principles of how it works and how it can fail, just like with MR and CT. We have to be very careful about the way these algorithms are trained and tested."
Rita Patel Jackson, head of global marketing, AI and analytics solutions for GE Healthcare, echoes the same sentiment. "Artificial intelligence has matured to a point that it's perfect for healthcare, and I think healthcare is ready for it. There is a huge need for AI to help augment patient care," she said.
While much progress has already been made, the continued growth of AI may rely on partnerships across the industry. "The evolution of AI will be vendor and provider hand-in-hand, working together to bring this technology further. I don't see it stopping. I don't think there's an endpoint," said Bill Lacy, vice president of medical informatics for Fujifilm Medical Systems USA in the itnTV video.
The Linchpin of AI Application
One of the technologies Freiherr highlighted at RSNA 2018 was the launch of Philips Healthcare's IntelliSpace Discovery 3.0. According to Freiherr, the third-generation platform serves as a linchpin connecting AI developers with the clinical data needed to train and validate new algorithms.
IntelliSpace Discovery 3.0 prepares patient data by aggregating and anonymizing it to protect patient privacy — an essential step in the use of clinical images. "It gives you the tools to create your own intelligence. It gives you the data legs to apply it too, and it gives you the tools to get validation for your algorithms," said Jeroen Tas, chief innovation and strategy officer for parent company Royal Philips. "You want to make sure that the predictive capability of your AI is consistent, and is consistent to the datasets. You may want to apply it to other datasets and test the consistency of that algorithm on another dataset."
AI to Improve Image Acquisition
While a lot of attention is being paid to interpreting images, artificial intelligence can also be used to improve their acquisition.
In the itnTV video, Philips Healthcare highlighted a second technology called VitalEye that can automatically make adjustments to scanning parameters for patient positioning. For example, if the patient is nervous and breathing heavily. "It's a camera system that is detecting optical — that is detecting the motion of the body habitus — and is adjusting for breathing, heart rate and respiratory variation. [It] changes the protocol and triggers the acquisition so that all of the motion-related artifacts are out of the process," said Sham Sokka, vice president and head of radiology solutions for Philips.
Another RSNA 2018 exhibitor, Imalogix, demonstrated how its AI algorithms can ensure that computed tomography (CT) scans are aligned properly to minimize the radiation dose exposure to the patient.
"Most CT studies, it really makes a big difference how centered you are. If you're more than 3-6 centimeters off, it could drastically impact the dose that the patient is receiving, but more importantly it's the image quality," said Imalogix Chairman and CEO John Heil in the itnTV video.
Heil added that Imalogix is not just an AI consultant, but wants to partner with vendors and healthcare organizations on mining their data, then analyze it and compare their performance to other Imalogix clients. In the U.S., one of those vendor partners is Guerbet, which resells a version of the Imalogix AI.
"We think it fits quite nicely into our portfolio of solutions, because again, it's focused on efficacy, productivity and traceability for our customers," said David Hale, chief commercial officer for diagnostic imaging at Guerbet in the itnTV video.
AI Algorithms to Improve Detection
Another popular use of AI Freiherr highlighted in the itnTV video was improving detection of various conditions in a radiological image.
iCAD displayed a new AI-fueled software, ProFound AI, designed to improve the detection of breast cancer in a mammogram. Each detected lesion is assigned a score from 0-100 representing the algorithm's confidence in the lesion's malignancy. The score is based on the volumes of data used to train the algorithm. "It is a true tomosynthesis solution that looks at every single tomosynthesis slice in detecting soft tissue densities and calcifications," said Rodney Hawkins, vice president of marketing for iCAD in the itnTV video. ProFound AI was still pending U.S. Food and Drug Administration (FDA) clearance at RSNA 2018, but it was cleared in December.
GE Healthcare showcased a prototype AI detection algorithm at RSNA 2017 that could flag chest X-rays showing signs of pneumothorax (a collapsed lung) in patients leaving the operating room. That algorithm has since been incorporated into the suite of algorithms in a new GE offering at RSNA 2018, the Edison platform. "The Edison platform ... enables us to build artificial intelligence at scale, but more importantly deploy it in an invisible manner into the workflows in the healthcare system that are already trusted, whether that's a device or a screen that the clinician is already using," Karley Yoder, director of product management, AI for GE Healthcare, told Freiherr in the itnTV video.
"In the case of diagnosis, I think that it will be able to pull a lot of information together that we humans sometimes can't pull together. We're seeing that in the case of radiogenomics, that it can predict genomic markers that we humans simply can't perceive, at least not today," Erickson said in the video.
Incorporating Third-party AI Algorithms Into Your PACS
Fujifilm demonstrated at RSNA 2018 how it can integrate AI from third-party developers along with its own applications in version 5 of its Synapse PACS (picture archiving and communication system). Examples of third-party AI partners rolled into Synapse 5 include Koios Medical, Lunit and Riverain Technologies.
"We see the radiologists as in a cockpit — and like in the airline industry, 95 percent of your time in an airplane is automated. That doesn't mean the pilots are gone. We're going to be steering physicians, making sure that they're focused on the right areas, making sure that quality is increased, ensuring things aren't missed and ensuring we can go faster to a proper diagnosis," Fujifilm's Lacy told Freiherr in the itnTV video.
AI Task Automation
AI may have a substantial effect on the practice of medicine, so much so that it transforms the role of radiologists. The technology has the potential to make the practice of medicine faster by automating routine and time-consuming practices. Erickson also told Freiherr he believes that in some cases, AI will drive more quantitative imaging. The quickening of the diagnostic process that may occur could shorten the time to treatment. But the overarching promise of AI is to provide more time for physicians to interact with patients.
"Artificial intelligence is a really broad technology that can be used in almost any case where a human does something that is very patterned," Erickson said in the itnTV video. "Over the next few years, we will have more and more of these focused tasks, and very soon a lot of the mundane tasks can be handled by AI, and it will really let radiologists focus on the interesting work."
Related AI in Radiology Content:
Artificial Intelligence 2018: What Radiologists Need to Know About AI
Technology Report: Artificial Intelligence 2017
VIDEO: RSNA Post-game Report on Artificial Intelligence
VIDEO: AI in Tumor Diagnostics, Treatment and Follow-up
VIDEO: Artificial Intelligence May Help Reduce Gadolinium Dose in MRI