The Xoft Axxent Controller, balloon and mini X-ray source assembled to simulate use during IORT.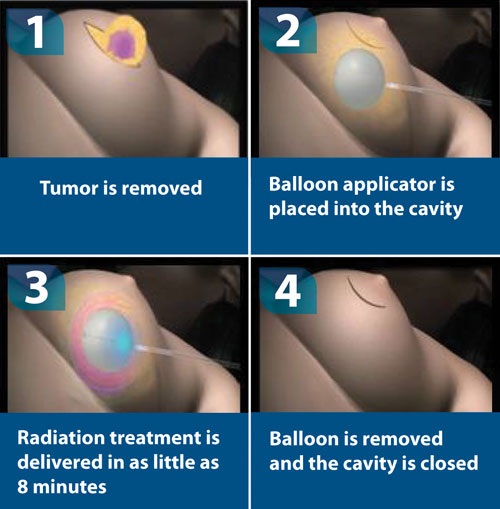 During the Xoft Axxent brachytherapy procedure, a balloon applicator is placed in the tumor cavity during surgery to administer the radiation dose directly to the site.
In recent years, intraoperative radiation therapy (IORT) has been growing in acceptance in the U.S. as an alternative to traditional external beam radiation therapy (EBRT) for patients with early-stage breast cancer. For patients meeting appropriate selection criteria, the benefits are clear — shorter treatment times, added convenience, lower costs and fewer complications.[1, 2] Our experience at Rose Medical Center has demonstrated that IORT is as valuable and cost-effective for our medical practice as it is for our patients.
In November 2011, Rose Medical Center became the first hospital in Denver to offer IORT with the Xoft Axxent Electronic Brachytherapy (eBx) System, a localized form of brachytherapy that allows breast surgeons and radiation oncologists to work together to treat early stage breast cancer in one day, at the time of lumpectomy. This procedure offers a number of patient benefits, as it allows women who are candidates for IORT to replace six to eight weeks of daily radiation treatments with just one dose. 
Women who are candidates for IORT are also more likely to comply with the complete course of their radiation treatment. A recent study found women who live in more rural areas of Queensland, Australia, are less likely to follow through with radiotherapy. Distance is cited as the primary reason women opt for mastectomies over other forms of treatment.[3]
This echoes the findings of another study that found an inverse correlation between distance to treatment center and patient compliance; the farther breast cancer patients must travel to get treatment, the less likely they are to finish their course of radiation.[4]
Patient-centric Leader
Providing a complete course of radiation in one dose at the time of lumpectomy with the brachytherapy system allows us to deliver the appropriate dose of radiation in as little as 8 minutes, streamlining treatment for the patient and saving valuable hospital resources. This, in turn, allows hospitals that offer IORT to treat more patients in less time and accelerate patient management through improved coordination of care.
Offering IORT has not only positioned Rose Medical Center as a patient-centric leader in the Denver community, it has helped to expand our comprehensive breast care program and has resulted in unprecedented growth for our practice as a whole. 
Since the launch of our IORT program, the overall number of patients with breast cancer treated at Rose Medical Center increased by 7 percent from 2011 to 2012, reversing a declining trend from the previous two years.[5] By implementing this new technology, we also increased patient referrals.[5]
Our IORT program has also encouraged growth in other treatment areas at Rose Medical Center. Breast surgeries increased by 16 percent from 2011 to 2012, and outpatient throughput increased by 20 percent. Radiation treatments grew by 1.5 percent, and unique patients went up by 14 percent. We feel that this, in part, is due to interest in IORT as a potential treatment option.[5]
Additionally, new patients who do not qualify for IORT still choose to stay at Rose Medical Center for other cancer treatment options, resulting in a steady increase in EBRT and other cancer treatment services.[5] 
Raising Awareness
To maintain our reputation as a leader in value-based, leading-edge cancer treatments and further encourage patient growth, Rose Medical Center continues to raise awareness of IORT through social media channels. Our team has even utilized Twitter to broadcast a live IORT procedure to our 17,000-plus followers, demonstrating the ease with which treatment is delivered. We not only gained 43 new Twitter followers as a direct result of this initiative, we also extended the reach of this broadcast by posting it on our "Rose Knows Health" blog, which earned an additional 200 views.[5] This helped to increase awareness about IORT and encourage patients to choose Rose Medical Center as a way to learn more about this treatment option.
A growing body of favorable clinical data supports the use of IORT in candidates meeting specific selection criteria.[1, 2, 6, 7] iCAD is currently conducting one of the largest IORT clinical studies to date using the Xoft System, which compares Xoft IORT to traditional EBRT. At Rose Medical Center, we have treated over 200 patients. For carefully selected patients, IORT is a major medical advancement that may help them avoid unnecessary medical treatments that can result in serious side effects. However, it is important to note that IORT should be promoted using institutional review board (IRB)-approved protocols. All IORT users must proceed with caution and fully advise, inform and secure consent from patients. 
For qualified patients, IORT can help ease the financial and emotional burden of their breast cancer diagnosis. The shorter treatment times and added convenience allow patients to resume normal daily activities within days rather than weeks compared to traditional radiation therapy. In addition, studies show that IORT has excellent-to-good cosmetic results and a low rate of low-grade adverse events.[7] At Rose Medical Center, 97.5 percent of patients said they were happy with their cosmetic outcome after being treated with IORT, resulting in increased patient satisfaction, positive emotional impact and demonstrating patient preference.[5] The patient benefits are clear, but the reality is that IORT is valuable for both patients and medical practices. 
The Benefits of IORT
Practices that offer IORT are able to treat more patients in less time, lessen operational and patient costs, improve patient compliance and satisfaction, and encourage new patient growth. This not only gives medical practices a competitive edge, it allows doctors the opportunity to better serve select patients by offering another cancer treatment option.
IORT has demonstrated it is valuable and cost-effective for both patients and practices while also maintaining its primary goal of effectively treating early stage breast cancer.
References:
1. Vaidya JS. "Targeted intraoperative radiotherapy versus whole breast radiotherapy for breast cancer (TARGIT-A trial): an international, prospective, randomized, non-inferiority phase 3 trial." Lancet 2010;376(9735):91-102.
2. Vaidya, JS et al. "Risk-adapted targeted intraoperative radiotherapy versus whole-breast radiotherapy for breast cancer: 5-year results for local control and overall survival from the TARGIT-A randomised trial." Lancet 2013;383(9917):603-613.
3. Hsieh et al. "Geographic variation in the intended choice of adjuvant treatments for women diagnosed with screen-detected breast cancer in Queensland." BMC Public Health 2015;15(1204).
4. Schroen et al. "Impact of patient distance to radiation therapy on mastectomy use in early-stage breast cancer patients." JCO 2005;23(28):7074-7080.
5. Rose Medical Case Study, http://www.xoftinc.com/documents/RoseMedicalCaseStudyMC429R1.pdf.
6. Veronesi, Umberto et al. "Intraoperative radiotherapy versus external radiotherapy for early breast cancer (ELIOT): a randomised controlled equivalence trial." The Lancet Oncology;14(13):1269–1277.
7. Nisar Syed, A.M. et al. Feasibility and Early Outcomes of a Multi-Center Trial Of Intra-Operative Radiation Therapy Using Electronic Brachytherapy At The Time Of Breast Conservation Surgery For Early Stage Breast Cancer; Presented at ASTRO 2015
Barbara Schwartzberg, M.D., FACS, is a breast surgeon in Denver, Colo., and is affiliated with Rose Medical Center. She received her medical degree from George Washington University School of Medicine and has been in practice for more than 25 years.