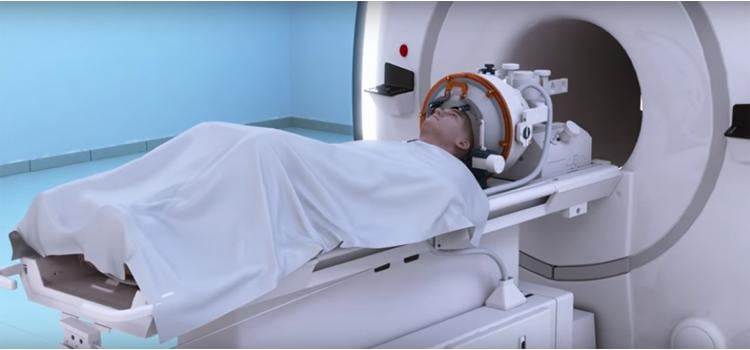 Image courtesy of Insightec
An estimated 44 million people worldwide are currently living with Alzheimer's disease, the most common form of dementia. About 5.8 million people in the United States live with the disease, where it is the sixth leading cause of death overall. While there is not yet a cure for Alzheimer's, researchers are working to find treatment options to delay its onset and prevent it from developing.
Focused Ultrasound
A study presented at the 2019 Radiological Society of North America (RSNA) meeting in Chicago offered key insights into focused ultrasound as a safe and effective way to target and open areas of the blood-brain barrier, potentially allowing for new treatment approaches to Alzheimer's disease.
The blood-brain barrier is a network of blood vessels and tissues that keeps foreign substances from entering the brain. This barrier presents a challenge to scientists researching treatments, as it blocks potentially therapeutic medications from reaching targets inside the brain. 
Researchers at three sites have been studying low intensity focused ultrasound (LIFU) in humans for more than a year in a clinical trial led by Ali Rezai, M.D., director of the West Virginia University (WVU) Rockefeller Neuroscience Institute in Morgantown, W.Va. 
For the study, researchers delivered LIFU to specific sites in the brain critical to memory in three women, ages 61, 72 and 73, with early-stage Alzheimer's disease and evidence of amyloid plaques — abnormal clumps of protein in the brain that are linked with Alzheimer's disease. Each patient received three treatments at two-week intervals. Researchers tracked them for bleeding, infection and edema.
Post-treatment brain MRI confirmed that the blood-brain barrier opened within the target areas immediately after treatment and closed within 24 hours. 
"Different techniques have been attempted to open the blood-brain barrier, but a lot of those techniques have adverse effects or are general," said study co-author Rashi Mehta, M.D., associate professor in the neuroradiology department at WVU and research scholar at West Virginia Clinical and Translational Science Institute. "To open it in one specific area of the brain is a challenge and that is something that this technology overcomes." 
LIFU Process
The LIFU process involves placing a helmet over the patient's head after they are positioned in the MRI scanner. The helmet is equipped with more than 1,000 separate ultrasound transducers angled in different orientations, and each transducer delivers sound waves targeted to a specific area of the brain. Simultaneously, patients are intravenously given an ultrasound contrast agent made up of microbubbles, which change size and shape as the ultrasound is applied. Mehta said this oscillation results in transient loosening of the blood-brain barrier, which they documented using gadolinium contrast enhanced MRI. 
"We monitor how well the bubbles are doing in real time," said Jeffrey Carpenter, M.D., professor in the neuroradiology department at WVU and a co-author on the study. "We have microphones that are set up that are listening to the bubbles vibrate and we actually base how much ultrasound energy we give on what the bubbles are doing."
While this study is a phase 2 clinical trial focused on safety and efficacy of opening the blood brain barrier, Mehta said she expects future trials to expand into delivering clinical drugs. 
"Future trials undoubtedly will evaluate a combination of this with therapeutics," she said. "This could be a new technique of delivering medication to the brain in general for all sorts of diseases."
For now, Mehta said the study needs to be completed with a larger cohort to finish out the second phase. She said they're also looking at the effectiveness of LIFU alone in potentially altering the symptoms of Alzheimer's disease, so they're following each patient post-treatment to monitor their amyloid beta levels with PET imaging, as well as assessing for any clinical response. Mehta said it's too early to weigh in on this, and the hope is to follow each patient for five years.
LIFU used to open the blood-brain barrier alone, without drugs, has shown positive effects in animal trials. Mehta said this could be due to increased flow of the fluid that cleans the brain of toxic substances, an immune response triggered by the opening, or a combination of the two.
Phase 3 of the trial is in the planning stages as the researchers look to recruit more patients to finish phase two. By the end of phase 2, the multi-center trial will have involved 10 total patients at WVU, Cornell and Ohio State. 
"We just really want to show that this can be done repeatedly and safely, and then add onto that in the future with hopefully various medications, stem cells or whatever smart people can come up with," Carpenter said. "The fact that we could do this repeatedly — three patients three times — so total of nine times safely with no hemorrhage, no persistent edema, and the blood-brain barrier closes — that's a big deal."
Katie Caron is an editor at Scranton Gillette Communications with B2B experience across industries including medical.
---
If you enjoy this content, please share it with a colleague