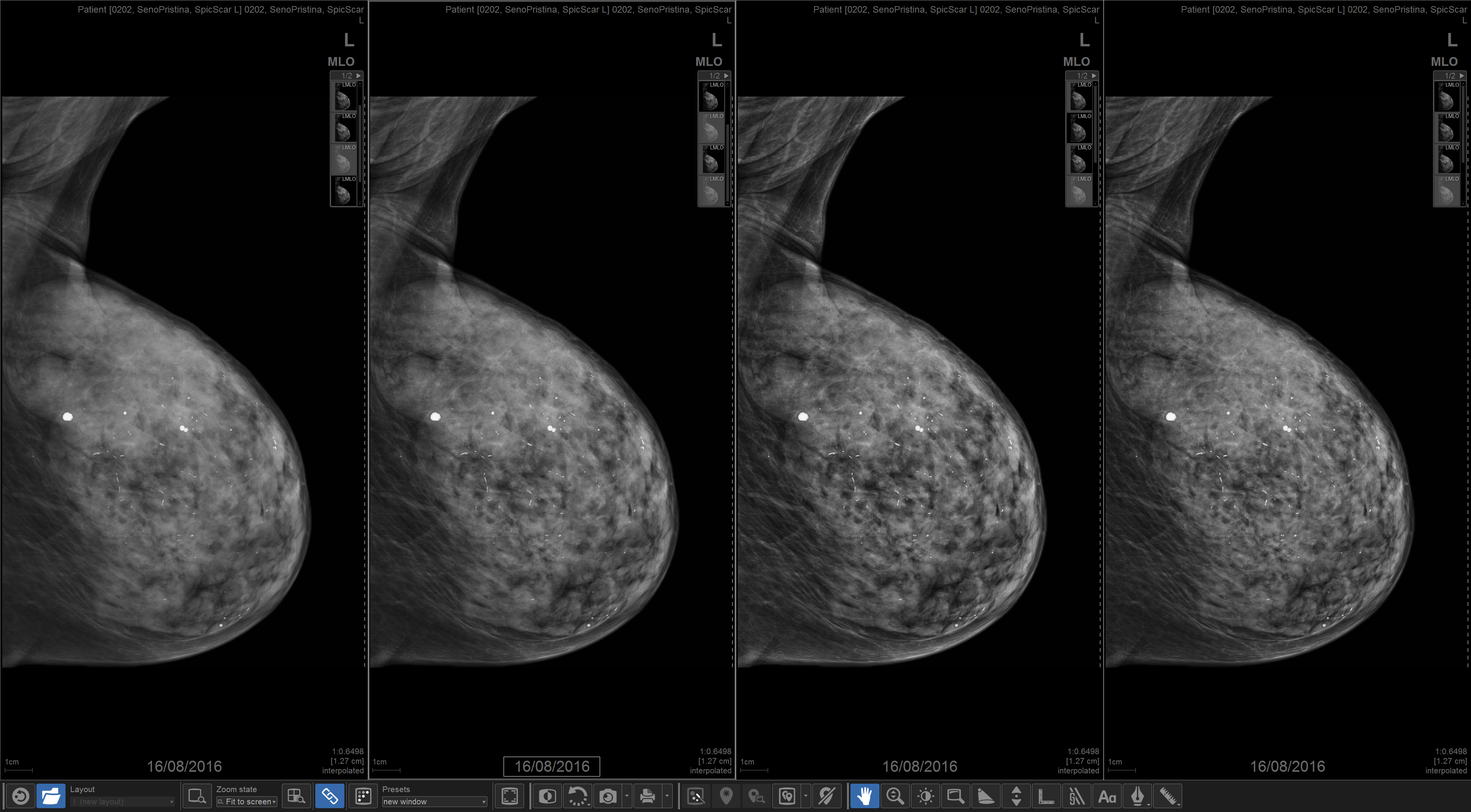 Another benefit of tomosynthesis is reducing patients' radiation exposure, which is especially important if they need additional testing.
Technological advances — particularly the adoption of 3-D digital breast tomosynthesis (DBT) — are making it possible for earlier, and more accurate, detection of breast cancer. However, the transition to 3-D mammography is resulting in numerous challenges and concerns. DBT produces hundreds of images, compared to just four images typically associated with conventional 2-D digital mammography. As a result, radiologists find they require significantly more time to review and interpret each exam, reducing the number of patients they can see each day and increasing fatigue, which could potentially lead to missed diagnoses.
At the Southwest Diagnostic Imaging Center in Dallas, Texas, 80,000 mammograms are conducted each year. To maintain a competitive advantage and provide optimal patient care, the center began planning a move to 3-D mammography. But in the process, it was clear the imaging center needed a way to ensure it could continue to serve as many patients annually, without overwhelming theradiologists, who would have to review exponentially more images with the new technology.
AI Aids in Accelerated Detection
After an extensive review of various tomosynthesis technologies, GE Healthcare's Senographe Pristina 3-D Mammography solution was implemented. This enabled the imaging center to also take advantage of Enhanced V-Preview, an innovative concurrent-read, cancer detection solution powered by iCAD's PowerLook Tomo Detection on the GE platform. The solution leverages artificial intelligence (AI) and deep learning tools to reduce DBT interpretation time and improve reading workflow.
The technology quickly and precisely detects regions of interest on the tomosynthesis dataset and naturally blends those regions onto a synthetic 2-D image. This process results in a single enhanced image that draws attention to potentially cancerous lesions, enabling radiologists to more efficiently and effectively review large sets of tomosynthesis images. Because it improves how quickly hundreds of images per patient can be reviewed, this concurrent-read technology supports us as radiologists with dynamic tools that allow for providing results to patients faster without compromising reading performance or increasing recalls.
Some radiologists may be skeptical about AI in medical diagnoses. They express concern that AI would replace their trained eye and expertise. However, the technology is designed to quickly identify and lead professionals to the most concerning areas that warrant further investigation. With greater use of 3-D technology, more detailed information about patients' breasts is available and can help identify even the smallest changes year-over-year that could be a sign of a developing cancer.
Another benefit is reducing patients' radiation exposure, which is especially important if they need to go on for additional testing. New protocols were adopted with this system and by doing so, the number of images needed is minimized, thus limiting additional radiation to patients. Additionally, by reducing false positives, it is possible to eliminate the need for patients to return for additional mammograms to rule out problems.
A New Approach Yields Results
Moving to DBT required radiologists to shift their mindset and modify their approach to reading mammography images. A redesigned reading protocol, moving from comparing current and prior 2-D images, made it easier to focus more on the comparison of tomosynthesis to 3-D for easier identification of potential concerns.
Even though the 3-D technology is providing massive amounts of information, which could easily throw anyone into image overload, the software helps hone in on the areas that really need to be evaluated with ease, by presenting the data in the forefront of the dataset. Since implementing the system, the imaging center's radiologists have cut down their reading time by 25 to 50 percent, depending on the size of the breast. 
Find more articles and videos on breast imaging
Katherine Hall, M.D., co-director of mammography, east division of Radiology Associates of North Texas, is a radiologist at Southwest Diagnostic Imaging Center which is located on the campus of Presbyterian Hospital of Dallas.