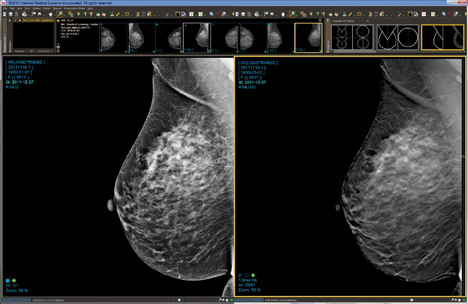 Westerners want neatly drawn lines, simple demarcations, absolutes. In some cases, the lines are apparent. Others are not. Continents are easy to distinguish visibly from oceans. The boundaries between countries are not.
If drawing such differences depends on physical evidence, shouldn't a clear distinction be possible between diseased and healthy tissue? This paradox is obvious when screening for breast cancer. Improving the means for seeing early signs should do the trick. Breast tomosynthesis may be it.
On June 25, JAMA (Journal of the American Medical Association) published research indicating that the addition of 3-D imaging — breast tomosynthesis — to mammography results in the discovery of more cancers than the use of 2-D digital mammography alone — a 41 percent increase in the detection of invasive breast cancers and a 29 percent increase in the detection of all breast cancers.
The data is hardly surprising. The U.S. Food and Drug Administration (FDA) approved the sale of tomo devices for breast cancer screening in 2011 because of similar research findings. The JAMA paper underscores this, while shining a light on one of the most appealing side benefits — a reduction in false positives and consequent reduction of recall rates. Before the publication of this paper, this positive effect had been largely anecdotal.
Data acquired at 13 U.S. centers performing 454,850 screening exams (61 percent of which involved only 2-D digital mammography for comparison) found that the addition of tomo dropped the recall rate from 107 to 91 per 1,000 screening exams — a 15 percent decrease. This translates to 16 fewer recalls per 1,000 screening exams. 
Callbacks have always been a problem in mammography. They are a source of worry, added discomfort, patient complaints and unnecessary cost. Moreover, they call into question the credibility of exams, whose use depends on women's belief in their value.
The new study addresses this concern and another often attributed to breast cancer screening — the finding of cancers that don't need to be treated. The latter was demonstrated by the 41 percent increase in the detection of invasive breast cancers; the former by a double-digit reduction in the recall rate. 
It's hard to overestimate the importance of these findings. Screening mammography exposes women with no known sign of disease to ionizing radiation, which itself can cause cancer. As such, women deserve the greatest possible assurance that the exam they undergo is done with the least chance of being wrong.
The JAMA study documents that the routine use of tomosynthesis in breast cancer screening does exactly this, providing women the reason to believe that modern mammography truly can save lives.