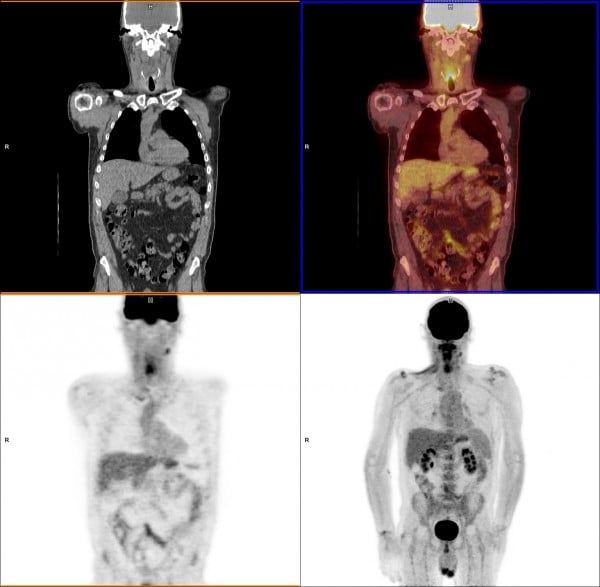 A PET/CT head and neck cancer scan.
"Experimental validation implemented in real-life situations and not theoretical claims exaggerating small advantages is the key to adoption," claimed a technician when presented with a paper exploring possibilities of hybrid variants in diagnostic imaging. The statement accurately summarizes the present ambiguous situation in the overall hybrid imaging landscape — subjected to a wide range of claims and its future prospects, especially with the advent of nuclear imaging. Hybrid modalities are projected to revolutionize the medical imaging sector. However, several questions and an undying threat to divide the medical fraternity looms large. High installation and maintenance cost, small improvements in detailing over conventional singular imaging, and longer imaging time are some factors holding back the conservatives — branding hybrid imaging as a superficial luxury afforded by a few.
For the nonconformists, hybrid imaging variants are a lucrative bet owing to its higher resolution, increased diagnostic accuracy and the additional image detailing.
The following article is an endeavor to understand where the medical hybrid imaging market is poised to shift, and derive meaningful conclusions of its clinical and market impact.
Technological Advancements, Radionucleotides and Radiotracer Innovations
Advancements in technology and technique are key factors driving the overall hybrid imaging landscape — exemplified by the development of high-sensitivity solid-state detectors, complex algorithms, and techniques such as parallel scanning and hardware fusion, among others. The single-photon emission computed tomography (SPECT) and positron emission tomography (PET) market are traditionally constrained, owing to its large size, low resolution and lack of reimbursement. It is nearly an outdated modality and technology, considering it is almost impossible to buy a PET scanner without an integrated computed tomography (CT) scanner. The future success of SPECT and PET hinges on its ability to develop better image resolution.
Radionucleotides are the finer innovation aspects further driving the hybrid imaging landscape. Technetium-99m, the most widely used SPECT radiopharmaceutical tracer, has a half-life of only six hours, making supply chain, safety and logistics an expensive operation. However, technetium-99m will continue to hold its market dominance — being the driving force behind the adoption of solid-state cameras and further fueling the demand for mobile gamma cameras. The mobile gamma camera market is projected to stand at a valuation of $75.2 million by the end of 2028, with the market expanding at a moderate compound annual growth rate (CAGR) of 4.8 percent, predicts Future Market Insights (FMI), a global research firm. SPECT will remain the largest application of gamma cameras owing to the lower cost and larger suite of radioisotopes.
Different approaches for hybrid imaging include the line systems, where the two systems are placed in sequence, and the parallel imaging system allows procedures using a single system known as hardware fusion. Parallel imaging is expected to be a disruptive innovation owing to lower cost of installation and faster imaging times. Superior diagnostic capabilities can also be achieved through advances in hardware and software. For example, SPECT drawbacks have been partially resolved by cutting scan times with use of triple-headed gamma cameras, improved solid-state detectors and computer-aided image enhancement.
Is PET/CT the 'Go-to' Modality?
Cardiovascular diseases and cancer require a high degree of detailing and physiology to determine the prognosis of the disease. The advent of personalized medicine has further hastened the shift of the market in favor of the hybrid imaging systems to benefit from the better of the two worlds.
PET's promising future will be sealed with the next generation of imaging agents. Advancements in quantitative scans — assessing myocardial blood flow (MBF) and myocardial flow reserve (MFR), which identifies global perfusion defects in the heart that otherwise would have been missed with qualitative SPECT scans — make PET the go-to hybrid modality for cardiac molecular imaging. The new PET agents would certainly detect beta amyloid plaques associated with Alzheimer's, and cardiovascular scanning will present more exciting opportunities for PET, considering its inherently better image resolution compared to SPECT. 
Coronary artery disease (CAD) is a leading cause of death in the United States, generating a financial burden of approximately $750 billion by 2030. Although advancements have been made in assessing CAD, patients' overexposure to radiation remains a major concern. The radiopharmaceutical tracer used in PET-only imaging leaves no room for scan errors. A new PET radiotracer, rubidium-82 Rb-82), has the ability to assess myocardial perfusion with a high degree of sensitivity and specificity. Additionally, PET imaging utilizing Rb-82 has been shown to have a lower patient radiation exposure level in comparison to CT-based methods of transmission. Cost-effectiveness of cardiac PET over SPECT, issuance of CPT codes and favorable reimbursement policy by third-party payers for PET myocardial perfusion are some demonstrated advantages of PET imaging for CAD, compared to other competing technologies.
However, Rb-82's limitations, including supply chain issues, shorter half-life and potential safety issues, are likely to be addressed by the new fluorinated cardiac PET radiopharmaceuticals — offering superior clinical possibilities in diagnosing and monitoring CAD beyond myocardial perfusion. The new agents are projected to dominate the overall radiotracer landscape considering its lower radiation exposure, improved diagnostic accuracy and image quality. FluoroPharma's BFPET, a flourine-18 (F-18) labeled tracer, promises just that, with the ability to replace SPECT and use it on patients with presumptive chronic CAD.
Moreover, detection of metastasis and invasion levels of malignant tissues in organs other than the prostate has eased the considered expansion of PET/CT scans using tissue-specific radioactive tracers. Delivering higher diagnostic value than separate PET or CT imaging, hybrid modalities in the form of PET/CT scans have emerged as an effective tool in the diagnosing, staging and restaging of cancers. Studies are indicative of carbon-11-choline, a radioactive tracer, replacing the more commonly used F-18 fluorodeoxyglucose in the coming years, owing to low radioactivity found in patients' urine when administered with the former radioactive tracer, and allowing for an accurate imaging of the malignant cell activity in the prostate.
Hybrid PET/MRI is also being explored as the potential alternative to PET/CT for oncological imaging of breast cancer, brain tumors, bladder cancer, gynecologic malignancies and lymphoma, owing to its ability to depict superior-quality anatomical details and accurate evaluation of treatment outcomes. Applications involving staging of locally advanced cancers that require precise T and M cell tagging, and combining sessions of sodium fluoride (NaF) full-body scans of bone metastases and multiparametric of primary prostate tumor into one, will favor PET/MRI adoption in the overall radiology landscape. Staging and restaging of myeloma and lymphoma, and staging of neurofibromatosis, is also under consideration as a viable application. Simultaneous imaging is a major future direction for hybrid PET/MRI, yielding the benefits of patient convenience and improved image registration — further offering advantages in quantitative assessment and lesion delineation.
However, market numbers work in favor of PET/CT compared to PET/MRI due to its lower cost, wider availability, reduction of co-registration errors and the greater synergies obtained as compared to PET/MRI. CT affords anatomic correlation and attenuation correction, while PET enjoys finer detailing of physiology and molecular quantification not possible by CT. As per market experts, nearly
70 percent of all installed PET units are hybrid PET/CT systems. The main challenge for PET/CT systems is the lack of a single detector available for both PET and CT, resulting in only a sequential mode of operation. PET/CT has become the modality of choice for oncology diagnostic imaging. The full-ring PET scanners segment is expected to rule the overall PET scanner market, attributed to its better resolution and high scanning efficiency.
MRI's greater resolution and the ability to map soft tissue could help it challenge the supremacy of the PET/CT systems. However, with a single manufacturer offering PET/MRI simultaneous scanning systems because of the herculean technical and engineering challenges, pricing pressure is put on PET/MRI systems. The SPECT/CT and SPECT/MRI systems do not offer the synergies owing to the inability of the SPECT system to map metabolic and physiologic state of the organ under study, compared to the PET/CT and PET/MRI systems. PET offers the unique advantage of low spatial resolution, the capability of mapping metabolism to a cellular level and picomolar concentrations of metabolites, benefits that cannot be associated with SPECT.
Given the recent reimbursement support (effective Jan. 1, 2018) and recognizing the clinical importance of functional imaging and MBF quantification and demonstrated high diagnostic accuracy, it would play a crucial role in determining cardiovascular dysfunctions. The overall positive impact of PET/CT and MBF quantification combination translating in improved disease detection, treatment stratification and the ability to monitor lifestyle modification will facilitate the continued clinical adoption and growth of cardiac PET/CT.
Hybrid Modalities Driven By Limited Competition
The global market for medical hybrid imaging is a low-volume market dominated by a handful of large companies with deep pockets. The market is an oligopoly where a few players dominate more than 90 percent of the market share, driving the price higher due to lower competition. The lower volume of medical hybrid imaging negates any economies of scale resulting in high prices. Competition in the medical hybrid imaging market is restricted to distribution and marketing with firms avoiding to compete on price to protect the high revenues generated by the sale of fewer systems. Players are in collusion to maximize profits owing to their ability to set price, resulting in a lack of product differentiation.
The high intellectual property and research intensity, and expensive and complex technology needed in the manufacturing, deters the entry of newer players. With high stakes on the board, companies are expected to defend their turf by litigation and coercive service agreements with the customers. The greater weight of after-sales service in the procurement decision of the medical hybrid imaging systems also bind the customers to the manufacturers, due to the high maintenance needed for the hybrid imaging systems. Thus the low power of the buyers, compared to the firms, drives a large pricing premium.
Manufacturers are focused on developing value-oriented hybrid PET scanners. This includes the introduction of Biograph Horizon PET/CT by Siemens, and Philips is refreshing its Gemini TF Big Bore PET/CT system featuring an 85 cm bore system.
North America Holds Lion's Share in Landscape
Demand for molecular imaging hybrid modalities in North America is projected to remain promising throughout the next decade, attributable to the nuclear medicine practice having emerged as a promising new strategy for imaging biological processes at the molecular level. Favorable reimbursement policies for various scanning procedures, including oncology, cardiology and neurology, will make North America the most lucrative market.
Increasing incidences of cardiac diseases and cancer in North America are translating to widespread adoption of hybrid imaging modalities. In 2017, more than 74 million CT and 36 million MRI procedures were performed in the United States, studies indicate. Moreover, the U.S. and Canada delivering advanced molecular imaging and scanning services to patients in North America is anticipated to significantly contribute to increased patient referrals. Revved up discretionary funding for research and development activities is another key factor contributing to faster adoption.
The Centers for Medicare and Medicaid Services (CMS) made no significant changes affecting nuclear cardiologists in 2018, which is expected to result in stable growth — particularly in the mobile gamma cameras market. Announcements by the CMS to reimburse remote patient monitoring (RPM) is expected to drive mobile diagnostic services significantly.
However, with Canada calling off Mo-99 production at its Chalk River reactor in 2016, the reactor is slated for a permanent shutdown by the end of this year. The U.S. Department of Energy's National Nuclear Security Administration (DOE/NNSA) entered into a follow-on agreement with three commercial companies to produce Mo-99 domestically and avert serious supply issues of radioactive isotopes, used in about 50,000 medical procedures every day in the U.S, as per the NNSA.
Product Development the Future Course
The PET/MRI modality is expected to generate higher growth compared to SPECT/CT and SPECT/MRI — poor resolution and the lack of molecular diagnostic capability being critical bottlenecks. PET/MRI offers the highest value addition due to its combination of higher resolution and an excellent capability to map soft tissue and the synergy obtained by PET's capability to map physiology. However, the mammoth technological challenges of sensor interference and the lack of conformity between the electronics of the systems adds to a larger footprint and prohibitive cost.
Potential attractive applications such as simultaneous or parallel scanning is generating a large market enthusiasm for PET/MRI systems, driving a faster growth. The large benefit obtained from the hybrid imaging coupled with the economies of scale, and technological gains generated by the advancements in technology such as solid-state detectors, is expected to trigger a large fall in prices in the future. Product development with a focus on improving functional modalities is the future for the medical imaging industry.
Author's note: The abovementioned insights have been sourced from an in-depth market intelligence outlook on Mobile Gamma Cameras, Single-Photon Emission Computed Tomography Market and Positron Emission Tomography Scanners Market published by Future Market Insights.
Sabyasachi Ghosh is practice delivery head for healthcare and medical devices at Future Market Insights, a market intelligence and consulting services company.