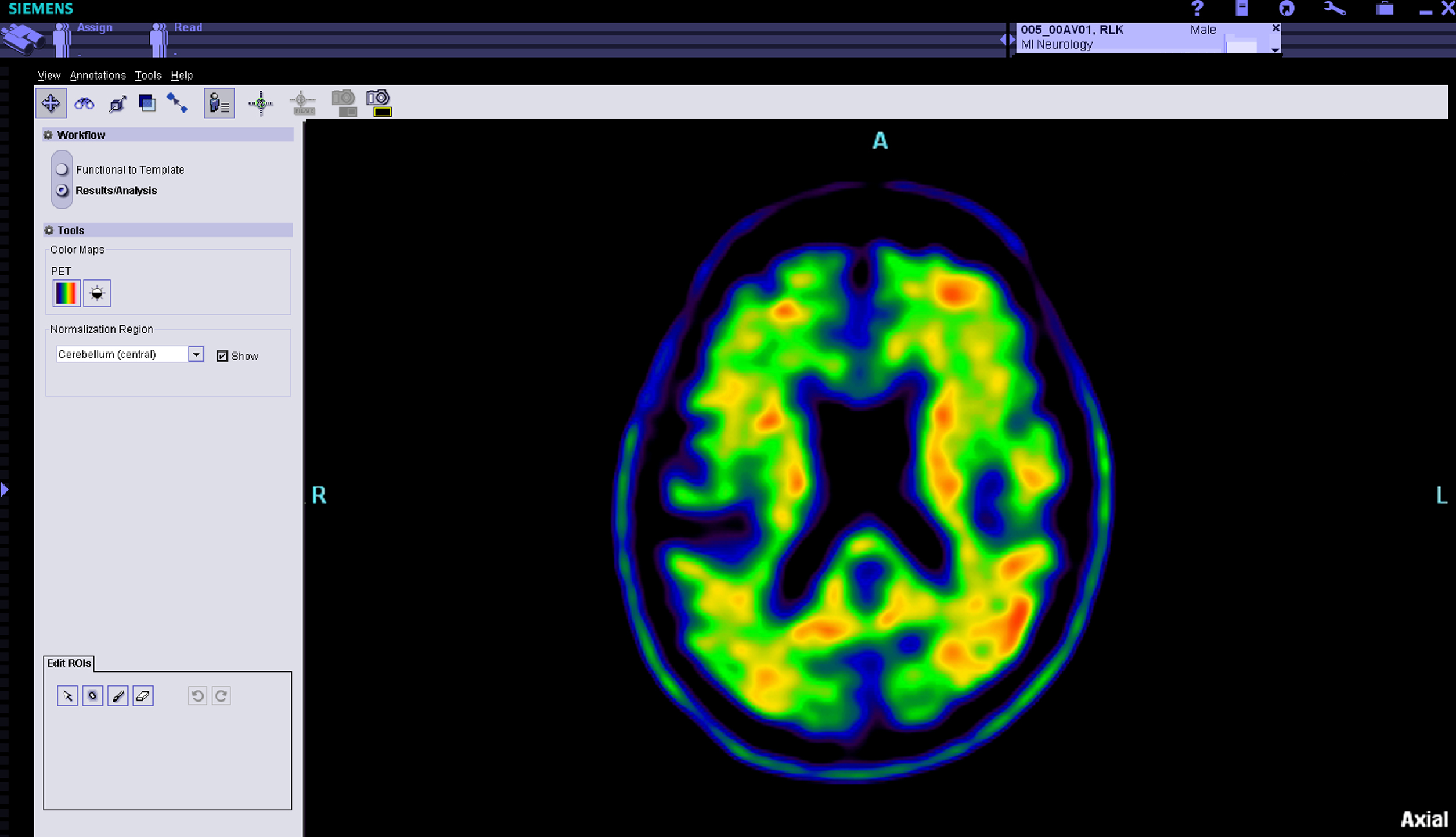 SNMMI, Alzheimer's Association Respond to CMS PET Coverage Decision
July 11, 2013 — The Society of Nuclear Medicine and Molecular Imaging (SNMMI) and the Alzheimer Association have released responses to the draft Medicare decision from the Centers for Medicare and Medicaid Services (CMS) proposing Coverage with Evidence Development for the use of beta-amyloid positron emission tomography (PET) imaging agents. Both groups expressed disappointment to the CMS decision, stating that sufficient evidence exists to support immediate coverage, which would change patient management, leading to better health outcomes for patients and assisting families making care decisions.
Eli Lilly and Company announced that the CMS has issued a draft decision proposing Coverage with Evidence Development for the use of beta-amyloid PET imaging agents. Beta-amyloid imaging agents are used to evaluate patients with cognitive impairment for Alzheimer's Disease and other causes of cognitive decline.[1]
An Amyvid (Florbetapir F 18 Injection) beta-amyloid scan is for use in adults with thinking or memory problems who are being assessed for Alzheimer's Disease or other causes of these symptoms. Amyvid is used by doctors in combination with other tests. A positive Amyvid scan does not diagnose Alzheimer's Disease or other thinking or memory disorders. Amyvid is not approved to predict the development of dementia or other brain conditions in the future or for monitoring the effectiveness of treatments. Amyvid for intravenous use is supplied in 10 mL, 30 mL, or 50 mL multidose vials containing 500-1900 MBq/mL Florbetapir F 18.[2]
A decision for Coverage with Evidence Development proposes that there are still evidentiary gaps necessary to reconcile prior to reevaluating coverage. CMS would require additional trial(s) to address these gaps, and only those patients taking part in the trials would be eligible for coverage.[3] Once those studies are complete, CMS can conduct another national analysis and render a decision on coverage.
The draft is subject to change before the final decision is expected in October. For now, there is a 30-day comment period in which interested parties can post their reactions to the decision at http://www.cms.gov/medicare-coverage-database/indexes/nca-open-and-closed-index.aspx.
In a statement the Alzheimer's Association said:
The Alzheimer's Association understands that CMS' evaluation of the impact of brain amyloid imaging on health outcomes is ongoing, however, the needs of Alzheimer's community are acute. With 5 million Americans living with Alzheimer's and more than 15 million people providing care, the need to accelerate improved care and an early and accurate diagnosis today, when scientifically supported, is critical. Neither families directly impacted by the disease, nor the federal government, can afford to wait as much as seven years for a final decision about national coverage, as was the case with the National Oncology Patient Registry and the evaluation by CMS of FDG PET coverage, the association said in its statement. Seven years ago, this brain amyloid imaging technology did not even exist. The timeframe at which CMS has conducted CED processes is wholly unsuited and unacceptable to both the pace of scientific and technological innovation in the Alzheimer's field, and more importantly, the rapidly increasing needs posed by the escalating Alzheimer's epidemic. If the federal government follows this example and timeline, it will hinder coverage of a badly needed, already U.S. Food and Drug Administration (FDA)-approved diagnostic tool in limited populations in which sufficient evidence indicates this technology has meaningful impact.
Understanding that this is a draft decision from CMS, and it is not yet final, the Alzheimer's Association will continue to engage the scientific and healthcare communities, as well as advocates, to educate CMS on behalf of its constituents about the benefits of coverage for brain amyloid imaging — in limited populations as defined by the scientifically-driven appropriate use criteria — as CMS develops a final decision.
A report convened by the Alzheimer's Association and SNMMI that describes appropriate use of brain amyloid imaging was published online as an article in press on Jan. 28, 2013, by Alzheimer's & Dementia: The Journal of the Alzheimer's Association and Journal of Nuclear Medicine. According to those criteria, appropriate candidates for amyloid PET imaging are limited to:
Those who complain of persistent or progressive unexplained memory problems or confusion and who demonstrate impairments using standard tests of cognition and memory. Additional clarification of these individuals was made by the Amyloid Imaging Taskforce (AIT) in July 2013, amyloid PET would be appropriate only in those [MCI] individuals who the dementia expert has concluded would benefit from greater certainty of the underlying pathology and whose clinical management would change as a result of this greater certainty. (Alzheimer's & Dementia, The Journal of the Alzheimer's Disease, July 2013).
Individuals meeting tests for possible Alzheimer's, but who are unusual in their clinical presentation.
Individuals with progressive dementia and atypically early age of onset (before age 65).
For more information: www.snmmi.org, www.amyvidtraining.com
References:
[1] Centers for Medicare & Medicaid Services. Proposed decision memo for beta amyloid positron emission tomography in dementia and neurodegenerative disease (CAG-00431N). http://www.cms.gov/medicare-coverage-database/details/nca-proposed-deci…;. Published July 3, 2013. Accessed July 3, 2013.
[2] Amyvid™ (Florbetapir F 18 Injection) [package insert]. Indianapolis, IN: Lilly USA, LLC; 2012.
[3] Centers for Medicare & Medicaid Services. Draft guidance for the public, industry, and CMS staff coverage with evidence development in the context of coverage decisions. http://www.cms.gov/medicare?coverage?database/details/medicare?coverage…. Published November 29, 2012. Accessed June 17, 2013.
---
If you enjoy this content, please share it with a colleague