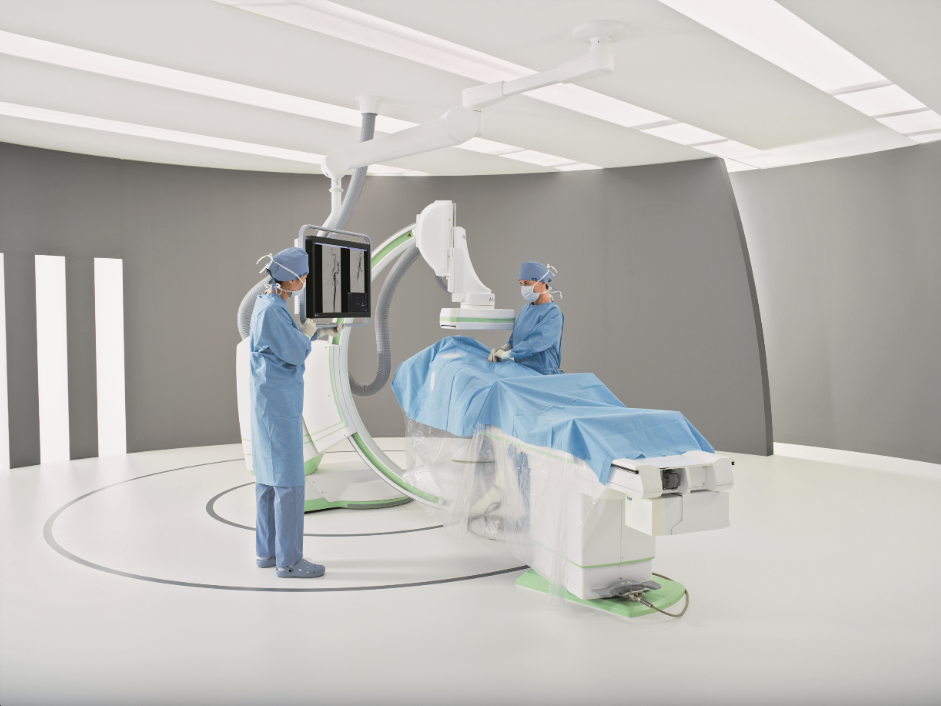 May 6, 2014 — Siemens Healthcare announced the U.S. Food and Drug Administration (FDA) has cleared the Artis one angiography system, optimized for broad clinical utilization. The Artis one is designed for routine interventions, including revascularizations of peripheral vessel occlusions, functional tests of dialysis shunts in patients with kidney failure, diagnostic or minimally invasive angiographic treatment of narrowed coronary arteries, and pacemaker implantations.
Flexible With Low Space Requirement
Despite being floor-mounted, the Artis one features a positioning flexibility similar to ceiling-mounted systems and occupies just 269 square feet, compared to the standard 484 square feet required by ceiling-mounted systems. The system features several axes that can move independently of each other, enabling physicians and hospital staff to easily position the system where needed, regardless of where they stand. It accommodates full head-to-toe coverage of patients up to 6 feet, 10 inches without the need for patient repositioning. The system also allows free access to the patient's head, enabling optimal care during the procedure.
Tactile buttons on the Artis one's tableside console can be manipulated easily even under the sterile covering. The on-screen, menu-guided user interface allows the physician to navigate directly using the heads-up display. All information regarding the procedure remains directly in front of the operator. And the 30-inch display size delivers images up to 90 percent larger than conventional 19-inch monitors.
Premium Cardio Applications, Powerful X-ray Tube
Artis one's Clearstent Live application for interventional cardiology procedures — previously available only with Artis Q and Artis Q.zen — freezes motion in the region of the stent, allowing the physician to mask out movement of the beating heart and place the stent in precisely the correct position. The Artis one also offers new tools for cardiac imaging, including HeartSweep, which uses dual-axis rotational angiography to image the entire heart in a single, smooth C-arm movement instead of multiple acquisitions from different projections. This single-sweep movement has the potential to speed up procedures and save contrast agents. By utilizing 20 percent less energy than the Artis zee floor system, the Artis one also helps reduce operational costs.
The Artis one angiography system is available in multiple configurations.
For more information: www.usa.siemens.com/healthcare