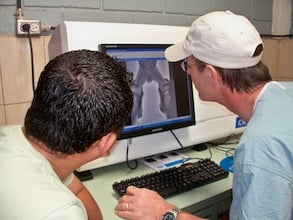 Doctors review and transfer digital X-ray from iCRcos CR to MedWebs VirtualPACS.
A team of doctors will present a video case study on how physicians based in the United States used teleradiology and telemedicine technology to treat patients located in a remote clinic in Honduras.
Imaging Technology News is sponsoring a panel and video presentation, "Zero Footprint Radiology and Telemedicine Build a Platform for Sustainable Care," at the SIIM 2010 Annual Meeting, in Minneapolis, at 9:30 a.m., Friday, June 4.
The panelists will make the case that this technology suite is the basis for sustainable health care outreach programs in the future.
The video will illustrate how a team of physicians and technicians equipped The Roy and Melanie Sanders Frontera Medical Center in Honduras with a digital medical imaging infrastructure.
Several providers donated the suite of imaging technology, which included a telemedicine system and ultrasound probe from Global Media. MedWeb contributed its VirtualPACS, a Web-based picture archiving and communication system (PACS). MinXray provided a portable digital X-ray system, and iCRco supplied the computed radiography (CR) unit.
The medical center, which the non-profit organization Shoulder to Shoulder opened Feb. 20, set the stage for Dr. Juan Vasquez to give a live demonstration. Dr. Vasquez started by taking an X-ray image, processing and reviewing it on the CR, and uploading the data set to the PACS in under 10 minutes. The guest of honor, Honduran Minister of Health Arturo Bendaña, himself a trained physician, easily toggled through the streamlined digital workflow. Dr. Vasquez explained how the transition from film to digital would save the clinic huge costs on X-ray films.
Dr. Vasquez then examined a patient's thyroid gland with the ultrasound probe, which was hooked up to a personal computer. Next, he used a high-definition telemedicine camera to capture superficial anatomical images. Finally, he uploaded the images and consulted with physicians over Global Media's video-conferencing system.
Jeffrey E. Heck, M.D., executive director and founder of Shoulder to Shoulder, explained to onlookers this was a model for delivering high-tech care, including expert specialty consultations, to some of the most remote and isolated areas of the developing world.
"With the addition of this technology, poor people have access to the same set of services that any well-equipped health center in the United States has access to," Dr. Heck said.
 
For more information: www.shouldertoshoulder.org
Related Radiology and Telemedicine in Honduras:
Radiologists Without Borders: The Heart of Radiology
ACS, Teleradiology Deliver Modern Healthcare to Honduras
Digital Imaging Delivers Modern Medicine to the Developing World
Digital Imaging Transforms a Nation
Radiology IT Explores New Frontiers
Computed Radiography Delivers Modern Medicine to Remote Regions