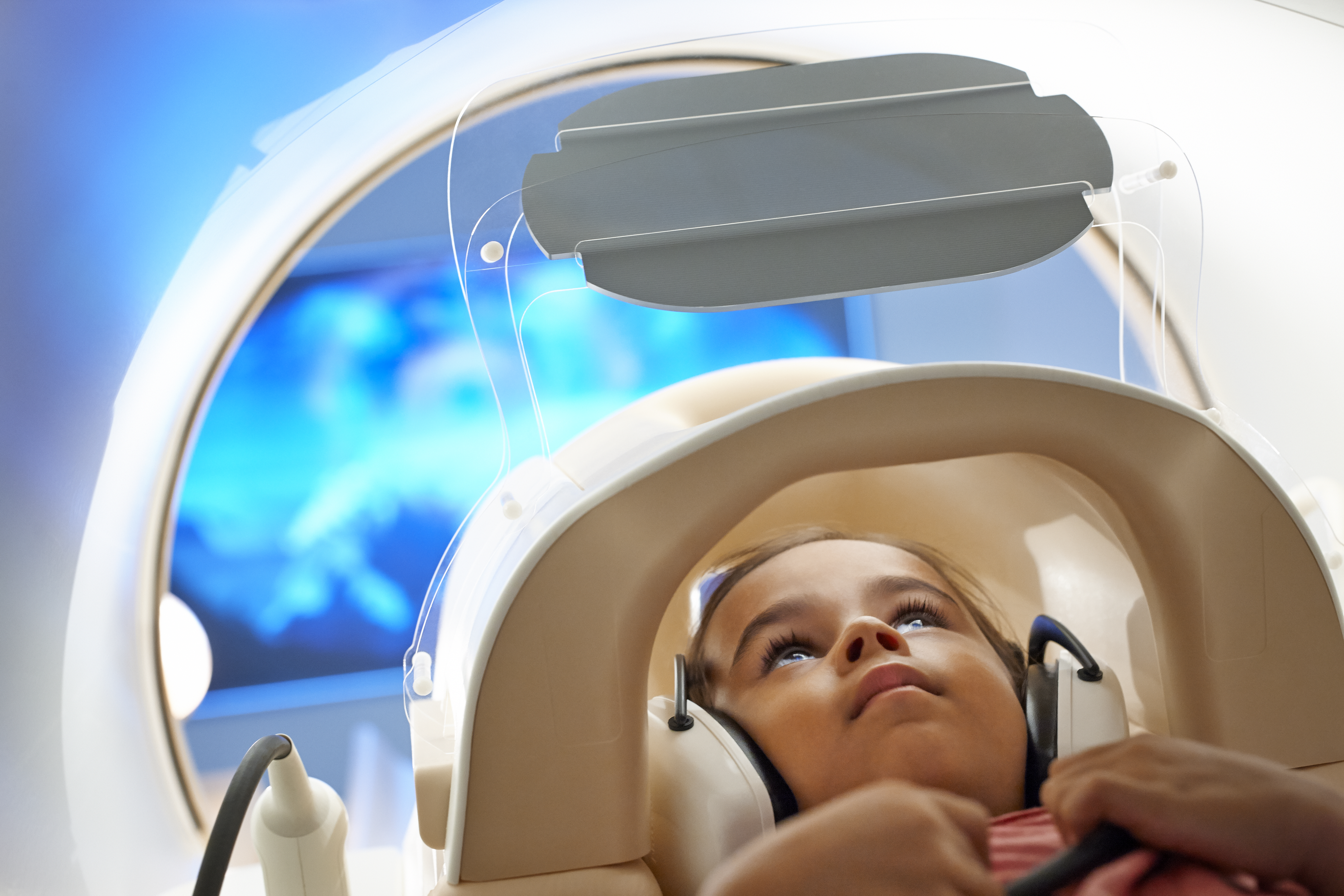 When it comes to pediatric patients, having all the most advanced technology in the world counts for next to nothing if they cannot lay still long enough to complete an imaging exam. Magnetic resonance imaging (MRI) can pose a particular challenge in this area due to the length of the exam (30 minutes or more), and the loud noises and tight spaces children are exposed to. As a result, children are often sedated on some level to guarantee successful completion of the exam. But sedation — particularly general anesthesia — adds cost to the procedure and requires an anesthesiologist to be present during the exam. Parents and children also may be uncomfortable with the idea. Several recent efforts have focused on finding ways to avoid sedation and improve the overall experience for pediatric imaging patients.
Use of MRI Simulators to Acclimate​ Children to MRI Scanners
One way to acclimate children to the exam — and assess whether they will require sedation — is an MRI simulator, which can come in different forms.
One such study, conducted at a tertiary referral pediatric hospital in Dubin, Ireland, and presented at the 2017 Radiological Society of North America (RSNA) Annual Meeting in November, assessed whether MRI simulation could reduce the use of general anesthesia. Elisabeth O'Dwyer, MBBCh, presented the results of the single-center study that was conducted from January-December 2016 and looked to reduce the use of general anesthesia for MRI patients ages 4-7 by exposing them to the Playful MRI Simulator, created by DOmed out of Lyon, France. O'Dwyer said she and her colleagues had first seen the device at RSNA 2013 The device provides a play-based simulation of the full MRI experience, including a motion sensor and noise simulation. "It gives kids — even if they are going through sedation — skills to cope with the imaging, and it gives the parents more information about what the process entails," O'Dwyer said.  
All patients underwent the simulation immediately prior to their imaging exam, the only exclusions were patients with developmental delays. The research team was interested in how use of the simulator impacted use of general anesthesia, procedure cost and wait times for subsequent MRI exams. According to O'Dwyer, they did see a reduction in general anesthesia use, and achieved a cost savings of about €700 (about $821) per exam, adding up to about €57,400 ($67,350) in savings over 12 months. Moreover, the wait time for "routine" walk-in MRI exams dropped from 29 months to 18 months.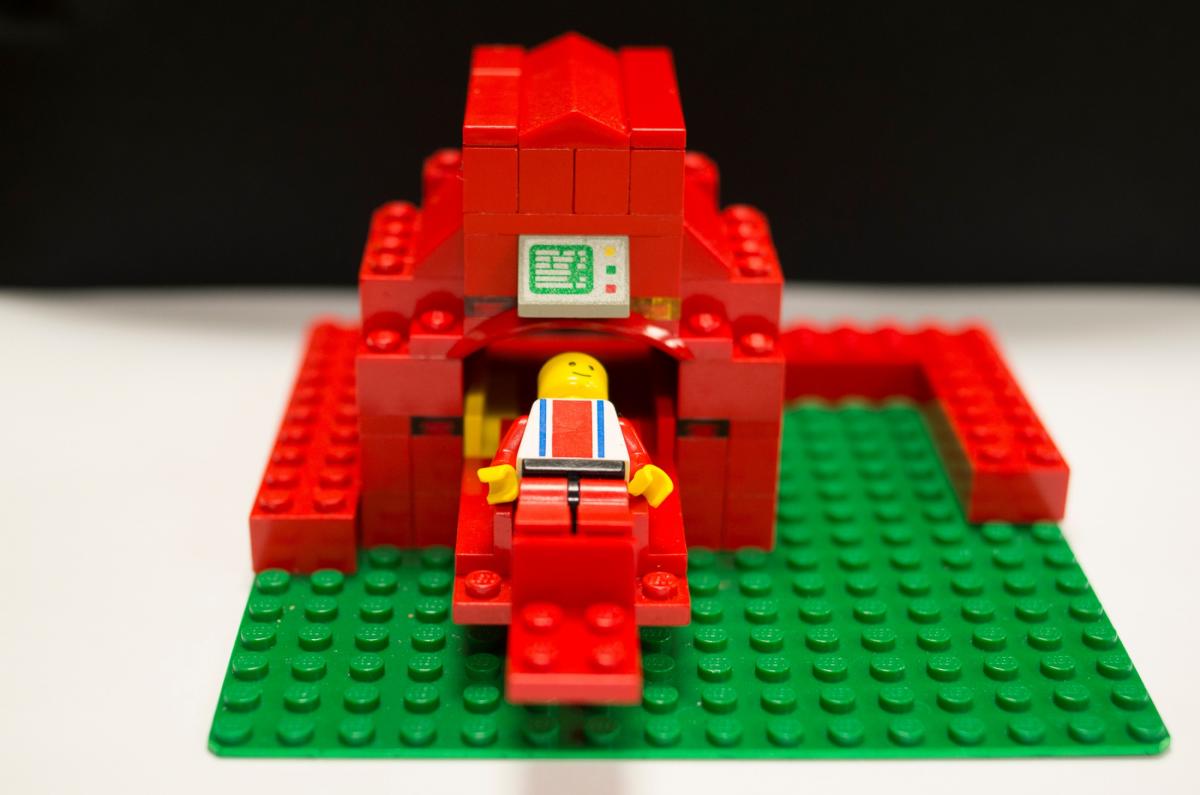 Another approach to play-based MRI simulation that is gaining in popularity makes use of one of the world's most popular (and easily accessible) children's toys — Legos. Benjamin Taragin, M.D., a radiologist at the Montefiore Medical Center, the University Hospital for Albert Einstein College of Medicine in New York City and a board member of the Society for Pediatric Radiology, first constructed a Lego MRI scanner with his son. "As we were working with the Lego pieces, I came across a curved semicircular piece and realized that it reminded me of the bore opening of an MRI," Taragin said in a blog post for the European Society of Radiology on the project. "With that thought in my head, my son and I began to build our initial Lego MRI model. After building it, I realized that this might actually be useful for our child life division at the Children's Hospital at Montefiore." Taragin shared pictures of the initial design on social media and then constructed a more detailed version based on feedback. Eventually, he connected with a Lego certified professional who helped develop the final version. Taragin received funding from various hospitals and Philips Healthcare for a small production run that were distributed or sold to numerous children's hospitals. 
"My ultimate goal was to use a Lego-centered approach including a Lego movie about a Lego person who gets injured and needs an MRI," Taragin told ITN. He reached out to Lego as a potential collaboration partner, but received no interest, effectively stalling the project. He and several colleagues at Montefiore are switching tracks, however, and hope to start a research project soon to investigate whether the Lego models are helping reduce anesthesia use in pediatric MRI procedures. 
Mobile Apps Can Simulate MRI Exam for Kids
When it comes to interacting with children, there are few better ways to reach out than through technology. A study published in October by the nonprofit group Common Sense Media found the amount of time children aged 8 and younger spend staring at a mobile screen has more than tripled in the last four years, and 42 percent of that age bracket have their own tablet device, compared to just 7 percent in 2013.1
This shift has provided new opportunities to interact with patients — both pediatric and adult — at a different level not always possible in the traditional patient-provider relationship. Vendor and provider groups have developed new mobile applications in recent years that look to improve the patient MRI experience before they even come to the hospital.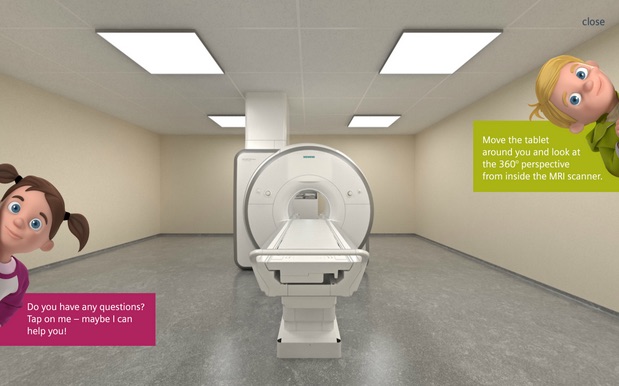 Siemens U.K. launched the first vendor-based application, MRI Scan Experience, for iOS and Android devices. Patients can:
  ● Undergo a virtual 360-degree MRI scan, complete with realistic sounds;
  ● Conduct their own scan of a virtual item; and
  ● Learn the steps of the exam process, from referral to results, and have any questions answered.
On the provider side, King's College Hospital in London, U.K., launched its own MRI experience mobile apps in 2017 — My MRI at King's for Android and My MRI Journey for Apple devices.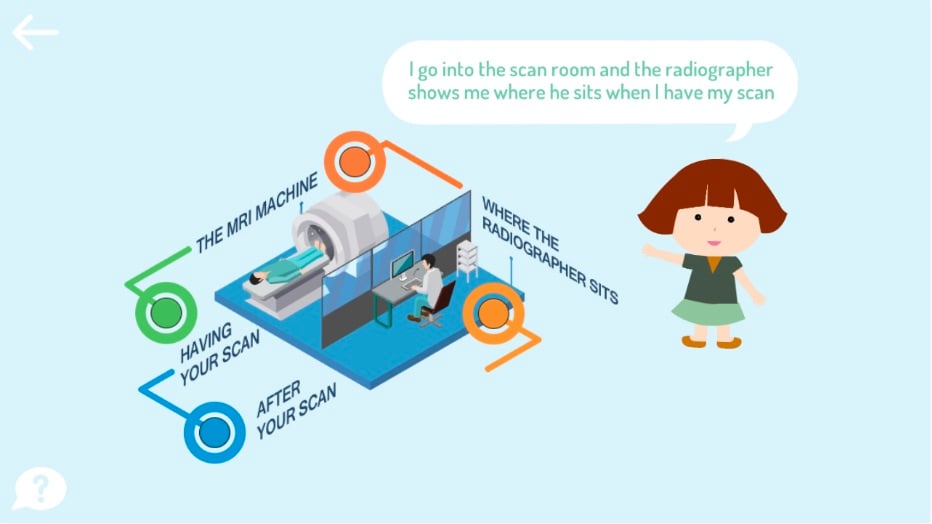 Both King's apps employ 360-degree videos like the Siemens app, but the videos are presented in a linear story as patients proceed from check-in to the waiting room to the exam room. The King's apps can be used in a virtual reality (VR) headset for an even more immersive experience.
Making MRI Rooms Less Institutional With Ambient and In-Bore Experience
Philips Healthcare was one of the first to offer an enhanced patient experience with its Ambient Experience program, which incorporates architecture, design and other technologies for lighting and sound to create a more relaxed environment for the scan. For MRI scans specifically, Philips offers the Ambient Experience in-bore Connect, which projects video inside the bore to both calm and instruct patients — they can find themselves on a beach, for instance, with a voice alerting them when the gantry will be moving or when they need to hold their breath. In pediatric cases, the children can be prompted to select a theme, which will then be played out in the room pre-exam and inside the bore during the scan. 
Practicing Child-Centered Care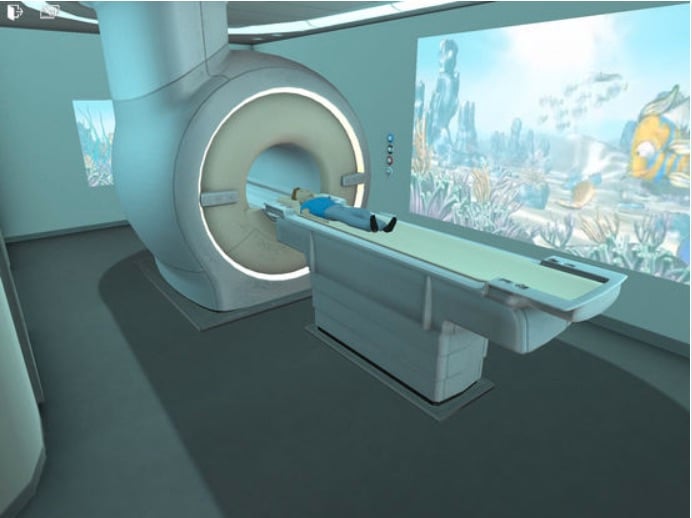 While technologies like simulators and mobile apps are key methods for reducing patient anxiety for MRI, ultimately they can be employed as elements of a broader strategy of patient-centered care. A research team from Denmark explored the impact of a patient-centered strategy for pediatric MRI exams in a study presented at RSNA 2017. According to team member Nicolaj L. Christensen, M.D., Ph.D., the team from Lillebaelt Hospital designed a four-part program: 
  1. A free custom mobile application designed specifically for children ages 4 to 10 and their parents to help prepare for an MRI exam. The application is interactive and game-based, centered around a forest theme and a troll character named Ronald, which were already part of the pediatric strategy at Lillebaelt Hospital. In the animated app, Ronald explains the MRI exam procedure to the children.
  2. A specialized radiography team trained to work with children
  3. A children's lounge featuring a toy MRI scanner that kids could play with before their exam. The lounge also featured stories and characters from the mobile app to increase play interaction.
  4. A child-friendly environment in the MRI room itself. This includes sounds and images from the app that could be played inside the scanner during the exam. 
Following the exam, the research team measured the comfort level of the children, as well as their parents' sense of security during the exam. Child comfort was represented on a visual scale depicted by the app's cartoon characters. 
In total, 156 children were included in the study before the establishment of the child-centered care (CCC) concept, and 79 after. Of those, 20/40 (50 percent) children aged 4-6 had general anesthesia before being exposed to CCC versus 1/14 (7 percent) after. Among children aged 4-10, 103/133 (77 percent) reported feeling comfortable with the exam before CCC, versus 60/71 (85 percent) after. Parental sense of security during the exam was "very high" in 104/133 parents (78 percent) before CCC and 68/71 (96 percent) after. 
"Using the child-centered care concept, we've had happier customers, happy staff and happy parents. This is especially important for repeat patients" said Christensen, adding that the hospital plans to adapt the concept for other patient groups going forward. He noted that a cost-benefit analysis of the model had not yet been performed.  
Reference:
1. Howard, J., "Kids under 9 spend more than 2 hours a day on screens, report shows," CNN.com. Oct. 19, 2017. 
---
If you enjoy this content, please share it with a colleague