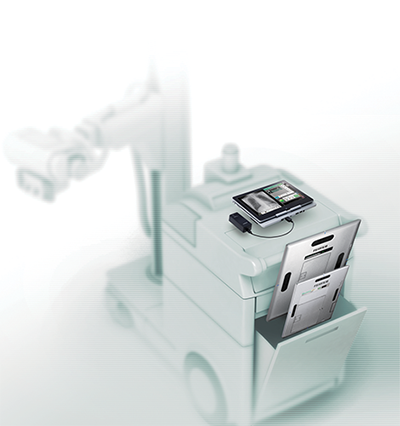 The global digital radiography (DR) market was estimated to be $8B in 2022, and is expected to reach $13.62B by 2027, growing at a CAGR of 11.06%, according to a new report from Research and Markets. Drivers of this growth include a growing geriatric population and subsequent growth in disease incidence, in addition to advantages of DR systems over conventional analog systems.
Digital radiography is the direct conversion of transmitted X-ray photons into a digital image using an array of solid-state detectors such as amorphous selenium or silicon, with computer processing and display of the image. DR X-ray systems are used for both fixed base room installations and mobile DR systems that are wheeled between rooms for imaging exams.
DR was prominently on display at RSNA 2022, playing a key role in numerous research papers, courses and education exhibits. As always, advances in DR systems and technologies were abundant on the technical exhibition floor. Here is an overview of just some of the technology that was on display.
Patient Comfort
Carestream Health announced an innovation in its long-length imaging digital radiography detector, which is aimed at improving patient comfort, productivity and efficiency. The detector captures long-bone and spine images with a single exposure, making it ideal for pediatric imaging and for those with limited mobility. Key advancements in the detector include its compatibility with DR mobile systems and mobile retrofits, in addition to X-ray rooms and room retrofits. The mobility of the system and its X-Factor capability allow facilities to use the same detector across multiple DRX systems for all phases of surgical treatment, from pre-planning imaging in the radiology department to capturing images during the procedure in the OR to confirm placement, and for post-operative assessment.
Diagnostic Accuracy
Canon launched its CXDI-Elite series of wireless digital radiography (DR2) devices, including the CXDI-720C wireless sensor unit after seeing a growing need for DR devices that provide ease-of-use in a variety of imaging scenarios, as well as higher image quality to support greater diagnostic accuracy. As this technology continues to evolve, there is a concerted effort to minimize radiation dosage to the patient. To help meet these needs, Canon launched two new series of devices under its CXDI brand of DR devices — the CXDI-Pro series, featuring enhanced basic functionality and ease-of-use, and the CXDI-Elite series, providing even greater performance and functionality. The new half-cassette size CXDI-720C wireless unit offers superb basic functionality while delivering both high sensitivity and high image quality, as well as built-in support for X-ray dosage control, to assist medical professionals in their diagnostic work.
Portable Systems
Fujifilm Healthcare Americas Corporation launched its FDR Cross, an innovative hybrid C-arm and portable X-ray solution for hospitals and ambulatory surgery centers. The dual-function C-arm is said to be the first of its kind to offer portable fluoroscopic and radiographic imaging on a single platform, reducing the need to bring in additional imaging equipment for essential image guided procedures. It includes an innovative pivoting tube head and removable detector design, enabling greater freedom of imaging and efficiency compared to conventional configurations of a separate C-arm and mobile X-ray machine.
Also during RSNA22, Canadian manufacturer KA Imaging introduced its first mobile X-ray system. The company notes its Reveal Mobi Lite is an integrated solution powered by patented SpectralDR technology. It operates with the Reveal 35C detector, which is also sold as a retrofit solution. Its technology enables dual-energy subtraction, providing bone and tissue differentiation with a single standard X-ray exposure.
Cost-effective Solutions
Konica Minolta Healthcare Americas introduced its KDR Primary U-arm Digital Radiography and mKDR Xpress Mobile X-ray systems in select Latin America countries. The systems will complement Konica Minolta's existing portfolio of CR systems, DR retrofit solutions and PACS throughout the region. Additionally, both systems are designed for future integration of dynamic digital radiography (DDR). The KDR Primary system is a cost-effective solution to facilitate the transition from film or CR to DR and improve the quality of care by streamlining workflows and improving clinical productivity. An advanced digital X-ray system, it has a small footprint, making it ideal for nearly any clinic to provide high-quality, general radiography services in exam rooms with less space. The mKDR Xpress has an ideal small footprint for the bedside or in the ER, OR, CCU or ICU.
Konica Minolta also announced the introduction of new DR solutions at RSNA22, including the new KDR Flex Overhead X-ray System, a next-generation, smart radiography system that delivers an array of workflow innovations in addition to incorporating DDR. These new systems and the AeroDR Glassless family of flat panel detectors were launched at RSNA22.
View the DR Systems Comparison Chart here
Find more information on DR Systems here
---
If you enjoy this content, please share it with a colleague