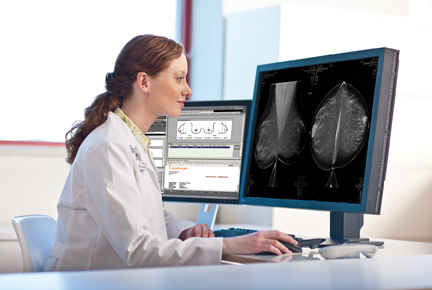 Image courtesy of Carestream Health
In an era of increasingly personalized medicine, patients are expecting more tailored approaches to care from their physicians. Mammography, long the gold standard for routine breast cancer screening, is no longer enough for a majority of women who find themselves at higher risk for breast cancer due to breast density. The issue of density, which limits the benefits of mammography, has been making its way to the forefront of breast cancer discussion in recent years, and advocates are pressing many in the healthcare community to reconsider their routine annual screening programs in order to save more lives.
Changing the Breast Screening Landscape
In a presentation at the August 2014 annual meeting of the Association for Medical Imaging Management (AHRA), Bonnie Rush, RT(R)(M)(QM), president and founder of Breast Imaging Specialists, cited the need for better notification and improved early detection for women with dense breast tissue classified as greater than 50 percent.
The American College of Radiology (ACR) estimates that about 40 percent of women in the United States have dense breasts. The ACR has suggested since 1992 that clinical reports contain language indicating the patient's particular density along with a disclaimer that density can hide small masses on a mammogram, and that for the classification of extremely dense, the mammogram will miss some cancers. According to the latest edition of BI-RADS (Breast Imaging-Reporting and Data System), these groups correspond to categories C and D, respectively. Thus, mammography's accuracy is inversely affected by density — as it increases, sensitivity decreases. 
Nineteen states have now passed their own versions of breast inform laws, with Missouri being the latest to sign a notification bill.1 More than 50 percent of women now live in states with notification laws. The tricky part with state-by-state notification laws, said Rush, is the varying language used. Many states use non-specific verbiage, such as "if you have," or "you may have" dense breast tissue. Others differ in the directives on what to do with this information.
Since breast density notification seems to be here to stay, according to Rush, the federal Breast Density and Mammography Reporting Act, introduced in Congress this past July,2 may eliminate future confusion. Standard language designated by the Secretary of Health and Human Services (HHS) will include: that an individual has dense breast tissue; the effect of breast density on masking the presence of cancer on mammography; that individuals with dense breasts should consult with their physicians about questions or concerns; and whether the patient would benefit from additional tests beyond mammography. The HHS will also be tasked to study improved screening options for women with dense tissue.
The Need to Improve Early Detection
With more than 50 percent of women now in notification states, Rush believes breast imaging organizations should consider stepping up their own game to avoid the potential of malpractice lawsuits brought on by parties who believe dense tissue does impact early detection. Citing a 2002 study by the Physicians Insurers Association of America, Rush disclosed that radiologists are sued more than any other specialty, including surgery and pathology. "The public already believes radiologists should be held accountable for failing to detect cancer early enough," she said. As the issue of dense breasts and later-stage diagnosis becomes common knowledge, Rush warned that "lawyers will begin to use our own language against us." 
"We sell screening mammography as early detection," explained Rush. "The public thus believes even a short delay in breast cancer diagnosis is not excusable and can be detrimental." Delays could cause increased injury to a patient, particularly in the form of more invasive procedures and treatments such as chemotherapy, radiation therapy and surgery. They also believe a doctor should not be excused for failing to find a cancer. 
"They do not understand that when we publicize early detection through mammography saves lives, it does not mean it can save all lives. Some cancers will kill no matter when they are found," Rush explained. One of the most important steps healthcare providers can take in avoiding fallout from a delayed diagnosis is to inform these patients about both the benefits and limitations of mammography. 
For women with dense breasts, the consequences of being unable to detect early cancers can be devastating. Due to the decreased ability to "see" through the dense tissue, women with dense breasts are often diagnosed with advanced cancers that are found clinically in the interval between annual mammogram screenings. Such consequences can shake the public's confidence in mammography as a necessary screening tool, and emphasizes the need to inform these women of its limitations. 
So if a standard mammogram is not enough, what should be the next step for a woman with dense breasts? "While there is no commonly agreed upon protocol, there are technologies that have proven effective in supplementing mammography in these women," Rush said.
The ACR has created a patient education brochure explaining why all women need a mammogram, but those with dense breasts may benefit by the addition of whole-breast ultrasound (WBUS) or magnetic resonance imaging (MRI). These modalities showed promise in the ACRIN 6666 study, finding invasive node-negative cancers at a significantly higher rate than mammography. At present, however, neither of these modalities is readily available for ancillary screening, considering that MRI is not covered for women with dense breasts and WBUS has spotty reimbursement at a low rate. The American Medical Association (AMA) has proposed a new CPT code slated for November, with a reimbursement rate for 2015 not yet identified at the time of this writing. 
How Do We Justify Supplementary Imaging?
If insurance is to cover ancillary imaging, Rush indicated the need to standardize breast density assessment. While the ACR estimates 80 percent of women in the United States fall under one of the two middle BI-RADS categories (B and C), an international study showed only a 62 percent agreement by interpreters in scoring in these two categories. Discrepancies in scoring for all densities are also exacerbated with the use of differing technical factors and mammography units, emphasizing the need for objective scoring. 
The addition of breast density analytics software to the market is answering this need. Several vendors offer solutions with differing approaches to density calculations, removing the subjectivity and allowing a more reliable and reproducible result. 
"Very few practices are ready for the changes that will come from ancillary screening," Rush said. But the risks and costs of supplementary screening far outweigh the consequences of having women diagnosed when their cancers are more advanced and thus less treatable. It is time for breast imaging providers to come together and devise appropriate screening solutions for women with dense tissue, since they are at increased risk for a delay in the diagnosis of breast cancer.  
References
1. www.areyoudense.org/worxcms_published/news_page227.shtml, accessed Oct. 29, 2014.
2. www.itnonline.com/article/federal-dense-breast-tissue-inform-bill-introduced-congress, accessed Oct. 29, 2014.