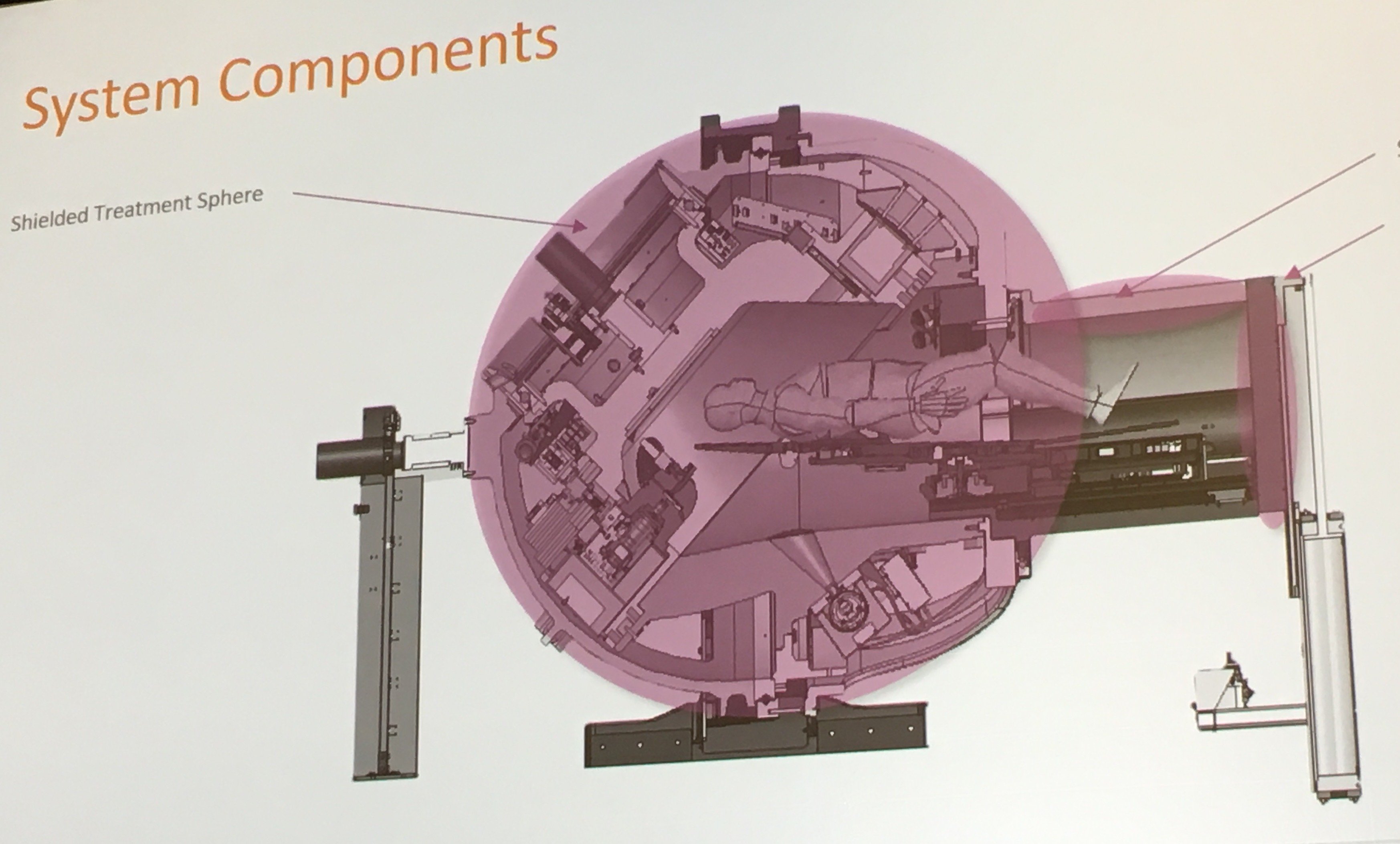 The Zap-X stereotactic radiosurgery (SRS) brain radiotherapy system is completely self-shielded, eliminating the need for a concrete vault. The goal of the system is to expand SRS brain therapy by making it easier to access and less expensive by eliminating the large expense of custom-built vaults to house the system. 
There were several trends and new technologies in radiation oncology discussed at the American Association of Physicists in Medicine (AAPM) 2019 meeting in July. This included new radiotherapy systems, a new type of brachytherapy seed, proton therapy for the eye, implementing artificial intelligence (AI) into clinical practice, and new technologies to better manage patient positioning during radiotherapy.
First Self-shielding SRS Brain Radiotherapy System Begins Operation 
One of the most interesting new technologies discussed in sessions at AAPM was the first commercial installation of a Zap-X stereotactic radiosurgery (SRS) brain radiotherapy system. Barrow Brain and Spine has the first operational system in the world and has so far treated about 20 patients, explained Stephen Sorensen, Ph.D., DABR, chief of medical physics, St. Joseph's Hospital and Medical Center, Phoenix, who helps operate the system. 
Built to fully encapsulate the patient and the linear accelerator (linac) to be completely self-shielded, it resembles a Soyuz space capsule. By placing the shielding on the system itself, it eliminates the need for a concrete vault and it can be placed in a small room. Sorensen said the goal of the system is to expand SRS brain therapy by making it easier to access and less expensive by eliminating the large expense of custom building vaults to house the system. However, he said the tradeoff is that the system is heavy, so maximum floor loads need to be considered. 
"We found the self shielding was sufficient to meet state regulatory requirements for radiation safety," Sorensen said. He presented data showing radiation readings from the treatment room, control room, surrounding rooms and the roof above all had radiation levels that were within safe limits and matched what state regulators recorded. 
The system is designed only to treat brain tumors. The patient bed loads into the capsule and a door closes behind to seal it. The system delivers high-dose SRS therapy from a linac contained inside the capsule. 
Sorensen said there are about 1 million brain tumor patients worldwide who are candidates for SRS, but only about 150,000 are treated each year. He explained part of the reason the system was developed was to make SRS more widely available. 
Learn more in an interview with Sorensen in the VIDEO: Use of a Fully Self-contained Brain Radiotherapy System.
High-energy Alpha Particle Brachytherapy in Development
A new alpha radiation brachytherapy seed, the Alpha DaRT Technology, may offer advantages over conventional brachytherapy, said medical physicist Lior Arazi, Ph.D., an assistant professor at Ben-Gurion University, Israel, who is helping with development. He presented on a new radium-224 seed that offers short-lived, high-dose alpha particles to kill cancer cells in the micro-Curie range as opposed to milli-Curies. By diffusion and convection, these atoms disperse to a therapeutically significant range of several millimeters, delivering a high dose of radiation inside the tumor, Arazi explained. Because the radiation only affects a few millimeters, they can be placed very close to critical structures, he said. 
The alpha particles are not sensitive to oxygen levels in the cells. Arazi said there has not been any observable systemic damage from the seeds, but tumors begin shrinking almost immediately after exposure to the radium-224 source, with results observable the day after treatment. 
The company developing this technology is AlphaTau, which recently started clinical trials at 60 sites worldwide.
Watch an interview with Arazi in the VIDEO: New Alpha Emitter Brachytherapy Seeds in Development.
Proton Therapy for Eye Cancer
A new area for proton therapy is eye cancer, because of the ability to control the tissue penetration and eliminate full beam lines through a multitude of critical structures and healthy surrounding tissue in the head. RaySearch unveiled a new treatment planning software for the eye at AAPM 2019. The vendor showed some of the first patient cases coming out of the Westdeutsches Protonentherapiezentrum Essen (WPE) proton center in Germany. RaySearch said several U.S. proton centers had interest in the technology at the conference.
Watch a VIDEO Example of an Eye Proton Therapy Treatment Plan.
 
Creating a Low-cost Radiotherapy System for the Developing World
The Image X Institute at the University of Sydney, Australia, is working on a low-cost radiation therapy system for the developing world. The Nano-X system will use a fixed linac gantry and rotate the patient around the beam, since it is less expensive to build a table than the materials and machinery needed to rotate the linac gantry, said Paul Liu, Ph.D., post-doctoral research associate who presented in a session on the project. He said this will lighten the weight of the system, reduce the need for room shielding and cut the number of moving parts to lower costs and ease maintenance. 
Learn more about the system in an interview with Liu in the VIDEO: Creating a Low-cost Radiotherapy System for the Developing World.
Advances in Motion Management in Radiotherapy 
Tumor tracking due to respiratory motion or patient positioning during each fraction is a constant issue in radiation oncology. Several technologies were highlighted in sessions and on the expo floor to address motion. 
Varian's Truebeam Advanced Imaging Package for Prostate has a motion tracking feature that is being studied by the University of Chicago. Physics resident Michelle Rokni presented the research in sessions and said Kv images can be acquired during treatment delivery to track fiducial markers in the prostate. Color-coded markers show if the fiducials are in or out of tolerance with the treatment plan. Rokni said this adds about three minutes of time to the procedure, but allows periodic checks for prostate motion. Rokni said the imaging adds about 1 Gy of extra dose, and added that some types of fiducial markers are visualized better than others with the system.
Varian Medical Systems engineer Daren Sawsky, Ph.D., said in sessions the company is working to develop artificial intelligence neural networks to automatically detect fiduciary markers in tumors. The idea is to have the AI watch the tumor and fiducial markers in real time and automatically adjust the radiotherapy system for any motion. This AI-based tumor tracking system would image the markers in real time using RT systems' onboard imaging system. 
Sawsky said a common approach to motion management is template matching. However, he said the cancer and surrounding soft tissue can deform and make this approach no longer appropriate. Tracking fiducial markers may help better track motion and indicate if a template needs to be modified. However, he said the development effort has turned out to be more complex than originally thought. 
On the expo floor, three vendors were showing three-point, light-based tracking systems for the patient on the treatment table.
Vision RT was showing its Align RT 3-D body surface tracking technology. It helps align the patient with the treatment plan using a colored light system, which indicates if part of a patient's body is out of alignment from the original computed tomography (CT) scans used to create the treatment plan. 
The Varian Identify image-guided patient positioning system uses similar technology to help align patients on the radiotherapy system treatment table to match the position they were in when the CT scan was created. This ensures the radiation beams are delivered according to the treatment plan and will not be aimed accidentally at healthy tissue. It uses real-time tracking of the surface of the patient's skin using three visible light emitters, so it does not add dose like when on-board X-ray imaging is used. The system compares the patient's position to the treatment plan CT scan and color codes in red any areas that are not in the proper position. It also uses radiofrequency identification (RFID) tags on the table to help know the exact position of the patient.
The system can show the radiotherapist if the patient is no longer aligned with the plan and the therapist can manually stop the therapy. The vendor said in the future, they plan to integrate the system with Varian's therapy systems so treatment will be stopped automatically by the Identify system. 
The system also uses a biometric scanner to ensure the correct plan is being used with the correct patient. 
Watch a VIDEO walkaround of a Varian Identify system. 
Accuray's new Synchrony technology uses LED markers on the patient's chest to track respiratory motion and allows the robotic arm of the Cyberknife treatment system to move the beam in real time to keep it on target. 
Integrating Artificial Intelligence in Radiotherapy
New artificial intelligence (AI) software was shown on the expo floor by Mirada for automated segmentation of anatomy for treatment plans, and RaySearch showed a new U.S. Food and Drug Administration (FDA)-cleared machine learning treatment planning system. The goal of the AI-based systems is to save staff time, but allow humans to do the final review.
The RaySearch RayStation machine learning algorithm is being used clinically by University Health Network, Princess Margaret Cancer Center, Toronto, Canada, where it has been rolled out over the last several months. Physics resident Leigh Conroy, Ph.D.,has been involved in rollout and is helping conduct a study, showing the automated plans and human-made plans to the radiation oncologists to get feedback and to see if they can pick out the deep learning-generated plans.
Learn more about this technology in an interview with Conroy in the VIDEO: Use of Machine Learning to Automate Radiotherapy Treatment Planning.
Varian also has developed AI-driven automated treatment planning software that is currently being used by several hospitals. 
Mirada's AI-based DLCExpert software takes CT scans and automatically identifies and contours anatomical structures. This automates this otherwise time-consuming task that is required as the first step in creating radiation therapy treatment plans. One example the vendor included used an OAR Space hydrogel, injected to create space between the prostate and the rectum to prevent damage during radiotherapy. The gel is hard to identify on the CT scan because it looks like part of the rectum or prostate. But the AI software has been trained to identify it when present and contour it.
See an example of this AI technology in the short VIDEO: Artificial Intelligence Automatic Contouring and Segmentation For Radiotherapy.
Bridging Diversity in Medical Physics to Improve Patient Care
AAPM President Cynthia McCollough, Ph.D., director of Mayo Clinic's Computed Tomography (CT) Clinical Innovation Center, called attention in her president's address to the subconscious bias people have in medical physics and other medical specialties. This includes biases people harbor toward women, immigrants, religious groups and even between the different age groups, ranging from baby boomers to millennials. 
She spoke on the theme of diversity and how to break down the barriers between various minorities — male-female, religion, national origin and others — giving many photo examples of how we pigeon-hole people into neat categories. She explained most people often say we have equality in society, however recent images she showed from big international political meetings showed no women present, or they were support staff in the background. She said in medical practice, department administration and collaboration on projects, staff needs to be cognizant of bias they have engrained by culture that they might not even be aware of.
She showed a slide of the AAPM membership makeup by generation and said everyone needs to keep in mind the way they think and communicate varies by our life experience and upbringing, so understanding can help bridge gaps in communication. She explained that Generation X and Millennials do not seem to cooperate well, but it is a perception mainly due to each group thinking differently. While an older department manager may send out an e-mail that they consider a directive, Millennials often interpret such e-mails as an invitation to collaborate and offer their thoughts. If these differences can be understood, McCollough said the differences can be embraced to arrive at better solutions that work for everyone.
Hear more about McCollough's thoughts in the VIDEO: Bridging Diversity in Medical Physics to Improve Patient Care.
Related Content from AAPM 2019:
VIDEO: Trends in Medical Physics at the AAPM 2019 meeting — Interview with Mahadevappa Mahesh, Ph.D., Johns Hopkins University.
VIDEO: Efforts to Define the Roles of Medical Physicists and Assistants for Regulators — Interview with Brent Parker, Ph.D., MD Anderson Cancer Center.
VIDEO: Lung Cancer Treatment Plan for a CyberKnife Radiotherapy System
VIDEO: Walk Around of a Mobius 32-slice mobile CT Scanner
VIDEO: New Advances in CT Imaging Technology — Interview with Cynthia McCollough, Ph.D., Mayo Clinic.
---
If you enjoy this content, please share it with a colleague