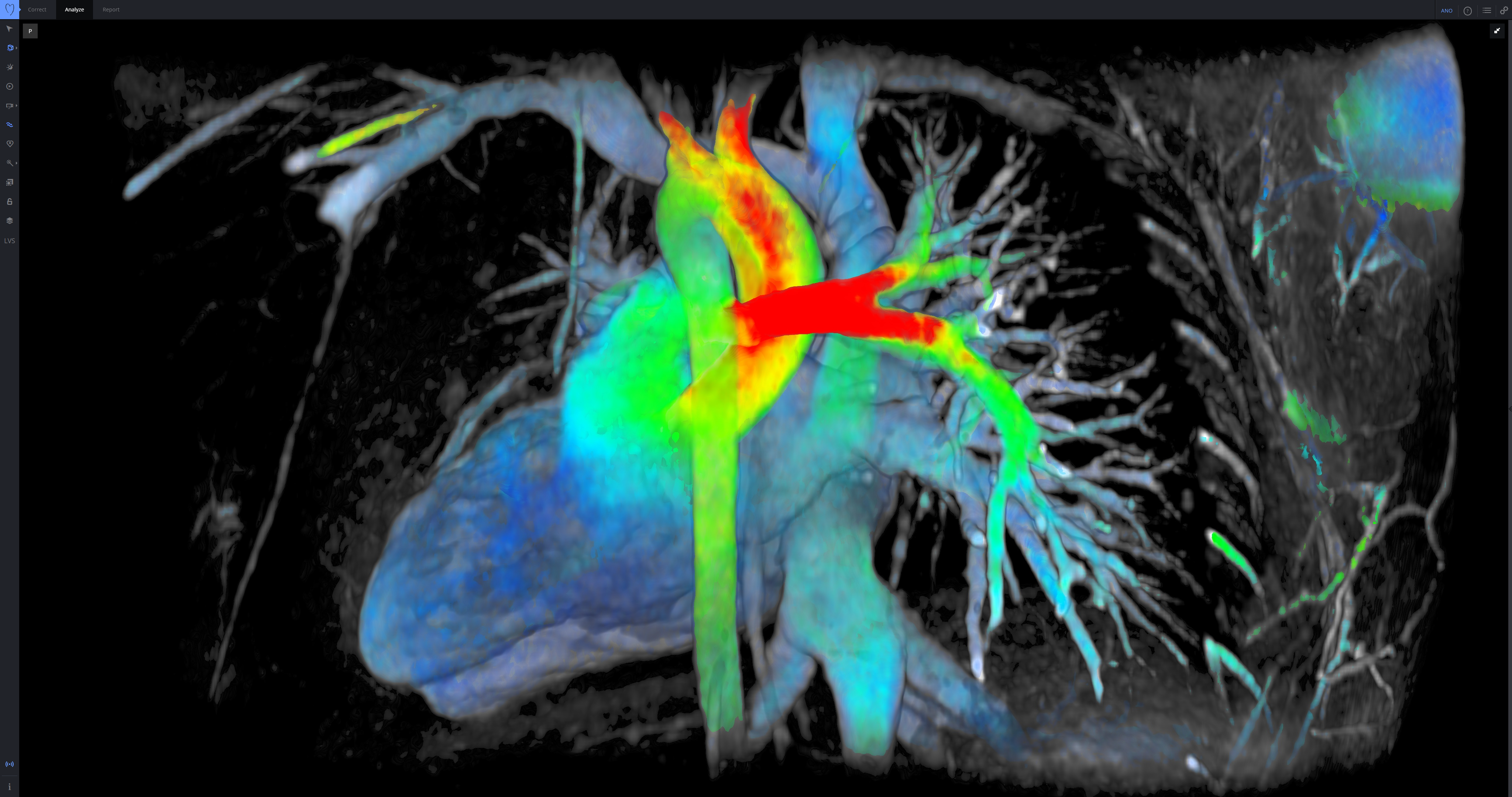 Each year radiology vendors use the Radiological Society of North America (RSNA) meeting as a springboard to unveil their latest technologies. These launches usually correspond with trends in the imaging market or address the clinical limitations of current technology. 
This year's picks include new handheld point of care (POC) ultrasound systems, simplified cardiac MRI, protocols to allow lung MRI, video game technology to eliminate the need for X-ray retakes, real 3-D image review, 3-D visualization of small vessel perfusion on ultrasound, enhanced staff and patient radiation dose monitoring, and improved interventional navigation. 
Watch the video "Editor's Choice of the Most Innovative New Technology at RSNA 2015" for additional information. 
Point of Care Pocket Ultrasound Systems
Smartphones and tablet devices are finding increased usage in healthcare, and at RSNA 2015 Philips introduced the first app to turn a mobile device into diagnostic ultrasound system. The Lumify system offers a linear or a phased array transducer that plugs into an Android phone or tablet micro USB port. The transducer performs most of the beam forming and image processing before sending the image data to the phone, where a cloud-based application and computing power finish the processing. The phone itself serves as the display screen. Images can then be transferred to a picture archiving and communication system (PACS) via wireless data transfer methods already available on the phones. Lumify is sold on a subscription basis, where the probe is rented for about $200 a month from Philips and the app is available as a free download. 
Lumify is aimed at the POC market and is among several POC handheld ultrasound systems to recently enter the market. All of these systems are designed to simplify use, since most are being used by clinicians who are not trained sonographers.
The first of these devices was launched a couple years ago was the GE Vscan system. It was questioned whether there was a need for these miniaturized ultrasound systems, but GE said it has now sold more than 15,000 Vscans. The company said about half of these sales were for the most recent version released at RSNA 2014, which offers a combined double-ended probe for both linear and phased array imaging. 
At RSNA 2015, Fujifim/Sonosite also released a new POC handheld ultrasound platform called iViz. Instead of being just another miniaturized POC ultrasound system, Fujifilm developed the device with the capability to make it a complete POC triage platform. It has front and rear facing cameras to enable JPEG image capture. It is Bluetooth enabled so it can connect with a variety of third-party patient testing devices, including wireless blood pressure cuffs, temperature control, pulse oximetry, blood sugar testing devices and others. The system already has an optional Bluetooth-enabled, simple-to-use strap on a 12-lead ECG recorder that delivers ECG strips with reporting and transmission functions. 
The iViz is a dedicated tablet-sized device ergonomically designed to be held by one hand while still allowing the thumb to navigate the touchscreen controls. It enables 32 cm of tissue penetration, has color Doppler and images/data can be sent into a data cloud or directly into and EMR from the POC. 
Simplifying Cardiac MRI
Cardiac magnetic resonance imaging (MRI) has been very limited, only making up about 1 percent of all MRIs in the United States due to its complexity, long exam times and high cost. However, GE Healthcare introduced a new MRI technology at RSNA 2015 to greatly simplify cardiac MR in hopes of expanding its adoption in place of CT scans. Developed for its new Signa MRI scanners, the new ViosWorks cardiac MRI software helps automate the image sequences to perform a full 3-D chest volume scan that includes the full motion of the myocardium during the cardiac cycle, blood flow, time and fully automated quantification to create a what GE calls a 7-D cardiac MRI exam. ViosWorks also speeds the imaging time from 70 minutes down to about 10 minutes using a single, free breathing exam. 
Gathering a full volume data set of a chest in motion creates a large amount of data that would normally clog the average PACS and post-processing 3-D image workstation. An average cardiac MRI exam today is about 200 MB, while a ViosWorks exam is about 20 GB. So, GE has launched a new cloud computing service to help process that large amount of data quickly with remote super-computing power. 
Lung MRI Now Possible
Lung MRI has been problematic since the lungs are filled with air and there is a low density of hydrogen atoms required to create MR images. For this reason, computed tomography (CT) has traditionally been used for lung imaging. At RSNA 2015, Toshiba introduced its ultrashort echo Time (UTE) sequence for dedicated pulmonary MRI. Available on the Vantage Titan 3.0T MR system, UTE allows clinicians to view tissue with very short relaxation times and high susceptibility regions where signals generally disappear too quickly for accurate MR imaging. 
Video Game Technology to Eliminate X-ray Retakes
One of the late-breaking studies presented at RSNA 2015 was patient tracking software to improve digital X-ray quality and eliminate the need for retake images. Developed using a Microsoft Kinect gaming console, the system measures body part thickness and checks for motion, positioning and beam adjustment immediately before X-ray imaging to ensure proper patient positioning. Misaligned X-ray images are a common cause of retake image, which takes more time, costs more and exposes the patient to additional radiation. 
The Microsoft Kinect was originally developed as a motion sensor and facial and voice recognition device for the Xbox gaming system that enabled users to play games without a standard controller. Subsequently, the technology has been adapted for select non-gaming applications. For this feasibility study, Steven Don, M.D., associate professor of radiology at Mallinckrodt Institute of Radiology, Washington University School of Medicine in St. Louis, Mo., and colleagues combined the technology of the Microsoft Kinect 1.0 with proprietary software to measure body part thickness automatically without patient contact. Additionally, the software provides valuable information on motion and positioning with respect to automatic exposure control (AEC) sensors, image receptor and body part within the X-ray field. Through real-time monitoring, the software alerts the user when any of these factors do not match the requisition — such as the wrong body part — or could compromise image quality. 
"Patients, technologists and radiologists want the best quality X-rays at the lowest dose possible without repeating images," Don said. "This technology is a tool to help achieve that goal. Patients will benefit from reduced radiation exposure and higher quality images to ensure diagnostic accuracy. To optimize radiation exposure and image quality, X-ray technique should be set based on body part thickness. Use of traditional calipers is time-consuming, intrusive, and sometimes frightening to young children." 
Real 3-D Imaging for Radiology
Advanced visualization of CT, MRI or 3-D ultrasound images has been limited to flat presentations of 3-D reconstructions on 2-D screens. However, EchoPixel showed its recently U.S. Food and Drug Administration (FDA)-cleared real 3-D imaging system at RSNA 2015, which allows radiologists, surgeons or interventionalists to look at 3-D anatomy in actual 3-D. The True 3D system uses a unique screen and requires users to wear special glasses, and the resulting high-resolution images appear to jump off the screen and enable detailed visualization with depth perception that has not previously been available in medicine. The traditional 3-D images seen on screens are converted by the Echopixel system into realistic surgical views. This makes the system ideal for procedural planning for surgery or interventional procedures. 
Users can scroll through image slices on any plane, or rotate the dataset on any axis using the mouse or a special stylus that remotely interfaces with the onscreen image. ITN editors had a hands-on demonstration of the system at RSNA. It was found to be very intuitive, and things usually interpreted as noise or artifacts in images were much easier to identify as anatomical structures coming in and out of plane on the real 3-D images.
Radiologists and other specialists reading 2-D multiplane reconstructions often use a lot of mind power to assemble 3-D images in their heads, which Echopixel claims is one of the causes fatigue in radiologist. The company is working on a study of radiologists using the True 3D system to evaluate if reviewing actual 3-D images may be easier, faster and less fatiguing than reading traditional radiology image renderings. 
Visualizing Small Vessel Perfusion on Ultrasound
The perfusion of small, slow flow vessels in organs are difficult to image on ultrasound. Toshiba released its SMI software in 2014 to capture 2-D images of these vessels, and at RSNA 2015 released a 3-D version. The new software can display small vessel beds with Doppler flow in grayscale or false color 3-D reconstructions. These can be rotated for a better view of the anatomy. 
Enhanced Staff, Patient Radiation Dose Monitoring
With the Joint Commission introducing new standards requiring providers to monitor patient radiation doses, new or enhanced radiation dose monitoring and recording software was shown by numerous vendors at RSNA 2015. Providers also realized the need for accurate dose management for staff and are identifying ways to protect them from scattered radiation during interventional procedures.
Philips Healthcare showed two new interesting enhancements with its DoseWise Portal 2.0. One update includes an enhanced dashboard for viewing patient data that introduces a peak skin dose reporting feature to help manage patients undergoing complex fluoroscopy procedures. This includes both a human figure and a 3-D cylinder phantom that project the approximate X-ray exposure areas. The models serve as a reminder of the exposure levels. Alerts can be set so physicians are notified to reposition the C-arm to avoid burns. Dashboard reports also can alert administrators when excessive levels are reached that require follow-up.
The DoseWise solution also integrates with DoseAware Xtend for staff exposure data. It is an advanced version of the Unfors RaySafe system, combining real time radiation detection badges and a live video screen showing each person in the cath lab in a different color. The system reports their real-time exposure rate and cumulative dose since the start of a procedure. The visual presentation on the screen and alert warnings remind staff to step back out of the radiation field to reduce exposure.
At RSNA 2015, GE Healthcare also launched its DoseWatch Explore, a Web-based, cloud-deployed dose management software to track, analyze and report practice-level data for GE CT systems. DoseWatch Explore provides visibility to practice level dose data, an affordable program with no IT integration and an automated tool for dose data and analytics. Similar systems were being shown by Siemens with its new Teamplay enterprise analytical software and improvements to Bayer's Radimentrics' enterprise dose recording platform. 
Improved Interventional Navigation
As the complexity of interventional procedures continues to grow, angiography system vendors are developing software to better help visualize the anatomy and guide procedures. At RSNA 2015, GE Healthcare showcased the latest of these guidance aids with its Assist collection of interventional imaging software packages. These are designed for specific clinical subspecialists and complex endovascular procedures to help clinicians perform procedures with greater accuracy and dose efficiency. The suite offers simple-to-use fusion imaging for CT 3-D image reconstructions that can be overlaid or fused with live angiography in the cath lab.  
The software packages include Vessel Assist to navigate vessels for chronic total occlusions (CTO), transjugular intrahepatic portosystemic shunt (TIPS) and interventional neuroradiology arteriovenous malformation (AVM) and aneurysms. EVAR Assist is designed for vascular surgery and endovascular aortic repair (EVAR). Needle Assist is for bone interventions and pelvic bone osteosynthesis. FlightPlan for Liver is for interventional oncology liver embolization. Valve Assist aids transcatheter aortic valve replacement (TAVR).  PCI Assist helps navigate interventional cardiology complex percutaneous coronary interventions (PCI). 
The Assist packages offer allow easy anatomy segmentation and extraction of the 3-D anatomy in two clicks, measuring the vascular with accuracy like length and diameter, and adding landmarks.
---
If you enjoy this content, please share it with a colleague