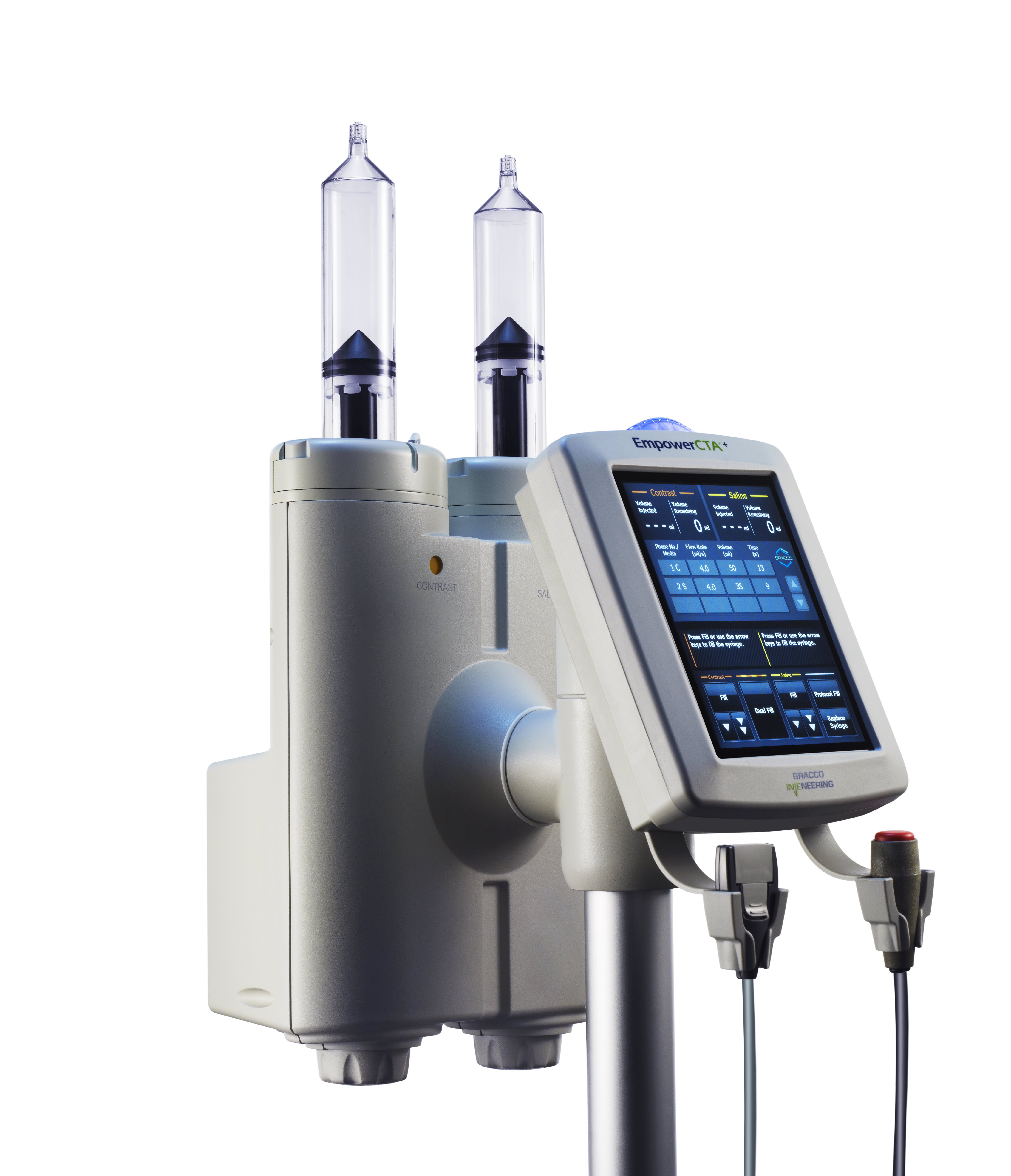 Bracco's new EmpowerCTA+, designed for cardiac CT angiography exams.
The biggest trend in contrast media injector technology today is one seen throughout all of healthcare — doing more with less, or maximizing the utility of existing technology. In the case of contrast media, vendors are focusing on systems that make full use of the existing contrast supply in an effort to reduce contrast dose. This shift is happening with contrast media across multiple modalities. Vendors are also allowing injector systems to integrate with electronic medical records (EMR), picture archiving and communication systems (PACS) and other technology to automatically record and analyze contrast dose data.
Syringeless Injectors 
Syringeless power injectors have emerged recently as a solution to reduce contrast media waste. The Joint Commission does not allow the reuse of unused doses from single-use syringe injectors, so this option gives facilities the opportunity to use contrast media as efficiently as possible. 
In March 2014, Guerbet launched FlowSens, its syringe-free injection system composed of a softbag injector and associated disposables, using a hydraulic, syringe-free injector to deliver contrast media. It is compatible with the company's ScanBag solution and any type of contrast agent available on the market.
Bracco recently received approval from the U.S. Food and Drug Administration (FDA) to market the CT Express 3-D multi-patient injector platform, already popular in Europe, in the United States. Designed to be used with the Isovue (iopamidol injection) Imaging Bulk Package, the syringeless, three-channel CT Express system draws the contrast agent directly from the bottle, eliminating the need to change syringes or cartridges. The system also sports a multiple sampling feature and programmable, automatic irrigation with saline.
New CT and MR Contrast Systems
Guerbet made headlines on two fronts in recent months, beginning with the acquisition of Mallinckrodt's Contrast Media and Delivery Systems (CMDS) business for $270 million in November 2015. A few months later, this past February, Guerbet announced FDA clearance for the OptiOne single-head contrast delivery system, manufactured by CMDS acquisition Liebel-Flarsheim out of Cincinnati. The entry-level single-head injector is designed for injection of radiopaque computed tomography (CT) contrast agents into the vascular system. It uses a motor-driven syringe mechanism with microprocessor control of the flow rate, volume, pressure and timing. All operations are performed on the touch-screen console, and the system has the ability to accommodate prefilled or empty syringes. 
Bracco launched its own touch-screen based contrast injector system, the EmpowerCTA+, for CT angiography in March 2015. The EmpowerCTA+ allows users to fully customize the injection experience for each patient with real-time variable flow rates, saline advance and saline jump; saline advance allows the technologist to test the patient's patency and vein integrity, while saline jump helps minimize contrast dose by allowing immediate advancement to saline once opacification has been reached. 
The EmpowerCTA+ also adds several features to increase patient safety. The extravasation detection accessory (EDA) wearable patch notifies the operator if it senses extravasation (fluid leakage into surrounding tissue), and immediately and automatically pauses the procedure if a clinically significant variation in contrast levels occurs. A built-in tilt sensor and lock reduces the risk of air embolisms to the patient. The eGFR calculator simplifies the calculations used to evaluate kidney function prior to contrast delivery. 
Galt Medical partnered with Health Line to launch the Nexus CT Midline Catheter with MST Insertion Kit in late 2015 for reliable short-term access for intravenous therapies lasting up to 30 days. The power-injectable system sports single- and dual-lumen configurations with a pre-loaded flushable stylet, depth markings and clearly marked midline identifiers for increased ease of use. Perhaps most importantly, no X-ray is required for placement confirmation, offering significant time, radiation dose and cost savings. 
For magnetic resonance imaging (MRI), Medrad introduced the MR Xperion contrast injector system at the European Congress of Radiology (ECR) last March. The system offers improved efficiencies for workflow and automated fluid delivery, with a snap-on/twist-off syringe design, and automatic filling and priming. Dose analytics are monitored automatically with Medrad's Radimetrics Enterprise Platform. Contrast data is automatically documented and shared to the patient record and any PACS or radiology information system (RIS). 
Nemoto Kyorindo offers contrast media injectors for CT, MR and angiography. Customizable protocols give radiologists the opportunity to tailor programs for any diagnostic objective. The company's MR injectors use non-ferrous construction to allow for safe integration in the MRI room. The latest angiography injector, Press Duo, features air-purge functions and is billed as the first dual injector for angiography. 
Dose Monitoring and Analytics
As mentioned, some contrast injection systems monitor dose analytics through connection with the EMR, PACS or other information sources. 
Medrad released version 2.5 of the Radimetrics Enterprise Platform at the 2014 Radiological Society of North America (RSNA) annual meeting. The latest release of Radimetrics features more advanced contrast dose analytics, with new charts and data options to help identify repeat injections and issues associated with intravenous administration. The platform is integrated onto several of Medrad's systems, including the Empower CTA+ and the MR Xperion.
Mallinckrodt launched another such system, the OptiSync data management system, in fall 2014 to complement its OptiVantage dual-head CT contrast delivery system. Operators can access all patient and pharmaceutical information with the scan of a barcode, and injection data — including the patient, drug, dose and administration — is transmitted to HL7-based healthcare systems while patient records are automatically updated. This creates a shared facility database that can help users assess areas where they can reduce errors, increase productivity or improve efficiency. 
Contrast Media Injector Comparison Chart
This article served as an introduction to ITN's contrast media injector chart. The chart is an appled-to-apples comparison of specifications from various vendors on the U.S. market. To access the chart, go to www.itnonline.com/content/contrast-media-injectors, and create a login. Creating a login is free and only takes a minute. 
---
If you enjoy this content, please share it with a colleague