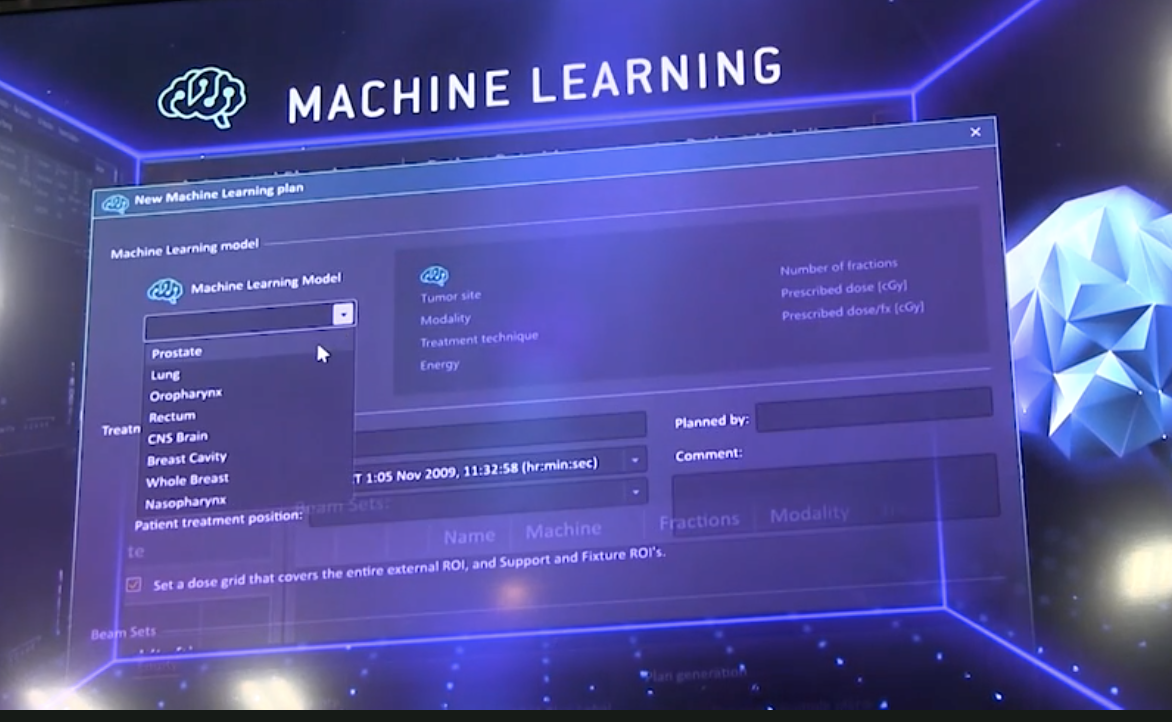 At the American Association of Physicists in Medicine (AAPM) 2019 meeting, new artificial intelligence (AI) software to assist with radiotherapy treatment planning systems was highlighted. The goal of the AI-based systems is to save staff time, while still allowing clinicians to do the final patient review. 
Machine Learning Treatment Planning
RaySearch demonstrated a new U.S. Food and Drug Administration (FDA)-cleared machine learning treatment planning system. The RaySearch RayStation machine learning algorithm is being used clinically by University Health Network, Princess Margaret Cancer Center, Toronto, Canada, where it was rolled out over several months in late-2019. Medical physicist Leigh Conroy, Ph.D., was involved in this rollout and helped conduct a study, showing the automated plans and traditionally made plans to radiation oncologists to get valuable feedback. She spoke at the AAPM 2019 meeting on this topic.
In an interview with itnTV, Conroy explained that she worked with an algorithm that uses machine learning to create automated treatment plans. "With this, we train the algorithm using a curated set of high-quality, previously delivered plans. Then, it is able to detect the patient that is most similar to a novel patient and create a new treatment plan with no user interaction beyond pressing the play button," she explained.
Conrad's study directly compared those automated treatment plans to traditionally generated manual plans. The radiation oncologist then compared those two plans head-to-head and decided whether each plan was acceptable, and chose the favored plan. The plans are not modified as they are performing them, however they are modifiable. "The automated plan is modifiable, but for the purposes of this study, we are not going to be modifying them so we can directly compare the output of the machine learning algorithm to the output of the planners," she said.
The system was trained using a model that was developed at Princess Margaret, and the model is being used clinically. "The way that we are doing our study is if the doctor does choose the automated plan, then it's underlined that the physicist knows when they are doing their plan QA that it is an automated plan, and it goes to the same QA that it normally would, and the patient-specific QA is a fully deliverable plan, and that is the plan that the patient is treated with."
Depending on how things go with the study, it is predicted that AI should see a regular implementation. "That is the point of the study, to make sure we can do this and work it into our regular process and eventually provide it if the doctors continue to like the automated plans," she said.
One of the main ideas in implementing AI is to save time to get more patient throughput. "We are not measuring the end to end timing of a planner vs. the machine learning. But one of the major advantages is that it takes about 20 minutes for a new patient, however there is no user interacting during those 20 minutes, so the planner can go and do other work or other plans during that time, and come back so there is a fully done plan."
There is a different process depending on what plan is being created. However, the AI would help to free them up to be able to do other duties. "From a planner expertise perspective, some of the planning techniques such as head and neck might be more complicated so it might take longer for the planner to do it. It's more reliant on their level of expertise," she explained. 
Other Automated Systems
Varian also has developed AI-driven automated treatment planning software that is currently being used by several hospitals.
Recently, Varian released the newest version of its treatment planning system, Eclipse v16. This new release includes intelligent features such as RapidPlan PT, a clinical application of machine learning in proton treatment planning, and RT Peer Review, a collaborative workspace designed to streamline and accelerate the peer review process for radiotherapy treatment plans.
Previously only available for photon-based radiotherapy treatment planning, RapidPlan is knowledge-based treatment planning software that enables clinicians to leverage knowledge and data from similar prior treatment plans to quickly develop high-quality personalized plans for patients. This knowledge-based planning software is now available for proton treatment planning with RapidPlan PT. The software also allows dose prediction with machine learning models that can be used as a decision support tool to determine which patients would be appropriate for proton or photon therapy. 
"With the number of operational proton treatment rooms continuing to increase, there is a need for experienced proton therapy clinicians," said Kolleen Kennedy, chief growth officer, president, Proton Solutions, Varian, in a written statement. "RapidPlan PT helps bridge the learning curve, allowing established centers to share their models and clinical experience. The machine learning in RapidPlan PT has the potential to reduce proton treatment plan optimization from a one- to eight-hour process, as reported by clinical proton centers, to less than 10 minutes, while also potentially improving plan quality."
Eclipse v16 has received the CE mark and is 510(k) pending.
Related Content:
Artificial Intelligence Greatly Speeds Radiation Therapy Treatment Planning
VIDEO: Use of Machine Learning to Automate Radiotherapy Treatment Planning
---
If you enjoy this content, please share it with a colleague