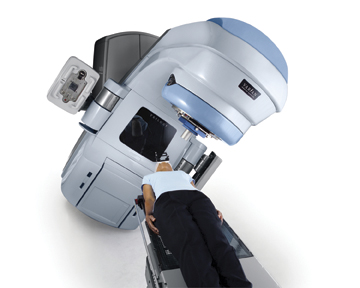 Varian's Trilogy linear accelerator.
The external beam radiotherapy (EBRT) market has been active in recent months, with advances in techniques, devices and treatment planning software that help radiation oncology clinicians provide patients with the most targeted radiation delivery possible. With an estimated 1.1 million patients in the United States treated with radiation in 2009 (including both external beam and brachytherapy delivery), up 15 percent from 2007,[1] and worldwide growth in the radiation therapy market expected to grow at a compound annual rate of 9.1 percent by 2018,[2] activity in this sector can be expected to continue.
Most of the cancers treated with radiation therapy are breast, prostate and lung. According to the American Society for Radiation Oncology (ASTRO), they account for 56 percent of all patients receiving radiation therapy. Intensity-modulated radiation therapy (IMRT) is frequently used to treat many types of cancer, even lung cancer in certain instances, and is growing in adoption.
In a recent statement ASTRO said, "IMRT yields benefits to prostate cancer patients through increased tumor control and fewer side effects, which will ultimately reduce healthcare spending on prostate cancer and demonstrate the value of IMRT." It added, however, "All patients may not be ideal candidates for IMRT and patients should be presented with all of their options, including active surveillance."[3]
With regard to breast cancer, a study published in ASTRO's Practical Radiation Oncology journal found that breast cancer patients treated with IMRT instead of standard whole breast irradiation (WBI) had a lower incidence of acute or chronic toxicities. "Our data support the increasing role of IMRT in delivering not only whole breast irradiation, but also whole breast irradiation using an accelerated treatment time," said Frank Vicini, M.D., a radiation oncologist with Michigan Healthcare Professionals/21st Century Oncology, Farmington Hills, Mich.
IMRT also is being more widely used to treat head and neck cancers. At a multidisciplinary symposium held in January and sponsored jointly by ASTRO, the Society of Nuclear Medicine (SNM), the American Head and Neck Society (AHNS) and the American Society of Clinical Oncology (ASCO), a poster was presented on a study showing that patients treated with IMRT for head and neck cancer report an increasingly better quality of life post-treatment when compared to patients receiving other forms of radiation therapy.
Because IMRT has gained wide use thanks to its ability to better conform the isodose distribution to the tumor's shape and lower dose to some surrounding healthy tissues, ASTRO recently convened a panel of experts to address guidance for it as part of its Target Safely initiative. ASTRO issued a white paper and conducted a webinar with its recommendations, noting that it is a complex technique.
"...Managing the increased complexity in treatment planning and delivery created by IMRT and preventing both human and technical errors requires investments in personnel and training, along with robust quality assurance and safety procedures," said guidelines analyst Caroline Patton in an article discussing the initiative. "There are an estimated 54 process steps and 15 handoffs involved in treating a patient with IMRT, making it essential to address both technical and environmental factors that can lead to errors."[4]
Cost May Inhibit Use
While IMRT use has been growing, its future expansion may be affected by cost considerations. A new report on brachytherapy by GlobalData notes that there is increased focus on the cost-effectiveness of cancer treatments, and brachytherapy is seen as a better option than IMRT in that regard.[5]
In addition, a proposed rule issued by CMS on July 6 to revise reimbursement policies and rates on the Medicare Physician Fee Schedule (MPFS) would reduce payments for radiation oncology services. The most drastic cuts are due to CMS' change in treatment times for IMRT and stereotactic body radiation therapy (SBRT), according to ASTRO.
In a press release disputing these changes, ASTRO said, "The recommended treatment times do not fully account for the time spent positioning the patient for treatment, performing safety checks or the work that occurs before and after each patient's treatment. The society is making efforts to fight the proposed changes."
References:
1 IMV Medical Information Division, "2010 Radiation Therapy Market Summary Report"
2 GlobalData, "Radiation Therapy Devices - Global Opportunity Assessment and Market Forecast to 2018"
3 "ASTRO responds to study on growth of IMRT for prostate cancer," www.astro.org/News-and-Media/News-Releases/2012/ASTRO-responds-to-study…, accessed Aug. 14, 2012
4 "Managing complexity and assuring safety in delivery of IMRT, SRS and SBRT," Caroline Patton, guidelines analyst, www.astro.org/Web-Exclusives/Clinical-Practice/IMRT/SRS/SBRT-web-exclus…, accessed Aug. 14, 2012
5 GlobalData, "Brachytherapy Devices - Global Opportunity Assessment, Competitive Landscape and Market Forecasts to 2018," www.itnonline.com/article/report-indicates-fate-brachytherapy-may-rest-…, accessed Aug. 14, 2012
---
If you enjoy this content, please share it with a colleague