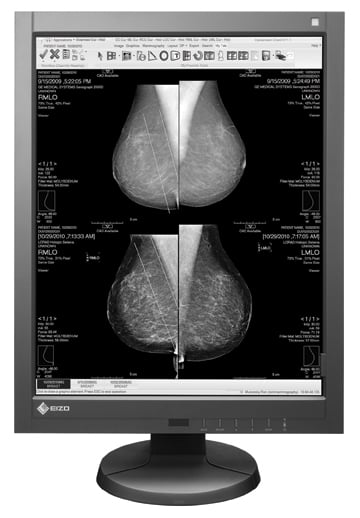 The Eizo RadiForce GX530 display.
Recent advances in diagnostic-grade flat panel displays include automated and remote quality assurance (QA), elimination of the bezel between two screens by using a single large screen for workstations and an increasing use of color monitors.
Quality Assurance on Medical Displays
Regular calibration is extremely important for medical imaging displays to guarantee the best image quality and to ensure that light levels are the same throughout the screen matrix and over time as the monitor ages. Liquid crystal display (LCD) screens can last more than a decade, but the light source for backlit screens may start to degrade much sooner. As bulbs age, they may become dimmer and their shades of gray or color becomes unbalanced. For this reason, medical monitors are generally only covered under warranty for five years. These displays usually include a built-in monitoring system to ensure their diagnostic quality.
In order for a display to be DICOM-calibrated, a photometer is held to the screen manually or the display may have a built-in front sensor attached to the bezel. Regular, manual QA checks of the display may disrupt radiologists when conducting tests at each workstation. The QA process can also be time-consuming for large enterprises with many monitors spread over several departments and even several facilities, so some vendors have developed automated and remote calibration systems.
"A lot of the monitors are able to be calibrated with a built-in sensor, so you no longer need someone to come and physically calibrate each individual monitor at every single workstation," said Joey Sanchez, Eizo marketing specialist.
Double Black Imaging displays can conduct calibration through the Web-enabled network and it can be done in the middle of the night, so radiologists' workflow is not interrupted.  "The radiologist's workflow is never interrupted," said Tara McCall, sales and marketing manager at Double Black Imaging. "They receive email alerts if something is not conforming and can be proactive in maintaining that."
There is a trend toward centralized calibration services being offered by the display manufacturer. At RSNA 2011, Double Black Imaging launched its Virtuoso service, where the vendor's calibration experts will manage their clients' networks for them. Barco's Nio and Coronis families of monitors offer automatic calibration. The QA software reports automatically to a central server. Barco's Mammo Tomosynthesis 5MP display uses I-Guard, a third-generation system that automatically does calibration in the background, QA tests, sends the information to a central server and generates compliance reports.
Eliminating the Bezel
The standard setup for a radiology review station is two monitors side-by-side for the evaluation of current and prior exams. Vendors are now offering larger, single displays that eliminate the need for two monitors and the bezel separating the two screens. This allows for better viewing without the distraction of the bezel when going between the images. Examples include Barco's amalgamation of two 3 MP displays into an single 6 MP display for mammography and Eizo's new 8 MP surgical monitor that will replace six separate 1-2 MP displays.
Color vs. Monochrome
Until a few years ago, nearly all radiologic and nuclear image viewing was conducted using monochrome displays. There were two reasons: First, color displays lacked the brightness needed for radiographic interpretation. Second, the pixel values in grayscale can match the representation of measured values from imaging modalities, such as X-ray beam attenuation, Hounsfield units, echogenicity, magnetic resonance signal intensity or radioactivity. Since none of these are measures of visible light, they have no particular color.1
Color screens also divide each pixel into three subpixels for red, green and blue to create colors, which reduces the brightness of each pixel. On LCDs, the backlight is what determines the screen brightness. Brighter light sources could be used, but produce too much heat, which would adversely affect the internal components of the display. The introduction of "cold" backlights in seven years ago has enabled bight color medical grade displays.
While color monitors might be preferred because of their versatility, QA to maintain calibration of monochrome displays is much easier. Uniformity of colors can be an issue over time, but vendors are constantly working to improve QA on their color displays.
Consumer vs. Medical Grade Monitors
Consumer-grade monitors have traditionally lacked adequate luminance, so they were not bright enough to adequately display enough shades of gray for diagnostic interpretation. However, the quality of off-the-shelf consumer displays has greatly improved with brighter screens and increased matrix sizes. But medical displays still offer several advantages in maintaining high luminance more precisely over the lifetime of the display, built-in photometers and quality assurance monitoring.
Future Monitors
The next generation of medical monitors will likely use organic light-emitting diode (OLED) technology. These displays are not backlit like conventional LCD screens, which means black is true black, not a backlit black.  This enables a higher contrast ratio than an LCD. By eliminating the need for backlighting, OLED technology also might enable thinner, lighter-weight displays. Sony has a line of OLED monitors, which the company hopes to launch later in 2012.
Note: The comparison chart on flat panel displays can be found by clicking here.
 
References:
1. Society of Imaging Informatics in Medicine's "Need to Know" series, www.siimcenter.org
---
If you enjoy this content, please share it with a colleague