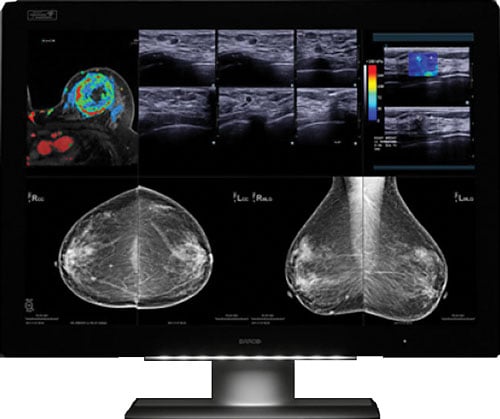 Image courtesy of Barco.
Medical-grade display technology has evolved significantly and swiftly, and many new applications are available that help to streamline workflow and enhance productivity.  
Tomosynthesis Applications
As breast tomosynthesis becomes more widespread, the demand for high-resolution, accurate renderings of the images grows. Recently, NEC Display Solutions received U.S. Food and Drug Administration (FDA) clearance of its MultiSync MD211G5 medical-grade monitor for use in tomosynthesis applications and full field digital mammography (FFDM). The 21-inch display is built for displaying and viewing digital images for diagnosis. The 5-megapixel grayscale monitor, which also has been cleared for standard mammography, offers out-of-the-box factory DICOM calibration and uniformity control for consistent imaging across the entire screen. Its IPS panel features a 1,200:1 contrast ratio and 500 cd/m2 of calibrated brightness. The MD211G5 display also comes with GammaCompMD QA software for managing conformance to the AAPM TG-18 standard. 
At RSNA 2015, Eizo Inc. announced that it received FDA clearance for breast tomosynthesis on its 5-megapixel monochrome medical monitor, the RadiForce GX540. The FDA clearance for the RadiForce GX540 includes tomosynthesis, mammography and general radiography. The RadiForce GX540's high resolution of 5 megapixels (2,048 x 2,560) LCD LED backlight with fast response time allows for viewing the fine details in breast images. To detect the smallest structures, the monitor offers a high contrast ratio of 1,200:1. The deeper black levels distinguish similar shades of gray for sharper monochrome image reproduction. Eizo's RadiCS UX1 quality control tool performs precise calibration conforming to DICOM Part 14 and enables quality control complying with ACR Practice Guideline for digital mammography monitors. 
In October, Barco announced that its flagship diagnostic display system, Coronis Uniti, is clinically validated for multimodality breast imaging, reportedly making it the first diagnostic display that can be used for both picture archiving and communication systems (PACS) and multimodality breast imaging, including breast tomosynthesis, 3-D mammography, breast magnetic resonance imaging (MRI) and breast ultrasound. The system had previously been cleared for viewing PACS and mammography images, including breast tomosynthesis. The FDA's new indications for use include breast MRI, breast ultrasound, computed tomography (CT) and ultrasound, including vascular and gynecological ultrasound. This enables radiologists to view a host of breast imaging modalities — in color or grayscale, 2-D or 3-D, static or dynamic — on a single display. The ability to access any image on a single display offers significant benefits from workflow and clinical perspectives. The use of ultrasound in combination with conventional mammography in women with dense breasts, for example, has resulted in better early breast cancer detection. Barco also found a way to counteract motion blur when reviewing multi-frame image sequences such as digital breast tomosynthesis, breast ultrasound and breast MRI. RapidFrame technology, which provides a high pixel refresh rate, enables radiologists to accurately visualize moving and changing images, avoiding loss of detail when scrolling through the 3-D stack and ensuring efficient diagnosis as well as swift workflow. 
On the Horizon
To keep up with ever-changing needs, the flat panel market continues to evolve. Eizo Corp.'s RadiForce RX350 is currently pending FDA clearance. The 21.3-inch, 3-megapixel monitor is ideal for displaying chest X-ray, computed radiography (CR) and digital radiography (DR) grayscale images, and color images such as 3-D rendering and image fusion. This is the successor model to the RadiForce RX340, and is equipped with Eizo's Sharpness Recovery technology. All high-brightness LCD panels exhibit a decrease in sharpness of the original image due to the aperture ratio of the pixels becoming larger. Sharpness Recovery restores lost information in contours, resulting in an image shown with maximum clarity. Using the DisplayPort connection on the monitor, users can drive several monitors in a daisy-chain sequence, allowing users to configure a multi-monitor setup without the hassle of excessive cabling. 
NDS Surgical Imaging's new patent-pending ZeroWire Mobile integrated cordless display solution offers untethered mobility of high-definition (HD) imaging in a self-powered system. Using a discreet embedded wireless transmitter/receiver built into the company's Radiance Ultra surgical displays and mounted on a specially designed roll-stand, the ZeroWire Mobile solution delivers full HD video wirelessly with complete freedom of movement within the procedure room. A dual-battery power source is engineered with a wall-mounted two- or four-bay battery charging system providing hot-swap capability for extended operational requirements. The display system eliminates cables and helps enable greater procedure room efficiency through ease of movement and re-positioning. 
NDS will also soon release large format 32-inch displays to the Radiance Ultra family. These include the Radiance Ultra 4K 32-inch, offering superb image clarity at 4K resolution (3,840 x 2,160 pixels, Ultra-HD), with 4x 3G-SDI, display port and HDMI inputs. The Radiance Ultra TruColor 32-inch display features Ultra-Wide-Gamut technology, broadening the color spectrum for more life-like images, and NDS's proprietary Medi-Match color calibration technology for smooth motion and accurate color representation of anatomy.