Prenatal MRI of a Zika fetus showing enlarged cerebral fluid space, dilation of the cerebral ventricles, thinning of brain tissue, poorly developed cerebellum and the absence of brain cortical gyri. (Image coutesy of RSNA)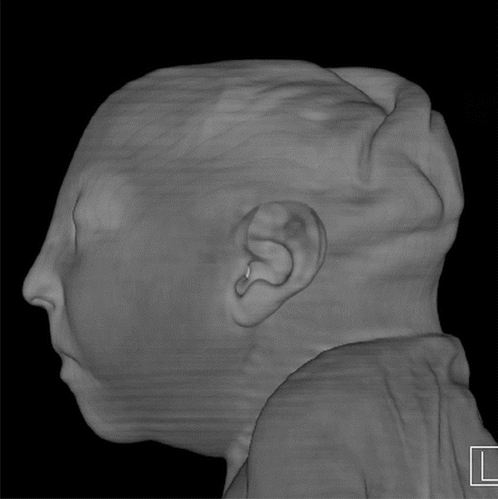 A CT scan of a baby infected with Zika virus, showing the microcephaly due to abnormal brain development.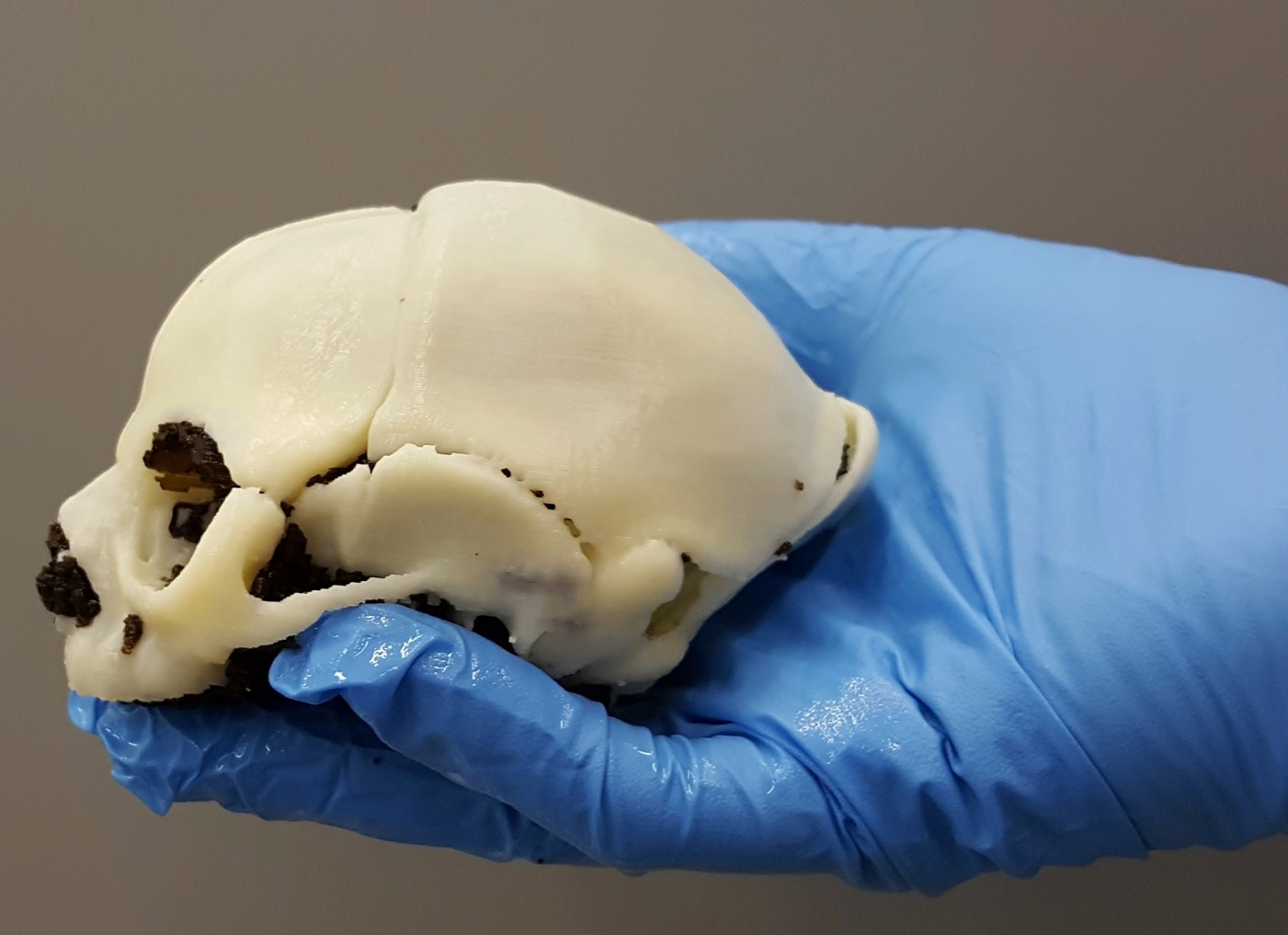 A 3-D printed skull from a CT scan, showing the common deformity of the skull.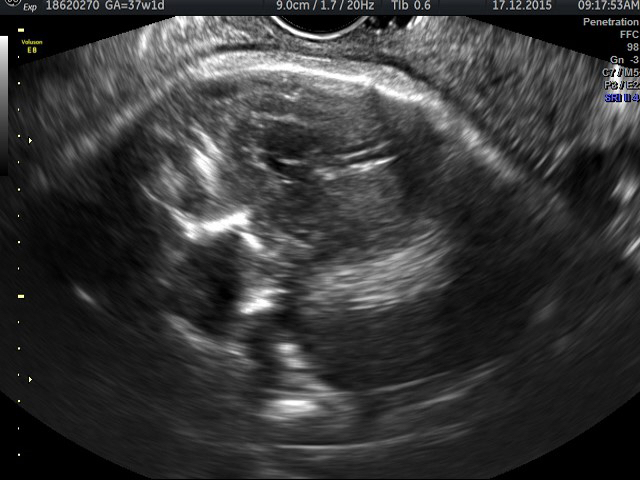 A prenatal ultrasound showing calcifications and microcephaly in a Zika infected fetus.
Key take aways from the key Brazilian radiology study of Zika virus.
Key findings of prenatal Zika imaging.
Prenatal MRI of Zika fetuses.
The rapid spread of Zika virus in the Western Hemisphere this past year has caused great alarm in the United States, which has braced for a wider spread over its borders. Brazil has been the epicenter of the epidemic, and physicians there have conducted several studies to come up with radiologic guidelines for early diagnosis and tracking of the disease.
 
Many adults infected with Zika have no symptoms at all. However, Zika transmitted from a pregnant mother to her fetus during the first trimester of pregnancy can have catastrophic consequences, with severe brain defects in the baby. The most common of these is microcephaly, a congenital malformation of the head with a smaller than normal head size. Zika also has been linked to eye defects, hearing impairment and stunted growth in babies. Until recently there were no guidelines for pre-natal radiological assessment of Zika.
 
Four of these studies were presented at the 2016 annual meeting of the Radiological Society of North America (RSNA). These sessions were among the first on Zika radiological assessment presented in the United States.   
 
One of the largest studies was a retrospective review of imaging and autopsy findings associated with congenital Zika virus infection found in the Instituto de Pesquisa em Campina Grande state Paraiba (IPESQ) in northeastern Brazil, where the infection rate has been most severe. From June 2015 to May 2016, 438 patients were referred to the IPESQ due to rash during pregnancy or suspected central nervous system abnormality. From this group, the researchers identified 17 fetuses or neonates of women who had imaging at IPESQ, as well as documented Zika infection in fluid or tissue ("confirmed cohort"), and 28 fetuses or neonates with brain findings suspicious for Zika infection with intracranial calcifications ("presumed cohort"). Imaging exams included fetal magnetic resonance imaging (MRI), postnatal brain computed tomography (CT), postnatal brain MRI and, in some cases, longitudinal prenatal ultrasound. The study used ultrasound, MRI and CT during pre- and postnatal development, showing the profound effects of the disease.[1]
 
"Imaging is essential for identifying the presence and the severity of the structural changes induced by the infection, especially in the central nervous system," said the report's lead author, Fernanda Tovar-Moll, M.D., Ph.D., vice president of the D'Or Institute for Research and Education and professor at the Federal University of Rio de Janeiro, in Rio de Janeiro, Brazil. "Microcephaly is just one of several radiological features."
 
She said Zika in fetuses can be detected early in a pregnancy with ultrasound. "In the first trimester, ultrasound plays a big role, not just in measuring the head circumference, but also looking inside the brain looking for several abnormalities," Tovar-Moll explained. "After the third trimester, ultrasound is not as sensitive because of the collapse of the skull, so MRI plays a bigger role and is able to show the changes in the brain."
 
The study found Zika has several calling cards in imaging that are found in 100 percent of infected fetuses. The biggest of these is the formation of calcifications. "This is really a landmark of this disorder," Tovar-Moll said. In 80 percent of cases, she said the calcifications form in the gray-white matter interface, sometimes with a cortical ribbon pattern. Calcifications were also seen in the periventricular, basal ganglia, thalamus, brainstem and the cerebellum.
 
"Calcifications in the brain stem were seen in the most severe cases," Tovar-Moll explained. "These cases had a very small amount of brain and a large ventriculomegaly, so we had a very thin cortex, with a very large ventriculomegaly, actually leading to hydrocephalus. And this was probably directly associated with the calcifications in the brain stem."
 
Other prevalent findings in Zika cases included severe parenchymal volume loss. The skull volume will appear normal in the presence of hydrocephalus, but will have overlapping sutures and redundant skin. All Zika fetuses had cortical abnormalities, including lissencephaly (smooth brain), polimicrogyri and pachygyria, or irregular areas of sulcus and gyrus on the surface of the brain. 
  
Another common sign of Zika was corpus callosum abnormalities, found in 94 percent of fetuses. It appeared there was dural venous thrombosis at the confluence of the sinuses in 53 percent of the cases. Ventriculomegaly was present in 94 percent of cases. Posterior fossa abnormalities were also found, including cerebellar hemisphere hypoplasia and/or maldevelopment. The brainstem had hypoplasia and/or atrophy in 80 percent of cases. Vermis hypoplasia was found in 59 percent of cases.
 
"There was also abnormal cortical development in 10 percent of the cases," said study investigator Patricia Soares de Oliveira-Szejnfeld, M.D, Foundation for Education and Research in Diagnostic Imaging, Department of Diagnostic Imaging, Federal University of São Paulo, Brazil.
 
She said the study confirmed early detection of fetal Zika infection is possible. "In the first 16 weeks, during the first trimester, we can see calcifications, ventriculomegaly and microcephaly. The majority in our cohort, the microcephaly was found by the fifth week," de Oliveira-Szejnfeld said. "The sonographer needs to look for subcortical calcifications, the thalamus and basal ganglia… In the fetal MRI cases, we saw a severe malformation of the brain stem and the cerebellum."
 
"The fetal MRIs give us more detail about the cortical development, the white matter and the formation of corpus callosum, so we can evaluate better in comparison with the ultrasound," said Tovar-Moll. "This is especially true after the third trimester when we have limitations on the ultrasound windows."
 
The study used post-natal imaging with both MRI and CT to track all of the changes in the brain. (Editor's note: Watch the VIDEO "Radiologic Assessment of Zika Virus." This is an interview with study authors Tovar-Moll and Patricia Oliveira-Szejnfeld, M.D.)
Identifying Zika Beyond the First Trimester
There were three other Zika studies presented at RSNA 2016. One study looked at CT findings of the central nervous system in 16 newborn babies with congenital Zika virus infection confirmed by cerebral spinal fluid tests. The researchers identified a pattern of CT brain findings in the babies, including decreased brain volume, simplified gyral pattern, calcifications, ventricular dilatation and prominent occipital bone.[2]
 
Many of the adults had symptoms of Guillain-Barré syndrome, a rare disorder in which the body's immune system attacks the nervous system, causing rapid onset muscle weakness. A few showed inflammation of the brain and spinal cord (Bickerstaff's encephalitis), or brain stem and spinal cord lesions. Common magnetic resonance imaging (MRI) findings included enhancement of certain spinal and facial nerves. In the newborns, MRI showed orbital injuries and anatomical changes in brain tissue.
 
"It was alarming to find so many cases of neurological syndromes in adults, some very serious, related to Zika virus infection," said study author Emerson de Melo Casagrande, M.D., from the Department of Radiology at Antonio Pedro University Hospital - Federal Fluminense University, Brazil. "We have also noticed a difference between these syndromes, even though the trigger was the same."
 
In a third study, ultrasound and fetal MRI were performed on pregnant patients with Zika virus infection at different gestational ages. Once the babies were born, they underwent ultrasound, CT and MRI. The researchers then created 3-D virtual and physical models of the skulls. More than half the babies had microcephaly, brain calcifications and loss of brain tissue volume, along with other structural changes.[4]
"The emergence of Zika virus in the Americas has coincided with increased reports of babies born with microcephaly," said study author Heron Werner Jr., M.D., Ph.D., from the Department of Radiology at Clínica de Diagnóstico por Imagem, Brazil. "An early diagnosis may help in treating these babies after birth. Moreover, the knowledge of abnormalities present in the central nervous system may give hints about the pathophysiology of the disease."
References: 
1. Patricia Soares de Oliveira-Szejnfeld, Deborah Levine, Adriana Suely de Oliveira Melo, et al. "Congenital Brain Abnormalities and Zika Virus: What the Radiologist Can Expect to See Prenatally and Postnatally." Radiology, October 2016
Volume 281, Issue 1. DOI: http://dx.doi.org/10.1148/radiol.2016161584
2. Natacha Calheiros de Lima Petribu, M.D., Marilia B. Abath, et al. "Common Findings on Head Computed Tomography in Neonates with Confirmed Congenital Zika Syndrome." Presentation at RSNA 2016 
3. Cristina A. Fontes, M.D., M.Mc., Alair Augusto S. Santos, M.D., Ph.D., Emerson de Melo Casagrande, et al. "Neuroradiological Findings Related to Zika Epidemic:Experience from a Brazilian University Hospital." Presentation at RSNA 2016. 
4. Bianca Guedes Ribeiro, Heron Werner, Luiz Celso, et al. "Essentials of Intrauterine Zika Virus Infection: Pre and Postnatal CNS Findings." Presentation at RSNA 2016. http://archive.rsna.org/2016/16017314.html