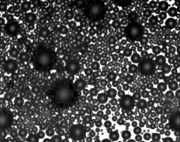 The microbubbles that make up the ultrasound contrast agent Optison.
Contrast-enhanced ultrasound (CEUS) can "dramatically improve" physicians' ability to detect heart disease and stratify future risk, said Thomas Porter, M.D., at the 16th European Symposium on Ultrasound Contrast Imaging in Rotterdam.
"This technique is safe, accurate, cost-effective, completely avoids exposure to ionizing radiation and can improve the prediction of patient outcomes when compared to nuclear imaging or conventional ultrasound without a contrast agent," according to Porter, director of echocardiography at the University of Nebraska. Porter said he has safely used CEUS in more than 10,000 patients over a 20-year period, with only a single allergic reaction that was easily treated.
Noting that coronary artery disease is the No. 1 killer, Porter criticized the under-utilization of CEUS among physicians in the United States and overseas. He blamed a combination of financial, technical, political and attitudinal barriers to its use – even though he believes it's the best way to detect coronary artery disease.
Conventional ultrasound is a first-line imaging tool that is relatively inexpensive, portable and readily used in a variety of routine or emergency settings, according to Porter. When contrast agents are used to enhance ultrasound images, physicians may be able to spot abnormalities that otherwise would go undetected, he added.
Ultrasound contrast agents, unlike agents used for other types of medical imaging, do not contain dye and ultrasound procedures do not utilize ionizing radiation. Ultrasound contrast agents are liquid suspensions of tiny microbubbles that are biocompatible and biodegradable. When they are injected into a patient's arm vein during an ultrasound exam, they pass through the circulatory system, reflecting ultrasound signals as they mimic the transit patterns of red blood cells. When an ultrasound probe is placed over a patient's heart or other organ system, the contrast agent will improve the reflectivity of the underlying region of interest. The contrast agent is essentially breathed out of the body a few minutes after it is injected.
CEUS is used in Europe, Asia, Canada and Brazil for early detection of tumors and evaluating abnormalities throughout the body, including the heart, liver, brain, digestive tract and kidneys. The U.S. Food and Drug Administration (FDA) has approved the use of ultrasound contrast agents for certain forms of cardiac imaging and is considering the approval of additional applications including ultrasonic detection of liver tumors.
FDA-approved cardiac applications are limited to evaluation of the left ventricle of the heart and endocardial borders. However, studies now show that the same CEUS scans may have significant diagnostic value with no added safety risk when used off-label during cardiac stress echocardiography and perfusion imaging studies. The Intersocietal Commission for Accreditation of Echocardiography Laboratories recently changed its guidelines to require the use of an ultrasound contrast agent during stress echocardiography under certain specified conditions, according to Porter, and echocardiography laboratories throughout the United States now risk losing their accreditation if they fail to comply with these new standards.
Early safety concerns prompted the FDA to require boxed warnings on the two ultrasound contrast agents approved for use in the United States – Definity, sold by Lantheus, and Optison, sold by GE Healthcare. However, an overwhelming amount of favorable safety data has been produced by medical centers worldwide since the boxed warnings were imposed in late 2007, according to Steven Feinstein, M.D., director of echocardiography at Rush University Medical Center in Chicago and co-president of the International Contrast Ultrasound Society (ICUS).
"These new studies clearly show that CEUS is extremely safe, and that clearer ultrasound images improve the accuracy of diagnosis and treatment while reducing the need for riskier and more expensive downstream testing," Feinstein said.
Nevertheless, CEUS is used in an exceedingly small number of imaging applications in the United States and elsewhere, according to Porter and other speakers at the conference.
"CEUS has great potential but is quite under-utilized because it has not been a revenue producing venture," according to Dr. Mike Averkiou of the University of Cyprus in Nicosia.
Part of the problem is perception, according to Porter. "Physicians think a nuclear scan is just as good," he said.
As a result, many physicians routinely order nuclear scans, which have poorer spatial and temporal resolution and expose patients to ionizing radiation, Porter said. "They are satisfied with inconclusive results saying coronary artery disease cannot be ruled out," he added. "They get the same reimbursement either way and it's easier to hedge than do the complete job. Why aren't we insisting that the best imaging technology is appropriately reimbursed."
Other speakers shared Porter's concern about the risk of malignancies associated with nuclear scans and computed tomography (CT) scans, both of which use ionizing radiation.
Peter Burns, M.D., of the University of Toronto, expressed concern over the excess cancers thought to be due to malignancies associated with CT scans and nuclear imaging. Burns said he and his colleagues routinely use CEUS to track inflammatory bowel disease, and some young patients with this chronic disease have had 20 CT scans by the time they see them.
Porter said one of the key barriers to appropriate CEUS use is skewed financial incentives. He said there is currently no reimbursement for CEUS stress echocardiography or perfusion imaging, but physicians who routinely order nuclear scans are rewarded even when the scans are inconclusive.
Porter also noted the lack of established CEUS training programs for healthcare professionals, including young physicians who are pursuing cardiology and radiology sub-specializations. He urged physicians and researchers to support ICUS, which is the only international professional society that exclusively focuses on CEUS education, advocacy and communications.
ICUS is a co-sponsor of the conference in Rotterdam and sponsors another annual CEUS conference held in Chicago each fall. ICUS also produces a free newsletter and weekly e-mail updates on the developments in the CEUS field and presents professional society briefings to update government agencies, including the FDA.
"ICUS grew out of a grassroots physician movement aimed at fostering appropriate use of CEUS, with the ultimate goal of improving diagnoses and saving lives," Feinstein said. "This international initiative is particularly timely in light of increased concerns over the cost of healthcare and the risk of malignancies associated with ionizing radiation."
For more information: www.icus-society.org