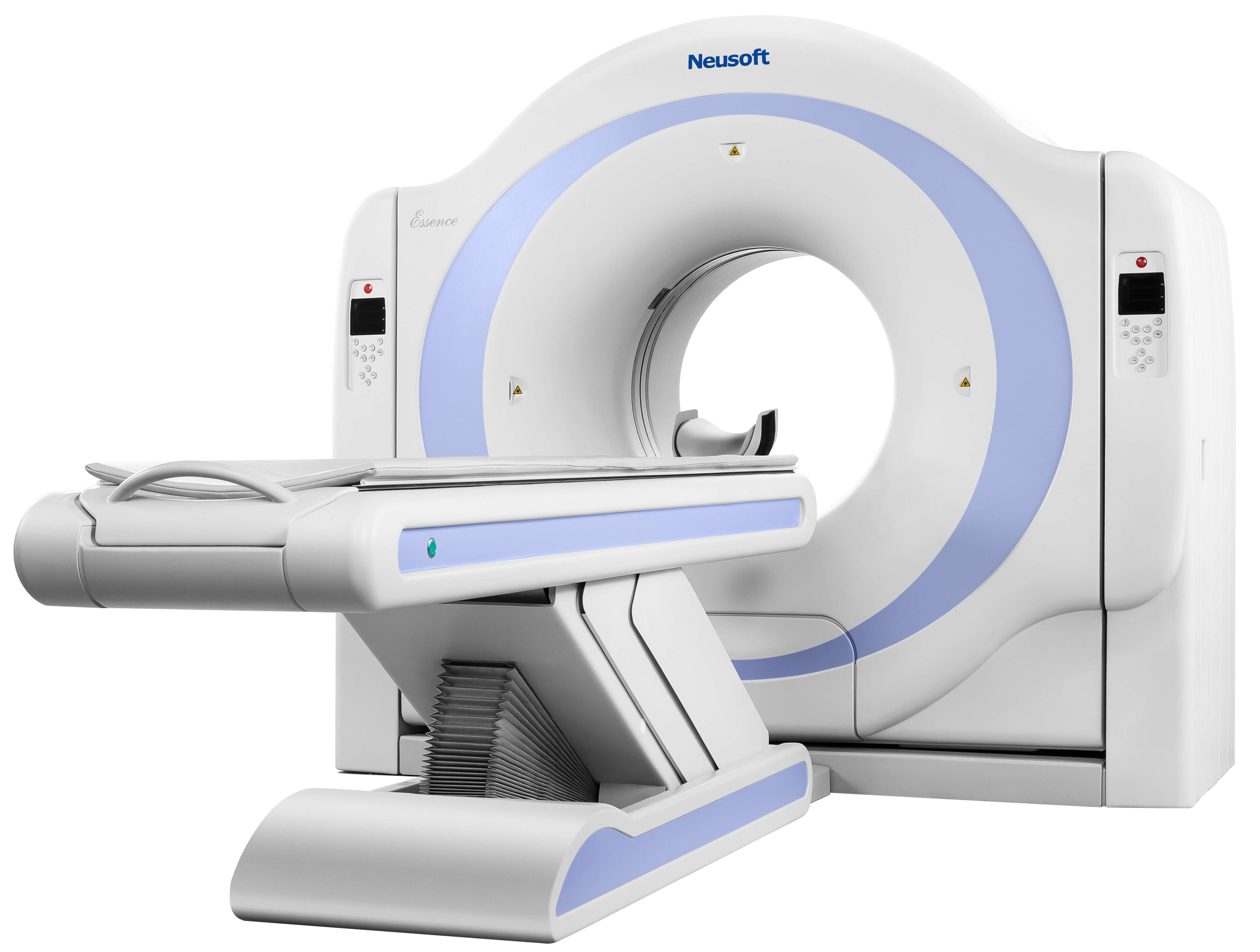 The NeuViz 16 Essence from Neusoft Medical Systems.
According to an industry market report released by Mordor Intelligence in May 2018, the computed tomography (CT) market is expected to achieve a compound annual growth rate (CAGR) of 5.4 percent during the forecast period of 2018-2023. CT systems use a series of X-ray images to create an image volume dataset with slices that can be manipulated on any plane using advanced visualization software.
The report states that due to an increase in incidence of cancer and other chronic diseases — including heart disease, diabetes, stroke and arthritis — the demand for CT is on the rise, stating that "Cardiovascular diseases account for 17.5 million deaths annually, followed by cancers (8.2 million), and it is estimated that nearly 550,000 new cases of head and neck cancer are diagnosed globally each year." Other factors driving the CT market include the growing global aging population, technological advances and more of an awareness for healthcare overall.
Reimbursement is a topic that remains on the front burner in today's economy. "CT reimbursements have been cut substantially. Imaging facilities are squeezing more life from their computed tomography scanners in response to lower reimbursement," according to Mordor Intelligence. "The Centers for Medicare and Medicaid Services recently declared a reduced reimbursement for CT by 21 percent and MRI by 12 percent, respectively. The cost of any treatment in the public sector is determined by the set scale of fees for individual cost operations and by a sliding scale of reimbursement. However, in the private sector, the cost of treatment is highly unchecked. This adds to the patients' expenditure as only a fixed amount or a part of expenses are reimbursed, which is a major restraint for the market. The other restraint for the CT market is the expensive procedures and equipment."
Market Update
At the recent American Society of Radiation Oncology (ASTRO) annual meeting in San Antonio, Texas, Canon Medical Systems showcased its newly FDA-cleared Aquilion Precision, an ultra-high resolution CT system. It can resolve anatomy as small as 150 microns and is designed to provide more than twice the CT resolution as standard systems. Containing an all-new detector as well as tube, gantry and reconstruction technologies, the system may make it possible to
help expand visualization of disease thanks to new features that offer improved image detail. The Aquilion Precision CT system features innovative dose efficiency with detector channels that are only 0.25 mm thick. This combined with substantial improvements in scintillator quantum efficiency, detector circuitry and other DAS components, results in a dose-efficient detector with ultra-high resolution capabilities.
Siemens Healthineers recently installed its first Somatom go.Top computed tomography (CT) system at the Ohio State University Wexner Medical Center in Columbus. The 128-slice scanner expands the Somatom go.CT platform's concept of patient-centric mobile workflow, which is controlled via tablet and remote, into advanced clinical fields and applications, including cardiology, CT-guided intervention and dual-energy spectral imaging.
In addition to a 0.33-second rotation time, stellar detector technology and a 75 kW generator, the Somatom go.Top has a large detector with an acquisition speed of up to 175 mm in one second and an automated workflow. The system can deliver new levels of radiation dose personalization due to its high power and low kV scanning mode, along with automated tools that take the guesswork out of low-dose CT imaging. And with the system's mobile, tablet-based workflow and the capability to off-load manual reconstruction tasks, technologists can spend more time focused on the patient.
And at the 2018 Association for Medical Imaging Management (AHRA) Annual Meeting in July, Neusoft Medical Systems introduced the NeuViz 16 Essence. It is a 16-slice CT system designed to elevate routine imaging for exceptional results, ideally suited for U.S. healthcare providers. The NeuViz 16 Essence technology is built with the same ease of use and reliability of the mature NeuViz 16 CT system, plus the recent technical innovations developed for the NeuViz 128 CT platform, including a full complement of advanced applications at no additional cost. Additionally, patient-centered features include a wider bore, optimal gantry tilt and a minimal couch height of 43 cm to provide easy access for all patients. The NeuViz 16 Essence is also fully compliant with XR-29 standards in accordance with the Medical Imaging Technology Alliance (MITA) Smart Dose campaign to advance low-dose imaging technology.
Reference
Modor Intelligence, "Computed Tomography (CT) Market - Segmented By Product, Application, End User, and Geography - Growth, Trends, and Forecast (2018 — 2023)," May 2018. https://www.mordorintelligence.