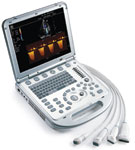 The Mindray M7, released in 2010, is among several new compact ultrasound systems that offer features once only found on larger systems.
Over the past few years, there have been three key areas of advancement in cardiovascular ultrasound technology – miniaturization, 3-D/4-D imaging and quantification measurements.
"A key trend is 3-D/4-D imaging," said Al Lojewski, general manager, cardiovascular ultrasound, GE Healthcare. "[Clinicians] not only want to look at the anatomy, they want measurements such as ejection fraction. The area of quantification is very important."
3-D/4-D Imaging
The primary use for 3-D/4-D is for evaluating heart structure, such as valve function. While 3-D echo is a top-tier hospital modality due to price, prices are falling thanks to increased competition in the market.
Advancements in component miniaturization helped in the development of real-time, 4-D echo. Image processing would be too slow to enable real-time 4-D echo, due to the vast amount of computer processing required to create the images. Lojewski said smaller components are now incorporated into transducers to help pre-process data prior to sending it through cables to the system's computer.
"You have to be able to handle a lot of data right in the transducer – that's how it is able to process the amount of data required for real-time imaging," he explained.
Increased processing speeds and new transducer technology have also enabled imaging areas in a single volume, rather than taking numerous image slices and stitching them together. This has increased speed and enables real-time 3-D and 4-D imaging. Volume imaging ultrasound can deliver instantaneous, full-volume images of the heart in one single heartbeat without gating or stitching.
Use of 3-D wall motion tracking helps quantify cardiac function in three dimensions. Users say it more accurately evaluates ventricular function in a wide variety of cardiovascular diseases than 2-D. It also helps eliminate the subjective nature of standard 2-D visual detection of endocardial wall motion abnormalities. An important advantage of 3-D wall motion tracking is that the time for acquisition and analysis of longitudinal, circumferential and radial strains is reduced. In addition, the effects of twisting (and torsion) motion can be quantified.
Smaller Sizes, Ease of Use
Miniaturization of imaging and computing components and increased computing power available in ever-smaller packages have also made it possible to reduce the size of ultrasound imaging systems. Several smaller ultrasound systems have been introduced over the past year, offering image quality approaching that of larger, heavy, cart-based systems. In addition, some of these lightweight, arm-carried systems offer easier-to-use controls and touch-screen operation. Some newer systems offer on-board workstations for patient information management and the ability to transmit information wirelessly.
This past year Toshiba introduced the Viamo portable laptop system. The device offers the same capabilities as larger cart-based systems that were previously unavailable on hand-carried systems. It is designed for a variety of patient exams, including blood-flow.
Other recent miniaturized systems include the Biosound Esaote MyLabOne, Mindray's M7 and SonoSite's most recent version of the M-Turbo. Early in 2010, GE Healthcare came out with the world's smallest ultrasound system – Vscan. The device is a little larger than a smartphone and is designed to fit in a clinician's pocket. Its controls are very similar to an iPod, and it is designed so anyone can learn to use it quickly. It is designed for a quick look inside patients to determine if a particular condition is present and if they should be referred for additional imaging or diagnostics.
New Software
Taking the data acquired from imaging systems and finding new ways to process it to harvest more patient information is an area where many imaging advances are being made in all modalities. All major ultrasound manufacturers are developing software algorithms to increase diagnostic value. Other software is being introduced to create a smoother workflow.
Siemens recently introduced dynamic tissue contrast enhancement technology on the 2.0 version of the Acuson S2000, which provides advanced speckle reduction and enhanced contrast resolution for more detailed images.
Philips introduced a new iE33 xMatrix ultrasound system, which includes 2-D and 3-D imaging using a single transducer, new 3-D workflow tools and visualized color Doppler flow pattern during 3-D exams. The system uses a new transducer, the X5-1, which has software offering better ergonomics. It allows for easy imaging of challenging 2-D views, such as apical two-chamber. Rather than manually rotating the transducer and searching for a window that is not obscured by ribs, rotation is achieved electronically to maintain the best acoustical window. When used in stress echo, the iRotate feature allows clinicians to complete an entire stress echo protocol from the standard windows following peak exertion without rotating the transducer.
Ultrasound systems are producing large amounts of data and new ways are being developed to store that information. For example, GE's systems store the raw image data and use navigation pointers to index specific views from that data, instead of storing separate DICOM files of each view.