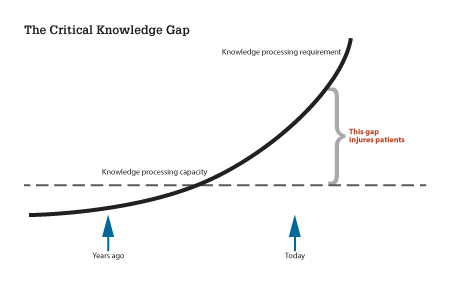 If you missed seeing Watson (IBM's artificial intelligence computer system, capable of answering questions posed in natural language) on the television show Jeopardy! last year, he outplayed, outlasted and outperformed his game show counterparts, besting his nearest challenger by $53,147. And while winning a game show is not quite the same as accurately diagnosing and treating a patient, the potential opportunities and applications of Watson in healthcare, and in radiology specifically, appear bright.
In fact, the importance of Watson in healthcare increases on a daily basis, as clinicians face a tsunami of clinical data that includes new treatments, better therapies and diagnoses, and even new diseases — all arriving in the doctor's inbox at an ever-increasing rate for clinicians to synthesize and apply.
Watson has revived interest in artificial intelligence (AI) and reasoning by demonstrating a capacity to consume large amounts of unstructured data to create a knowledge base that can respond to questions faster and more accurately than the reigning general knowledge game show champions.
The more traditional AI systems use a series of logic statements based on forward reasoning that follow rules from data to conclusions or backward reasoning that follow rules from conclusions to data. These solutions require detailed understanding of all aspects of the domain and are time-consuming and difficult to create in domains with a large knowledge base. Application of these rules to real world implementations requires nearly perfect matching to terms, and while synonyms and variations can be included as part of the programming, it is extremely difficult to account for all possible variations on a theme.
Watson used natural language processing and a wide range of search methods, data association and statistical linking to create hypothesis from data. The information contained in the hypothesis could well be separated across documents and information sources, making the resulting knowledge base more extensive and resilient. The process is automated with consumption of large amounts of data, creating a knowledge base that is easily updated and maintained.
Applications in Healthcare
In healthcare, we can load Watson with large quantities of clinical data and categorize patient-specific information against a vast matrix of values, information and observations to create a ranked list of clinical knowledge relevant to that one unique patient. As a residual benefit, the original source of the knowledge is available concurrently, offering clinicians the latest knowledge linked to the case, the medical decision-making and the original evidence, making for good continuing medical education (CME) opportunities.
In radiology, we have already seen early instances of AI being successfully applied. In the case of image ordering, real-time decision-support tools can guide a referring clinician to select the most appropriate test given the clinical data available. Extending this concept to further apply contextually relevant data to help guide the clinical decision-making process offers radiologists the potential of unlocking the vast medical data available, which otherwise is not readily accessible in a timely fashion. In its raw form, with no additional customization, Watson already offers a tremendous advance in AI.
In developing a knowledge base resource like Watson, we are addressing the challenge of data sources. Information is locked away in many different systems — both commercial and public domains. This will require a new way of working with commercial data sources and managing intellectual and financial ownership.
The current work builds on the foundation of the Watson architecture, expanding the capabilities with healthcare and radiology-specific extensions that will include additional weighted medical domain knowledge. Watson's analytic capabilities in general reasoning of unstructured content was impressive. But in the medical domain, the ability to extract meaning from unstructured content is significantly enhanced if we can create more structure and tagging of relevant data with context and a clinical ontology.
The wide variability in terms of expression and clinical data continues to challenge clinical systems. We are adding clinical language understanding (CLU), which offers the capability to improve the synthesis of knowledge with application of context to both the source data as well as the patient data. Clinical questions posed to the engine aligns the information at a semantic level.
The individual patient clinical data exists in many disconnected, unique and non-standard systems. For the radiologist, it is impractical to imagine a system that requires re-entry or recapture of existing data. Seamless access of this information and incorporation into the radiologist's experience will be an integral part of any successful long-term solution. In the short term, offering an intelligent interaction that presents contextually relevant data that matches patient profiles and potential outcomes alongside risk profiles and clinical guidelines will offer some near-term solutions that we hope to bring to market in coming months.
There are many factors that have come together in creating an exciting launch point for Watson. The potential for interactive computational intelligence has been ably demonstrated by the arrival of Siri on the world stage. While this is directed at the general consumer, it offers a window into what is possible. Combined with the rapid advances in natural language processing and CLU, the potential for the application of medical intelligence is bright. As with most new technology, there is still much to be done as we learn more about the capabilities and potential for its application.
It is quite likely that some of the applications for this technology have not even been imagined yet, since the concept is so new and our experience with it so brief. But it is clear that this represents a springboard to empower and assist radiologists by providing accurate, real-time information that can be leveraged to enable more informed, evidence-based clinical decision-making.

Nick van Terheyden, M.D., is the chief medical information officer for Nuance Communications.
---
If you enjoy this content, please share it with a colleague