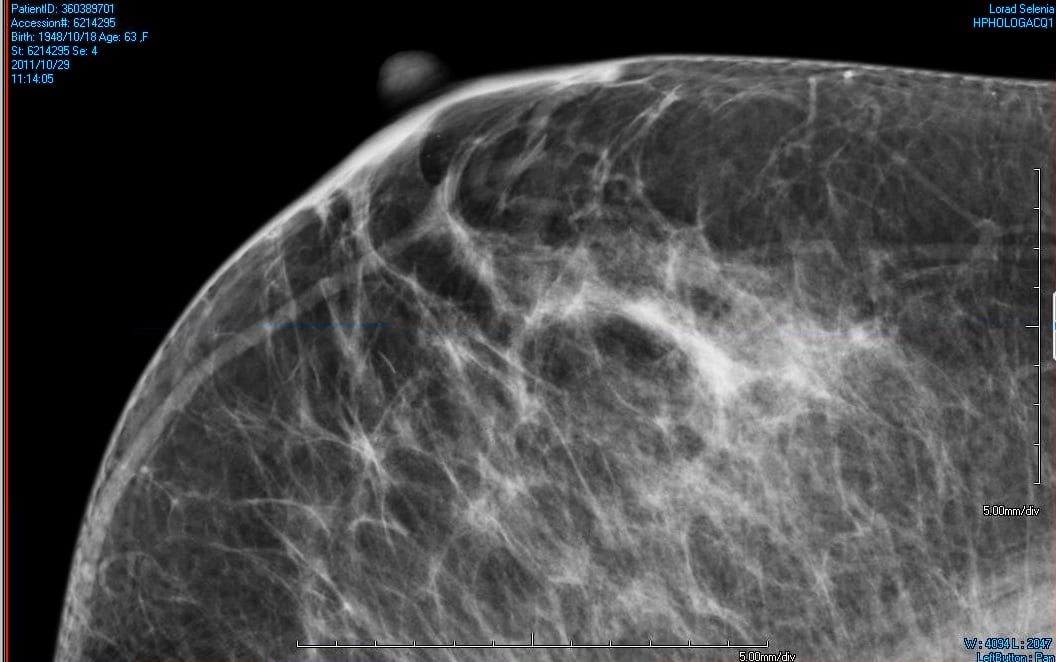 October 30, 2017 — On the same day that Wisconsin state representatives introduced a new bill mandating patient notification of breast density, both chambers of Congress revived the national Breast Density and Mammography Reporting Act which was first drafted in 2013.
The national bill — introduced in the House by Reps. Rosa DeLauro (D-Conn.) and Brian Fitzpatrick (R-Pa.) and the Senate by Sens. Dianne Feinstein (D-Calif.) and Dean Heller (R-Nev.) — sets a minimum federal standard, as designated by the Secretary of Health and Human Services (HHS), for dense breast tissue notification and recommends women discuss with their doctors whether additional screening is necessary. The bill also directs HHS to study improved screening options for women with dense tissue.
Fibroglandular breast tissue is separated into four density categories in the American College of Radiology's Breast Imaging-Reporting and Data System (ACR BI-RADS) from least to most dense — fatty, scattered, heterogeneously and extremely dense. Dense fibroglandular breast tissue (particularly the latter two BI-RADS categories) presents difficulties for detecting cancer on a 2-D mammogram, as the tissue and cancer both appear as white. This can lead to cancers being missed in early stages, and as a result mammography-only screening is no longer considered the one-size-fits-all gold standard for breast cancer screening.
The last attempt to introduce a national density reporting standard came in 2015 when both chambers again introduced their own versions (though the bills featured identical language). In those versions, mammography facilities were required to include up-to-date information about breast density in the mammography reports sent to both the patient and their physician. Prescribed language for the summary included 1) the effect of breast density in masking cancer on a mammogram, and 2) the need for patients to talk to their physician about whether they would benefit from additional testing. Those bills eventually died before coming to a vote.
"After nearly 14 years of working with state legislators on the reporting of a woman's breast tissue density as part of her mammography reporting results, I am encouraged that we are closer to standardizing breast density reporting nationwide," said Nancy M. Cappello, Ph.D., director and founder of nonprofit organizations Are You Dense Advocacy Inc. and Are You Dense Inc. "This bill enables women to learn about their dense breast tissue, an important risk factor for breast cancer and ultimately empowers women to make informed breast health screening decisions which can be life-saving."
Watch the VIDEO "Personalized Breast Screening and Breast Density," an interview with Cappello at AHRA 2017.
"Early detection of breast cancer is key to survival, and women must be given the resources they need to make the best healthcare decisions," said Feinstein. "By requiring that patients be informed if they have dense tissue, our bill would empower women to make potentially lifesaving decisions about their care, in consultation with their healthcare providers."
Wisconsin Joins State-Level Breast Density Movement
While breast density notification conversation continues at the national level, Wisconsin state Rep. Mike Rohrkaste (R-Neenah) and Sen. Alberta Darling (R-River Hills) held a press conference last week to announce their own legislation aimed at helping patients.
The bill, known as LRB 3518, requires facilities that perform mammograms to provide a notice to women regarding dense breast tissue if they have heterogeneously or extremely dense breast tissue. The notification would be provided on a federally-mandated summary of mammography results which is already sent to women after their mammogram. The goal of the notification is to raise women's awareness regarding breast density and to ensure they have the information necessary to proactively discuss their breast health with healthcare providers.
"Nearly 40 percent of women have dense breast tissue. This notification will better inform women of the results of their mammograms," said Darling in a statement. "Early detection is the key to treating and surviving breast cancer. This bill will ensure that women in Wisconsin understand their test results and can begin detecting breast cancer as early as possible."
Connecticut became the first state to pass density reporting legislation in 2009, largely thanks to the efforts of Cappello, who was diagnosed stage 3c breast cancer in 2004, six weeks after her yearly mammogram came up normal. Since then, 30 states now require some level of breast density notification after a mammogram. Nebraska, Kentucky, Iowa and Colorado all successfully passed legislation in 2017; Wisconsin joins Florida in the ranks of states with a currently active bill, according to DenseBreast-info.org.
Watch the VIDEO "The Impact of Breast Density Technology and Legislation," from RSNA 2017.