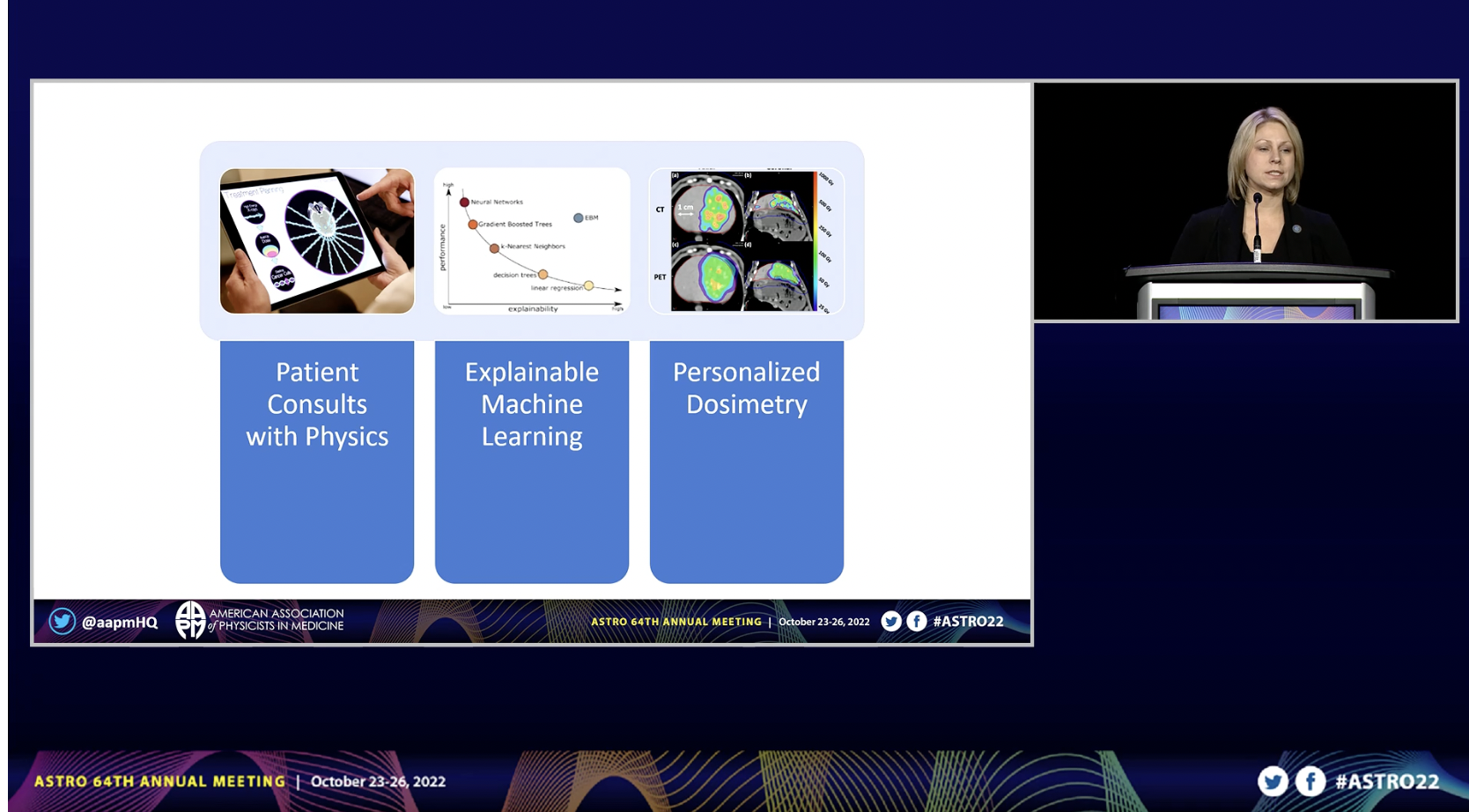 The Imaging Technology News (ITN) editorial team is pleased to present the second portion of the American Society for Radiation Oncology, ASTRO 2022, "Cancer Breakthroughs" session. The highly-anticipated Oct. 26 session was moderated by newly-inducted ASTRO President, Jeff Michalski, MD, MBA, FASTRO. In doing so, he addressed the presentation of significant findings which were offered by representatives of two key medical societies, the American Society of Clinical Oncology (ASCO) and the American Association of Physicists in Medicine (AAPM). In his address, Michalski, Department of Radiation Oncology, Washington University School of Medicine, noted that the Cancer Breakthrough session was developed and held for the first time in Chicago in 2019 at the 61st annual meeting of ASTRO. Its intention is to bring together different medical societies in a collaborative effort to provide a summary of the year's groundbreaking cancer studies.
"It is important for the field of oncology to join forces while facilitating the synthesis of information in a way that can be put into practice promptly and globally," said Michalski.
This second article covers the presentation of key findings from multiple studies, which were part of the AAPM Annual Meeting 2022, presented by Martha Matuszak, PhD, representing the American Association of Physicists in Medicine (AAPM). Serving on its Board of Directors, Matuszak is a Laurie Snow Research Professor, Associate Chair for Physics, Director of the Physics Division, Clinical Professor at the  University of Michigan.
Important discoveries included highlights from the 2022 AAPM Annual Meeting held in Washington, DC, in July. The theme of the AAPM 64th Annual Meeting was "Celebrating Medical Physics: Transforming Human Health." On behalf of AAPM Science Council, planners chose several abstracts to highlight that fit within this theme and advancing medical physics beyond just being technical experts of radiation therapy to seeing what the future holds, said Matuszak. She emphasized that AAPM has a long history of contributions to radiation oncology, and a long and valued partnership with ASTRO.
"We (physicists in medicine) have been responsible for a number of advancements in the technical side of radiation oncology, such as 3-D treatment planning, calibration protocols, wonderful imaging advances in both diagnoses and treatment response, and a lot of wonderful advancements in the standardization in nomenclature," said Matuszak.
Three abstracts were highlighted and summarized by Matuszak: Patient Consults with Physics; Explainable Machine Learning; and Personalized Dosimetry. These were some of the key highlights from the AAPM 2022 Annual Meeting.
Bringing Medical Physics to Patient Care
The first focused on the idea of incorporating medical physics more closely into the patient care process through consultations with patients, allowing them to understand the technical aspects of treatment, seeing if this helps reduce anxiety and increase satisfaction in their care. We also have to build trust with the radiation oncology colleagues and the rest of our treatment team on the models we develop. This moves into the machine learning aspect. And finally, dealing with more of the physics history and building increased precision of radiation therapy and dosimetry.
The first abstract summarized was conducted by Todd Atwood, PhD, UC San Diego Health and his team, "Examining the Impact of Direct Patient Care for Medical Physicists: A Randomized Prospective Phase III Trial." This research was also presented at this year's ASTRO meeting.
The researchers assessed the impact of having physicists meet with patients to discuss the technical aspects of their care. As the field of radiation oncology has evolved, so has the role of the medical physicist, the researchers noted. Their primary function has always centered around the design and delivery of safe and efficacious therapy. The day-to-day responsibilities of medical physicists have consistently adapted to meet the changing needs of the patients and the field, the authors stated. Patients are looking for ways to be more involved in their care. Patient related distress can negatively impact outcomes following radiation therapy, so they wanted to see if increasing patient understanding could be beneficial, which included the Physics Direct Patient Care Initiative. They met with patients, collected data on reduction in patient anxiety and increased patient satisfaction.
What did the researchers observe? They say significant improvements in anxiety, technical satisfaction and overall satisfaction for patients receiving physicist-patient consults compared to patients receiving the standard of care. Results are from a single institution, and may not be generalized across all institutions, however, she purported, we need to look at this from a health equity lens as well, ensuring we are offering care and education to all patients. The bottom line, they noted, is that the role of the medical physicist if constantly evolving to improve patient care.
The Value of Explainable Machine Learning
She next focused on the need to build trust with machine learning models within the specialty, so that physicians feel comfortable using these for decision support in clinical trials and beyond.
Work on "Explainable Machine Learning for Predicting Overall Survival of Patients with Locally Advanced Non-small Cell Advanced Lung Cancer Treated with Photon and Proton Radiotherapy" was conducted by Lian Duan, et al, Department of Radiation Oncology at the University of Pennsylvania. As different physics are involved in these two treatments, this has not always necessarily translated to a survival benefit; so, they compared survival curves and saw no statistical difference between the two, as they endeavored to learn more.
She noted that there are a number of new algorithms available that are meant to be more explainable within the machine learning community. One example is the explainable boosting machine or EBM algorithm, in some ways similar to linear regression. With these, one can look at the contribution of each feature, visualize it, and explain what the model is doing in the background.
"This is a really important advancement in explaining what we are doing with AI in RO," noted Matuszak.
The researchers' purpose was to develop these models to predict 2-year overall survival, and to interpret the impact of both clinical and heart dosimetric parameters for each of the cohorts, Matuszak offered, adding that their conclusions were instructive for radiation oncologists. On behalf of the authors, she summarized their findings: Heart dosimetric parameters and mean heart dose are survival-related features for photon radiotherapy; for the proton dataset, heart dosimetric parameters are less important for predicting survival. Overall, this global explanation with these EBM models has the potential to understanding and optimizing dose parameters, the researchers noted.
Precision Dosimetry
The third abstract presented by Matuszak involved the history of physics, from the MD Anderson Cancer Center, conducted by E. Courteney Henry, PhD and other researchers, "Precision Dosimetry in Yttrium-90 Radioembolization through CT Imaging of Radiopaque Microspheres in a Rabbit Liver Model." The purpose of their work was to perform precision dosimetry in 90Y radioembolization through CT imaging of radiopaque microspheres; and to compare the mean dose to the liver calculated from CT-based dosimetry to conventional PET-based dosimetry. The CT-based dosimetry can 1) produce larger, more accurate estimates of the mean absorbed dose relative to PET-based dosimetry, 2) reduce partial volume effects, potentially eliminate respiratory motion effects, and improve the depiction of dose heterogeneity, 3) refine our understanding of the dose-response relationship, and 4) permit an individualized approach to treatment planning to improve future patient outcomes.
"This lets us define our dose response relationship and lets us move into this precision medicine, individualized approach and treatment planning," she noted of the author's findings.
Growing Involvement of Physicists and AI
Matuszak summarized the significant research, and the work of AAPM with insightful and important words for radiation oncologists and her colleagues moving forward in this way:
"We are continually working toward expanding where physics can help patients, both through incorporation of technical education into the patient process. As we see technology advancements and more engagement of physicists at the treatment unit, we are more present to the patient, and can play a role in helping them feel more comfortable with their treatments and giving them a level of technical satisfaction and comfort about their treatment. With Explainable Machine Learning (EML), I think we have to take that next step toward the adoption of AI techniques in radiation oncology. We can do that through increasing the trust that physicians and the entire treatment team has with these models. Finally, increasing precision and accuracy of dose calculations towards personalized dosimetry and personalized treatment planning in microsphere treatment." She closed by thanking ASTRO for continuing to be such valuable partners with AAPM in radiation oncology.
As noted in the first article covering the Cancer Breakthroughs session, representing the American Society of Clinical Oncology (ASCO) was Everett Vokes, MD, Department of Medicine, Section of Hematology/Oncology, University of Chicago. The 2021-2022 ASCO President, Vokes offered a comprehensive overview of findings from multiple studies which were presented during the ASCO 2022 meeting in early June in Chicago. 
Find more ASTRO22 content here 
Related Conference Coverage:
VIDEO: Randomized Phase III Trial of Hypo Fractionated Whole Breast Irradiation with Concurrent Boost vs. Conventional Whole Breast Irradiation
Photo Gallery of Technologies Showcased at ASTRO 2022
ASTRO 2022 Shines Spotlight on "Cancer Breakthroughs" with AAPM, ASCO Research
"Cancer Breakthroughs" Session at ASTRO2022 Unveils Key Findings from ASCO, AAPM
Looking Ahead to ASTRO: Keynotes, Awards and Scientific Session Updates
ASTRO 2022 Set for San Antonio with Focus on AI and EI
---
If you enjoy this content, please share it with a colleague