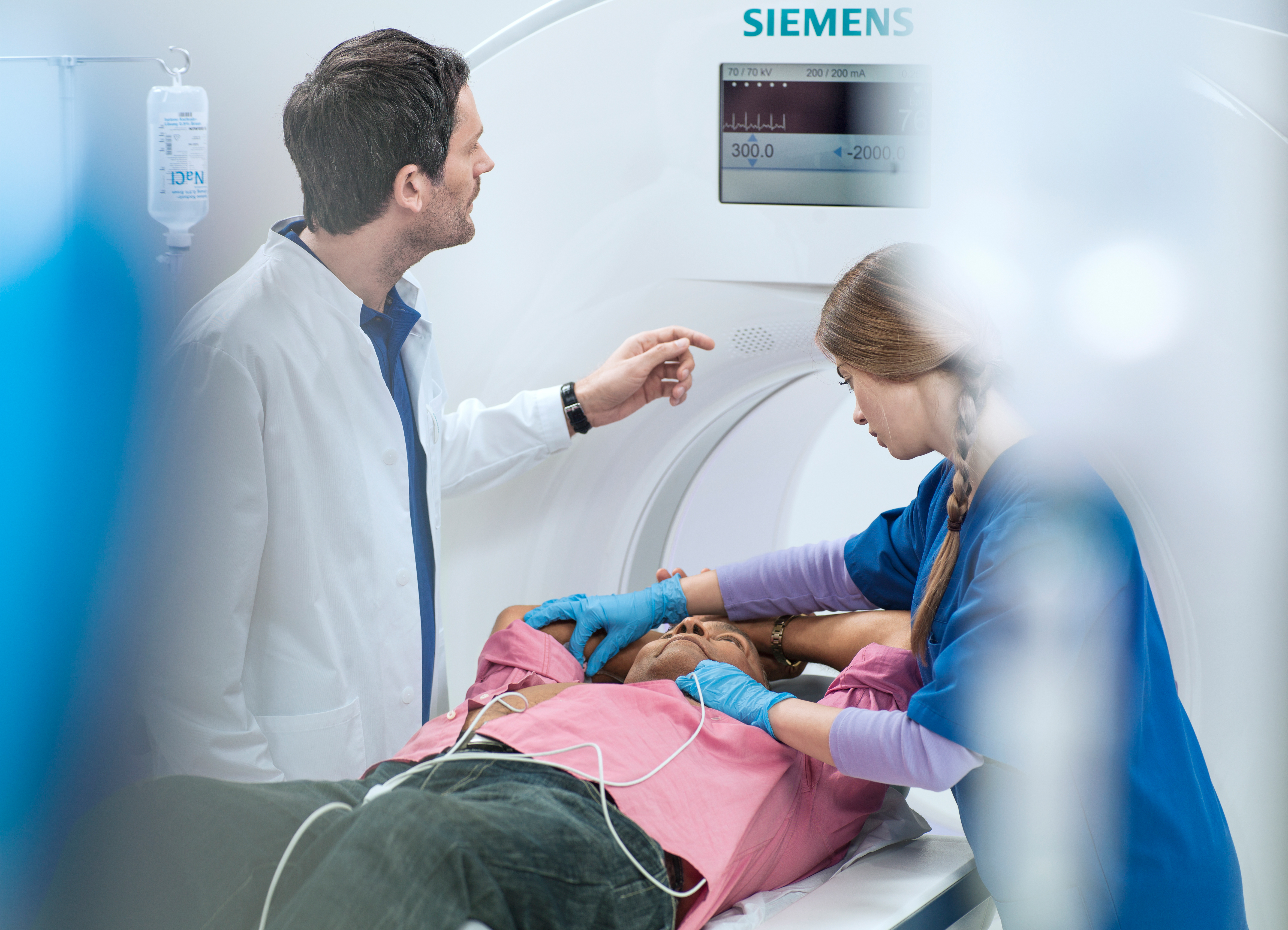 (More recent articles and videos on trends, advances and innovations in computed tomography systems can be found at the bottom of this article)
Four major computed tomography (CT) system manufacturers in the United States recently released new systems in the past year featuring innovative scanner technology to reduce radiation dose, boost image quality and to be mindful of the current conservative economic climate in healthcare. GE, Siemens, Philips and Toshiba all released their next generation CT systems, each offering significant advances over technology these vendors previously offered. 
GE Healthcare
In April, the U.S. Food and Drug Administration (FDA) granted market clearance for the GE Healthcare Revolution. GE said the Revolution platform is not just an upgraded CT system — every component was entirely redesigned from the ground up using the latest technologies to increase speed, improve image quality and reduce dose. It offers 256 detector rows and features an 80 cm bore and a gantry rotation speed of 0.28 seconds. It can perform a cardiac CT angiography (CTA) scan in less than a second with less than 1 mSv dose. The Revolution CT features GE's new ASiR-V dose reduction technology, which is a hybrid of GE's ASiR iterative reconstruction software and its model base reconstruction software, Veo. 
It can reduce metal artifacts, offering the potential for sedation-free CT scanning. The system also offers benefits for sensitive patient groups such as pediatric, renal insufficiency, trauma and stroke. The very fast temporal resolution enables one-beat, motion-free, high-definition cardiac imaging at any heart rate with or without beta-blockers. It also delivers the clinical information needed for the coronaries, myocardial perfusion and function with one contrast injection.
In oncology, the Revolution enables low-dose, whole organ diagnosis, and follow-up of organs such as the liver, kidneys and pancreas are enabled by dynamic acquisition modes. In neurology it can aid with rapid, comprehensive stroke assessment with whole brain perfusion and dynamic CT angiography at very low dose. Its Gemstone Clarity Detector uses micro-circuitry to reduce electronic noise on images. It also uses 3-D collimation to reduce X-ray scatter.
The Revolution also contains technology to allow spectral imaging in the future, once it attains 510(k) approval. This is enabled via a very fast kV switching system, changing the scanning energy level back and forth between 40-140 kV during the scan using the same detector and X-ray tube.
Siemens Healthcare
The Siemens Somatom Force was FDA cleared in May. It is the company's next generation in dual-source CT systems, replacing the current Definition Flash as its top tier CT system. It uses two X-ray sources and detectors at variable energies, allowing spectral imaging. It has a gantry speed of 0.25 ms. This enables imaging of an adult chest in about a second, eliminating the need for breath hold, and freezes a human heart pumping at 90 beats per second by merging the two imaging chains to create a 50 cm (nearly 19.7-inch) field of view. Alternatively the two imaging chains, like those on the Flash, can be tuned to separate energies and allow spectral imaging to differentiate among tissues or materials, as in visualizing iodinated contrast as it flows through the coronaries or accumulates in varying amounts in benign versus malignant masses. 
The Somatom Force also has the potential to allow use of significantly less iodine contrast than in the past and can perform chest scans without the need for breath holds. The two X-ray generators on Siemens' Somatom Force can be pumped at low voltage (as low as 70 kVp) to deliver low-dose scans. Dose can be reduced further using the company's SAFIRE software. 
Usage of different energy levels (kilovoltage or kV) can enhance the contrast-to-noise ratio and lower patient radiation dose. Lowering kV levels also can potentially increase enhancement of contrast medium, so less contrast is needed. This practice had limitations because earlier generations of CT scanners could not sufficiently power imaging at very low kV levels except when imaging children or very small adults. However, the Somatom Force allows low, previously unachievable kV imaging results that are enabled by the system's new Vectron X-ray tubes. These tubes offer 1,300 mA to enable imaging between 70 and 150 kV
The system uses Siemen's Edge detector technology, which was the first on the market to use integrated microelectronic circuitry, helping to reduce noise on images. 
Philips Healthcare
Unveiled at RSNA 2013 and 510(k)-pending, the Philips IQon Spectral CT technology attempts such differentiation using a single imaging chain to capture X-rays at different wavelengths. In the same way that white light is made up of a spectrum of colors that relate to chemical elements, the X-ray beam photons used in CT scanners also consist of a spectrum of X-ray energies. With the development of a new yttrium-based spectral detector that can discriminate between X-ray photons of multiple high and low energies simultaneously, IQon can deliver both anatomical information and the ability to characterize structures based on their chemical makeup within a single scan. 
Using a type of spectral analysis, the system can separate out materials made up of specific atomic numbers off the periodic chart of elements. The system so far has been tested for iodine and calcium. This can be used to help differentiate between areas of high blood contrast uptake and calcified areas, which can be useful in diagnosing kidney stones and better delineating various types of atherosclerotic plaque in arteries. Elements can be assigned specific color codes to make them stand out on scans, even if the surrounding tissue has similar Hounsfield unit numbers. The technology also enables creation of virtual non-contrast images from contrast-enhanced scans by eliminating the iodine from scan data. The spectral imaging features are still pending 510(k) approval, but the vendor hopes the U.S. Food and Drug Administration (FDA) will review the technology in 2014 or early 2015.
The IQon technology works on the FDA-cleared iCT 256-slice scanner. The iCT provides low dose, low energy and low noise capabilities. It has a very fast gantry speed of about 0.27 ms. It uses both a 3-D grid collimator to reduce scatter, and the dynamic Eclipse collimator, which adjusts during scans to limit radiation exposure on the fringe of the imaging area. 
The system uses IMR low-contrast resolution software, to help simultaneously achieve 60–80 percent lower dose, 43–80 percent improved low-contrast detectability, and 70–83 percent lower noise. It also uses the iDose? Premium iterative reconstruction software to improve low-dose image quality and metal artifact prevention. 
Toshiba Medical Systems
Toshiba's Aquilion One Vision 640-slice CT system was released at RSNA 2013, the highest slice CT scanner available on the market. It has a bore size of 78 cm, a gantry speed of 0.27 ms and a detector resolution down to 0.5 mm. It uses Toshiba's latest AIDR 3-D iterative reconstruction software to help reduce dose by enhancing the low-dose scans.
Field Upgradable Scanners
Until recently, hospitals had to decide how many slices they wanted when selecting a CT scanner, ranging from 16-620 slices. Today, several vendors offer upgradeable systems to enhance slice capabilities. The most recent of these is Siemens' Somatom Perspective 16- and 32-slice versions, which can be upgraded at the hospital where it is installed to 64- or 128-slices. Toshiba also introduced a new Aquilion One platform that allows its scanners to be upgraded in the field.
Related ITN Content for CT System Innovations
Access the most current version of the ITN CT Systems Comparison Chart (www.itnonline.com/content/computed-tomography-systems). This will require a login, but it is free and only takes a minute to complete the form.
What to Consider When Buying a New CT Scanner
VIDEO: What to Consider When Comparing 64-slice to Higher Slice CT Systems
RSNA Technology Report 2015: Computed Tomography
Technology Improvements in Current Generation CT Systems
VIDEO: The Future of Cardiac CT in the Next Decade
Discussion on CT Dose Reduction
---
If you enjoy this content, please share it with a colleague