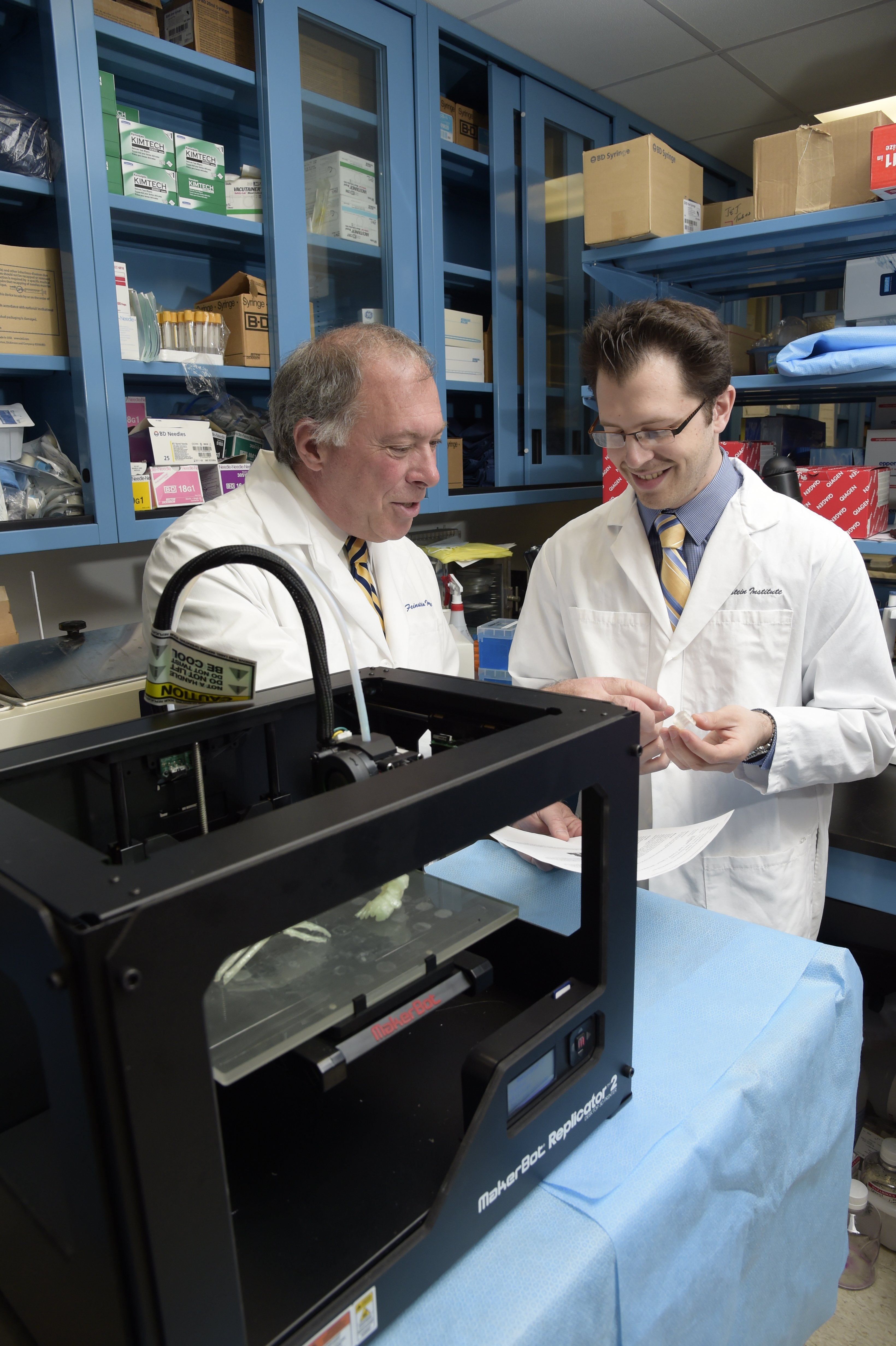 Physicians at North Shore University Hospital/Feinstein Institute for Medicine in Manhassett, N.Y., use a 3-D printer to assist with medical cases.
The advancement of medical technology offers a plethora of options for healthcare professionals and patients alike. New technologies and clinical trials are solving the way we treat diseases and interface with patients. Recent breakthroughs in three-dimensional printing (3-D) may have hit upon a solution for organ failure.1
Previously, patients faced with malignant diseases that destroyed major organs were required to wait for transplants. However, the negative effects of organ transplants include long waits where the patient's need is disproportionate to the available resources of these vital organs. Even if a transplant is successful, there is no guarantee the body will adapt to the unfamiliar organ.
Though transplants are still the predominant treatments for organ failure, new advancements in 3-D printing may solve issues that can occur with the traditional medical regimen.
What is 3-D Printing?
Three-dimensional printing technology in the medical sphere is divided into two general categories: inorganic printing, which uses polymers to model portions of the body or to create implants, and bioprinting, which uses cells to create organic material.
Three-dimensional bioprinting may one day replace ordinary organ transplants. This technology has the potential to solve issues of extended waits and poor autoimmune reactions in defense against the transplanted organ. Bioprinting uses specialized implants that will match the patient's DNA, which could help solve anxiety and concerns that are experienced with traditional organ transplants.
There are three sources for printing implementation: patient computed tomography (CT), magnetic resonance imaging (MRI) and 3-D ultrasound imaging datasets. CTs are often better than X-rays and can give more detailed images of the body for further comprehension. Similarly, MRIs show better soft tissue imaging of organs. Ultrasounds are also relevant as they allow creation of images used for 3-D printing.
Three-dimensional printing has most frequently been employed for pediatric, small-scale or intricate planning where procedures are too elaborate to navigate without the advanced 3-D technology. By printing solid representations of a patient's body, doctors are able to plan and practice surgeries using a patient-tailored model.
Beyond using 3-D printing to plan surgeries, scientists are now discovering ways to integrate 3-D printing technology into a patient's body. This could be used either to print inorganic medical implants such as orthopedic implants or even organic organ replacements. This practice is known as bioprinting.
Where is 3-D Printing Technology Today?
Three-dimensional printing has steadily progressed past inorganic material. In 2017, Penn State University engineers discovered a revolutionary way to print tissues and organs.2 The practice involves an "electrospinning printer [which] is capable of spinning fibers seeded with cells to create fiber layers." This technology is both cheaper and it "provides an opportunity to spin polymer fibers such as collagen layers whilst offering added precision and more control over the patterns created." In addition to this finding, scientists at Rice's Brown School of Engineering in the bioengineering department were able to construct a 3-D printed organ that mimics lungs.3
As organs are in high demand, there is an anticipation for whole working organs made with 3-D bioprinting technology to replace failing livers, heart or lungs. With the production of real human tissue, organ replicas and functional organ structures, bioprinting may present a resolution to the risks of traditional transplants.
These advancements pertain especially to patients with rare cancers. Those in later cancer stages often suffer organ failure, with little hope of replacement or treatment. Previously untreatable cancers may now have met their match. Mesothelioma cancer is typically diagnosed once it reaches a late stage, leaving patients with a life expectancy of 12-21 months. Three-dimensional printing of a replacement lung would be an ideal solution to curing this devastating cancer in patients diagnosed with an early onset of the disease, as most often it develops in the lining of the lungs.4
Along with mesothelioma and pediatric procedures, 3-D printing would also be groundbreaking for cases where the internal vasculature demands detail. In these instances, detail becomes critical for the organ to function properly when transplanted.
Bioprinting will be transformative to organ replacements that are central to the body and dependent on the vasculature. Even more, 3-D printing in modern medicine is not exclusive to cancer or surgery, but also dental equipment, medication dosage and pharmacology, and manufacturing of medical tools and devices. This opens up 3-D printing to a range of applications within the medical field to solve complicated problems.
The Current State of Research
Though bioprinting can successfully make human tissue, doctors and scientists are still figuring out the particularities of whether that tissue will operate congruously in the body when implanted. Just because the reproduced tissue mimics real tissue does not guarantee that it will
act seamlessly.
Scientists are determined to troubleshoot these issues. In April 2019, a team from Tel Aviv University bioprinted "the world's first 3-D vascularized engineered heart using a patient's own cells and biological materials."5 Though the heart is only the size of a rabbit's and not in a condition to be readily implanted, the research team considers this a victory. After making a complete heart with every blood vessel, chamber structure and cell placement intact, they are now focused on teaching a heart to behave like a living, beating organ.
Additionally, according to Science Daily, a study done in May 2019 concerning a 3-D printed lung posited that bioprinting is the leading research to organ transplants. The article states that 15 collaborators from Rice, University of Washington, Duke University, Rowan University and design firm Nervous System formulated an open-source bioprinting technology called the stereolithography apparatus for tissue engineering. This system was able to make "soft, water-based, biocompatible gels with intricate internal architecture in a matter of minutes." In tests with the lung-like 3-D copy, this system confirmed that the tissues were able to withstand biological processes like blood flow and breathing.
Bioprinting has drastically improved the medical world. Scientists have figured out how to create human tissue and whole organ replicas. The 3-D printed lung is another win for engineers who were skeptical of whether an organ could resist breakdown or failure in response to the natural bodily processes for which it was intended. Now, they can move forward with this knowledge, and research attempts to effectively resolve the need for organ transplants with combined efforts of bioprinting and 3-D printing.
Anna Dussing is a health journalist for Mesothelioma.com. The organization's work is focused on awareness and advocacy for mesothelioma cancer and aims for a complete ban of asbestos in the United States. Her focus is on raising awareness of toxin exposure and the potential illnesses and health impacts caused by it.
References:
1.    The Future of 3-D Printing in Medicine. www.dicardiology.com/article/future-3-d-printing-medicine. Accessed Sept. 30, 2019.
2.    Researchers Find New Low-cost Ways to 3D Print Living Tissues and Organs. https://all3dp.com/researchers-find-new-ways-3d-print-living-tissues-organs/. Accessed Sept. 30, 2019.
3.    Scientists Successfully 3D Print an Organ That Mimics Lungs. https://www.popularmechanics.com/science/health/a27355578/3d-print-lungs/. Accessed Sept. 30, 2019.
4.    https://www.mesothelioma.com/. Accessed Sept. 30, 2019.
5.    Tel Aviv University scientists print first 3D heart using patient's biological materials. https://www.eurekalert.org/pub_releases/2019-04/afot-tau041519.php. Accessed Sept.
    30, 2019.