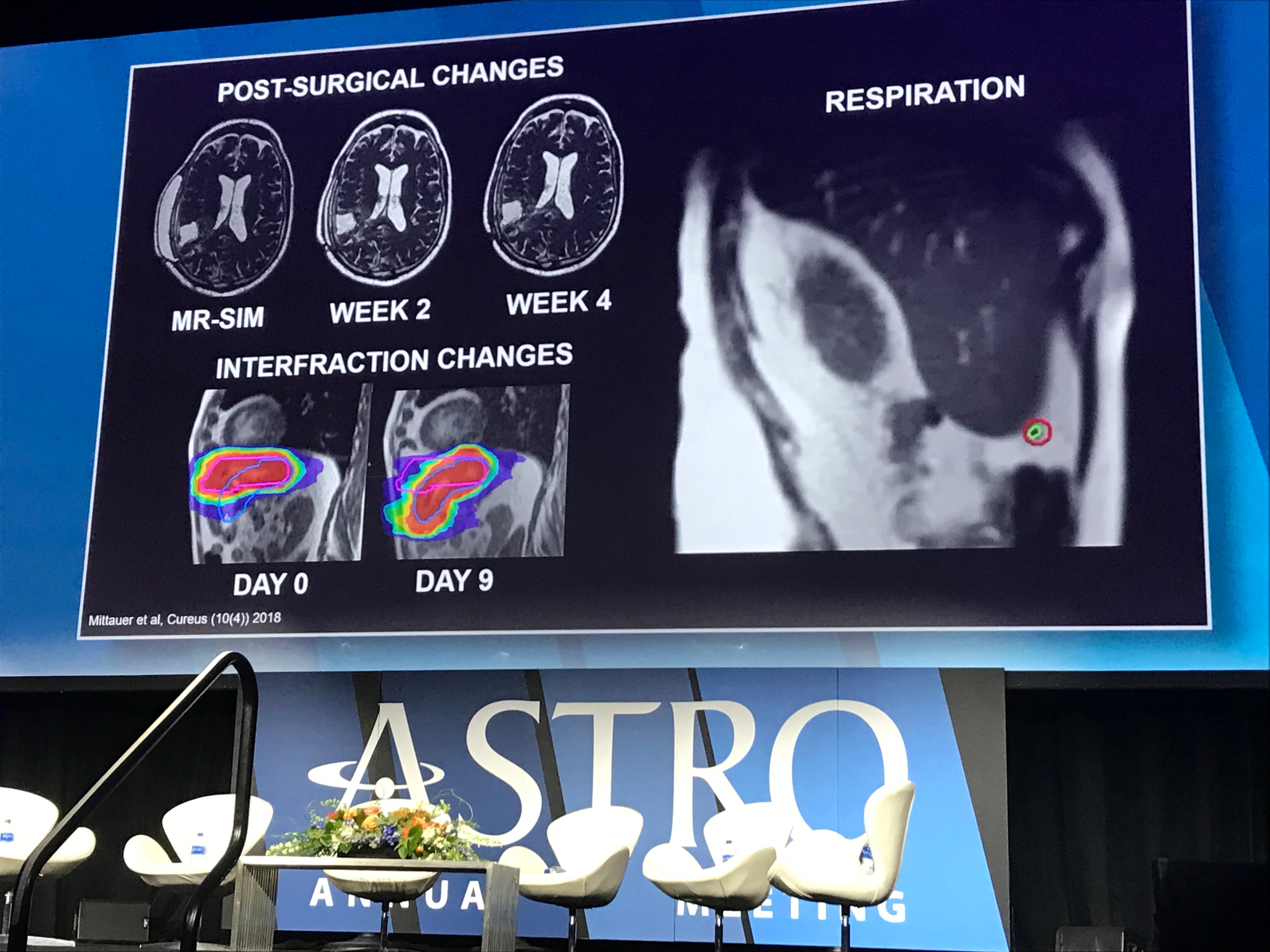 Here are 7 hot radiation therapy technology trends discussed in sessions and on the expo floor at the American Society for Radiation Oncology (ASTRO) 2021 annual meeting. 
1. Flash Therapy is Biggest Technology Trend in Radiation Oncology
Over the past few years, there has been a lot of discussion about flash therapy and how it may offer a revolutionary way to treat cancer. Rather than days or weeks of fractions of radiation given to a patient, the entire massive dose is delivered all at once very quickly in one fraction. What is surprising is that healthy tissues react much differently to these high doses of radiation than a large number of daily smaller dose fractions over time. Healthy tissues appear to recover pretty well, while the high doses destroy the cancer cells very rapidly. If this proves to be safe and effective in clinical studies, it will likely revolutionize radiation therapy. This also will make a lot more patient treatment slots available on existing treatment systems. Flash sessions at ASTRO the past several years have been packed with attendees.
"Flash therapy really is the hottest issue," said Anthony Zietman, M.D., interim chief, radiation oncology, Mass General Cancer Center, and former ASTRO president. "We have the physics, and we can deliver radiation therapy at flash dose rates 100 times what we would normally deliver for therapy. And for reasons we don't understand, it does seem to be normal-tissue sparing."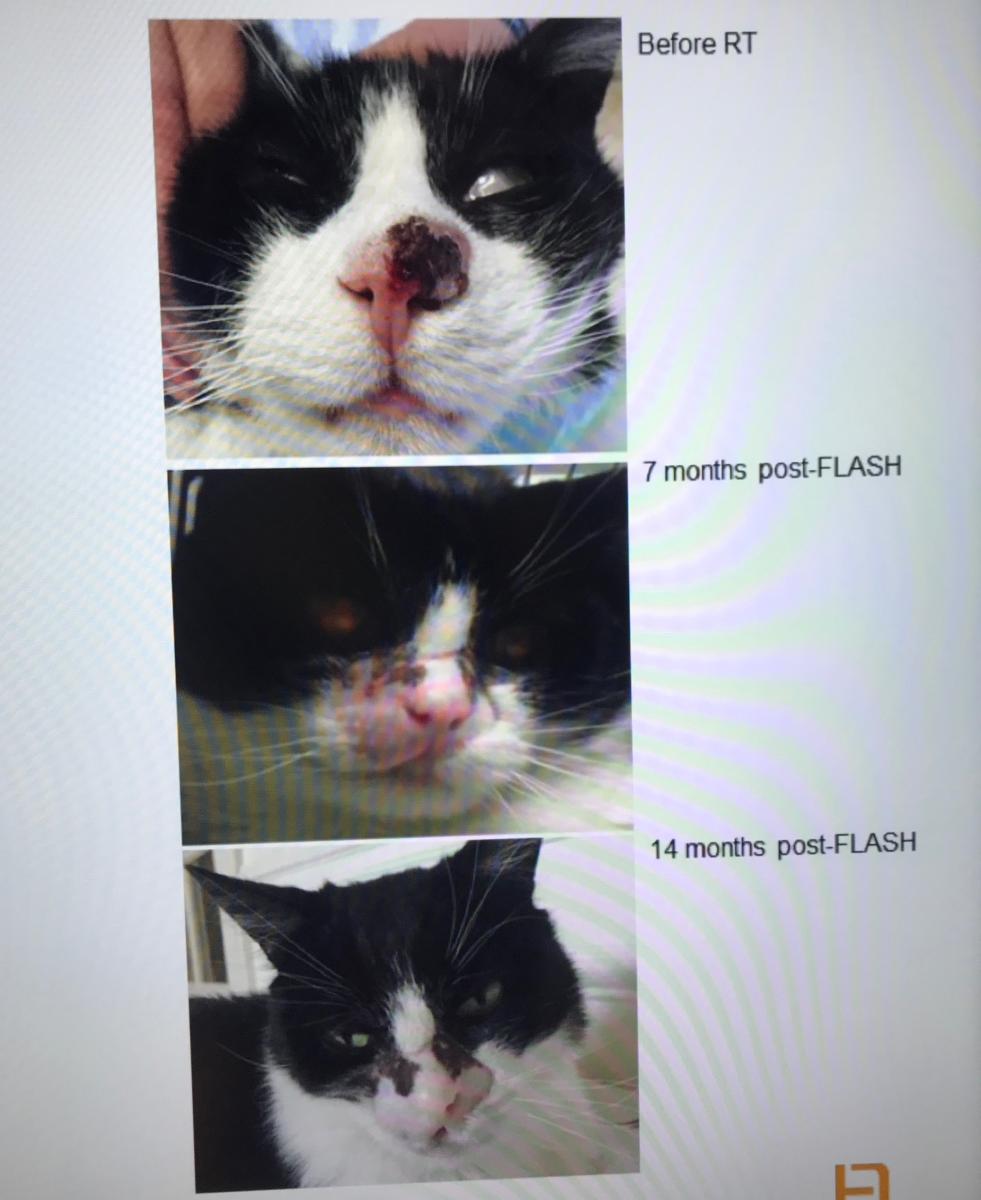 The current theory on why these high doses are not harmful to healthy tissue may have something to do with the rapid consumption of oxygen free radicals, he said. To understand this, there is a lot of animal research and basic scientific research to better understand the biological mechanisms in play. 
"We are on the verge of human studies," Zietman said. "Our linear accelerators can already deliver these high flash dose rates, but we need to control ourselves, hold back and do the trials, because we really don't understand what we are doing in terms of the biology."
He said more accurate treatment planning systems enable very precise delivery, which also will reduce the amount of healthy tissue in the beam lines for these treatments.
"This is generating enormous amounts of excitement," Zietman said. "If the studies prove these very high dose rates are advantageous for the patients, that is really going to change the delivery of radiotherapy."
Varian and the Cincinnati Children's/UC Health Proton Therapy Center announced during ASTRO 2021 they completed enrollment in FAST-01 (FeAsibility Study of Flash Radiotherapy for the Treatment of Symptomatic Bone Metastases), the first human clinical trial of flash therapy. The FAST-01 trial enrolled 10 patients to evaluate clinical workflow feasibility of the flash therapy and treatment-related side effects. Read more on this study.
2. Image-guided Radiotherapy Systems 
Magnetic resonance imaging (MRI) guided linear accelerators (linac) systems have become popular in the past few years because they allow real-time imaging during radiation delivery. Two systems are currently on the U.S. market, including the Elekta Unity and the Viewray MRIdian systems.
Image-guided therapy systems offer a lot of advantages over traditional linear accelerator (linac) systems, because they offer real-time MRI imaging of the patient and the target tumor, said Walter Curran, Jr. M.D., FACR, FASCO, GenesisCare global chief medical officer. This enables more precise alignment of the patient with the treatment plan being delivered, and it can show when the target tumor is outside of the treatment area because on patient movement, breathing, or changes in the body because of food and liquid intake, or bowel gas.
"Imaging has a big part, because if you can see the tumor you can treat it," Curran explained. "These MR systems provide really unique guidance to adapt the therapy for a patient, in the room, when you have a dynamic MRI actually embedded in the treatment suite to assess patient movement, tumor movement and normal tissue movement. I am very excited about that."
The MR-linacs are able to treat some cancers more effectively. These include pancreatic cancer, brain cancer, prostate cancer, as well as other tumors in the abdomen and the head and neck area, Curran said.
While these systems offer the opportunity for more accurate and safer therapy delivery, the treatment sessions take much longer. Zietman said this means these systems are often being reserved for certain types of cancers. When the MRI does not make much difference, these cases are being sent to conventional linac systems. For centers that have installed MRI lilacs, they have joined together in a consortium to share clinical data to speed up research on these systems. 
Another system that has gained a lot of interest is the Reflexion X1 linac system. It recently gained U.S. Food and Drug Administration (FDA) clearance for standard SBRT, IMRT and SRS. However, the real value of the system is that it was designed for biologically guided radiotherapy. The system has PET radiotracer detectors and can image metastases. The system can target each one with real-time adaptive radiotherapy. 
"I think that is incredibly exciting, and it can be used in so many clinical scenarios," Zietman said. "It can be used with a single lung nodule or a single prostate nodal metastasis, to multiple metastases. It is always striking when I see a PET scan and the bright lung nodule, and you always think, gosh, it we could just track that what a target it would be, and it is now possible."
He sees a big value for this technology in the future for SBRT, SRS, oligometastatic disease and even polymetastatic disease.
The Reflexion PET-targeting adaptive therapy technology is currently involved in an FDA investigational device exemption (IDE) trial. If it gains FDA clearance in the coming years, the technology promises to significantly speed treatment of metastatic disease. The system is currently installed at the University of Texas Southwest, Stanford and City of Hope.
For more watch the VIDEO: Reflexion Radiation Therapy System Walk-around at ASTRO 2021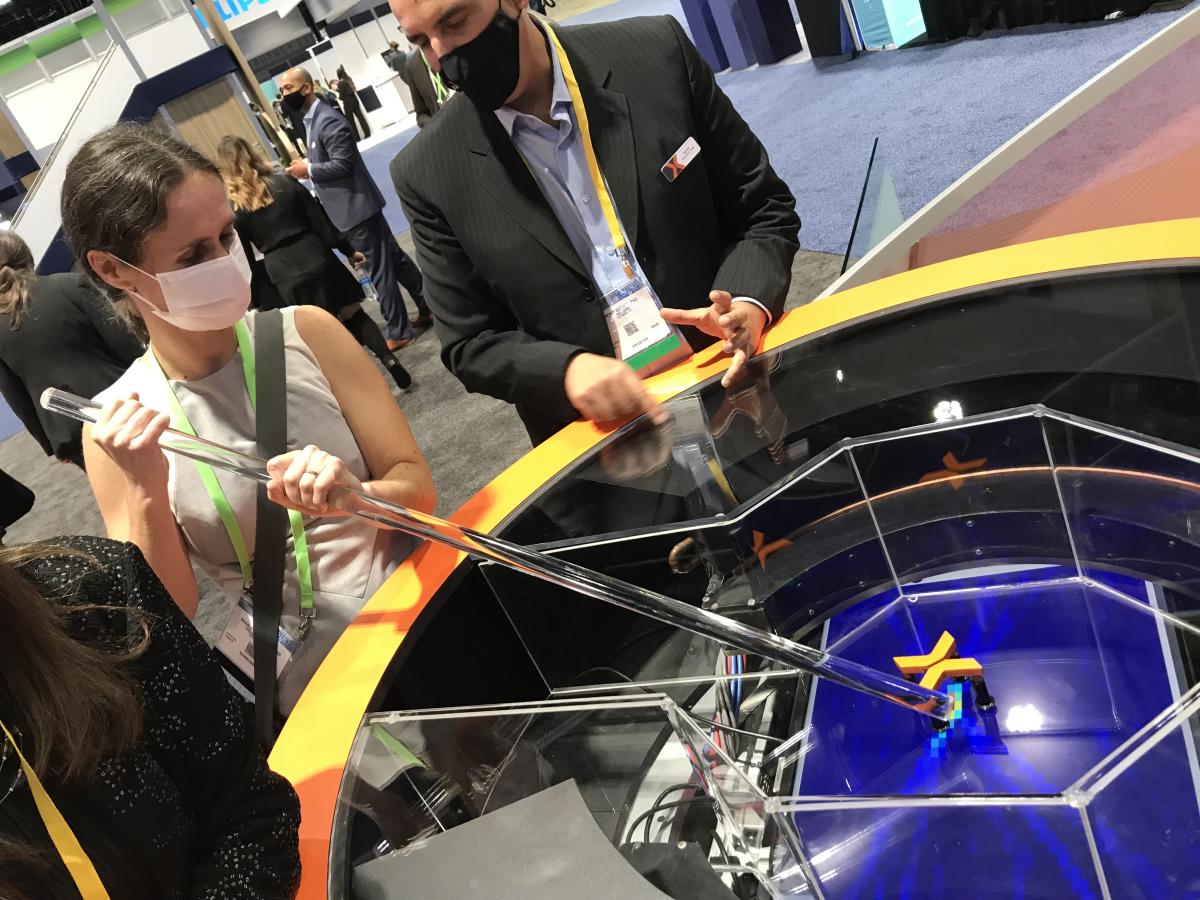 A demonstration in the Reflexion booth showing how its PET detector system can track a radioactive source in real time as it is moved around. The system is testing this technology under an FDA IDE trial to use PET imaging radiotracer uptake to target and treat multiple metastases in real time.
3. Proton Now Considered a Mainstream Treatment Option
Proton therapy has now become a mainstay treatment option and it is becoming more widely available.  
"New proton centers are opening, the systems are becoming less costly and more turnkey, so they are becoming more accepted as a form of mainstream therapy," Zietman explained.
Newer proton systems are much more compact and the price for these has dropped significantly from the $200 million price tag common with many of the first generation systems a decade or so ago. The lower price point and smaller footprint is driving a lot more interest in proton. 
Zietman said proton therapy beams are highly accurate and gives it an edge over even the very best photon therapy systems. He said clinical evidence needs to be gathered to show this to insurance payers, but he said we are now on the cusp of that evidence being delivered. 
"I think over the next several years, you are going to see randomized trials comparing head-to-head proton therapy versus best photon therapy systems in prostate cancer, lung cancer and breast cancer. So, we will get the answer about what the benefit is and how much better, and this will greatly influence policy makers and payors for years ahead," Zietman said.
He said another advantage of proton therapy appears to be that fact that it interacts with the biology of cells much differently than traditional photon beam therapy.
"What we are starting to understand about proton therapy is that there is more to it than the physics, and it is not just a sharper knife," Zietman explained.  "The way cancers cells are killed by proton beams is biologically different, and that is something we need to understand if we are going to exploit it to its fullest, or to avoid complications caused by out lack of understanding."  
Proton flash therapy may also make proton systems more economically viable by allowing many more patients to be treated on a system than is possible today because of the multiple treatment fractions required.
4. PSMA PET Will Enhance Prostate Cancer Care
The new prostate-specific membrane antigen (PSMA) positron emission tomography (PET) imaging for prostate cancer is expected to significantly improve how prostate cancer is detected and treated. This was discussed both in sessions and pointed to as a technology to watch by several key opinion leaders. 
The FDA approved the drug for PET nuclear imaging of PSMA-positive lesions in men with prostate cancer. 68Ga-PSMA-11 is a radioactive imaging agent that binds to prostate cancer cells to help localize prostate cancer cells.
"It really allows us to look with greater detail and greater sensitivity for where the cancer may be," Curran said. "It is becoming more and more available for diagnostic imaging. But, we can also use a different radioisotope, lutetium, to actually target the tumor once we see it has uptake from PET PMSA. So, we can use this as a new type of system-wide radiation, which focuses on where the prostate cancer is."
5. Synthetic CT From MRI Can Save Money in Radiotherapy
A big trend on the ASTRO 2021 expo floor was the introduction of software that can now convert MRI datasets into synthetic CT image datasets for use in the treatment planning process. This eliminates the need for a separate CT scan just to create the treatment plan, speeding care and reducing costs. MRI offers much better soft tissue detail than CT and is preferred for diagnosis, and to gain a better understanding of the extent of the disease.
Siemens and Philips both demonstrated this technology, which uses an algorithm to convert the MRI dataset into CT gray scale Hounsfield units. The Hounsfield units correlate with the densities of the various tissues, and are used to calculate the radiation doses required and beam routes needed in radiotherapy to treat a patient.
See what the vendors showed in the VIDEO: Examples of Synthetic CT Datasets Made From MRI for Radiotherapy Treatment Planning
An example of a synthetic CT dataset created from MRI for use in the treatment planning process without the need for an extra CT exam, demonstrated at ASTRO 2021.
6. AI in Radiotherapy
Artificial intelligence applications could be found in several booths on the ASTRO show floor, and were mentioned in many sessions. AI is being used mainly to save a lot of time performing tedious tasks, like contouring and labeling anatomy patient CT scan images to develop treatment plans. AI is also being used to help automate treatment plans or offer alternative plans to help speed the process. In addition, AI is being used to immediately develop an adaptive plan on the fly as a patient is on the system, offering a revised plan in just minutes. 
"I am also very excited about how artificial intelligence is becoming a part of the reality for our patients. We can use AI in the ways we target tumors, to identify the structures we want to avoid with radiation, and even which biomarkers can inform treatment decisions," Curran said. "AI has been a promise for the future of radiation oncology, but over the past 12 months it has really started to become a reality."
He said AI is being integrated into MR-linacs to help rapidly alter treatment plans with the patient on the table and help shorten treatment times. 
Example of AI in radiotherapy can be seen in the VIDEO: Artificial Intelligence Automatic Contouring and Segmentation For Radiotherapy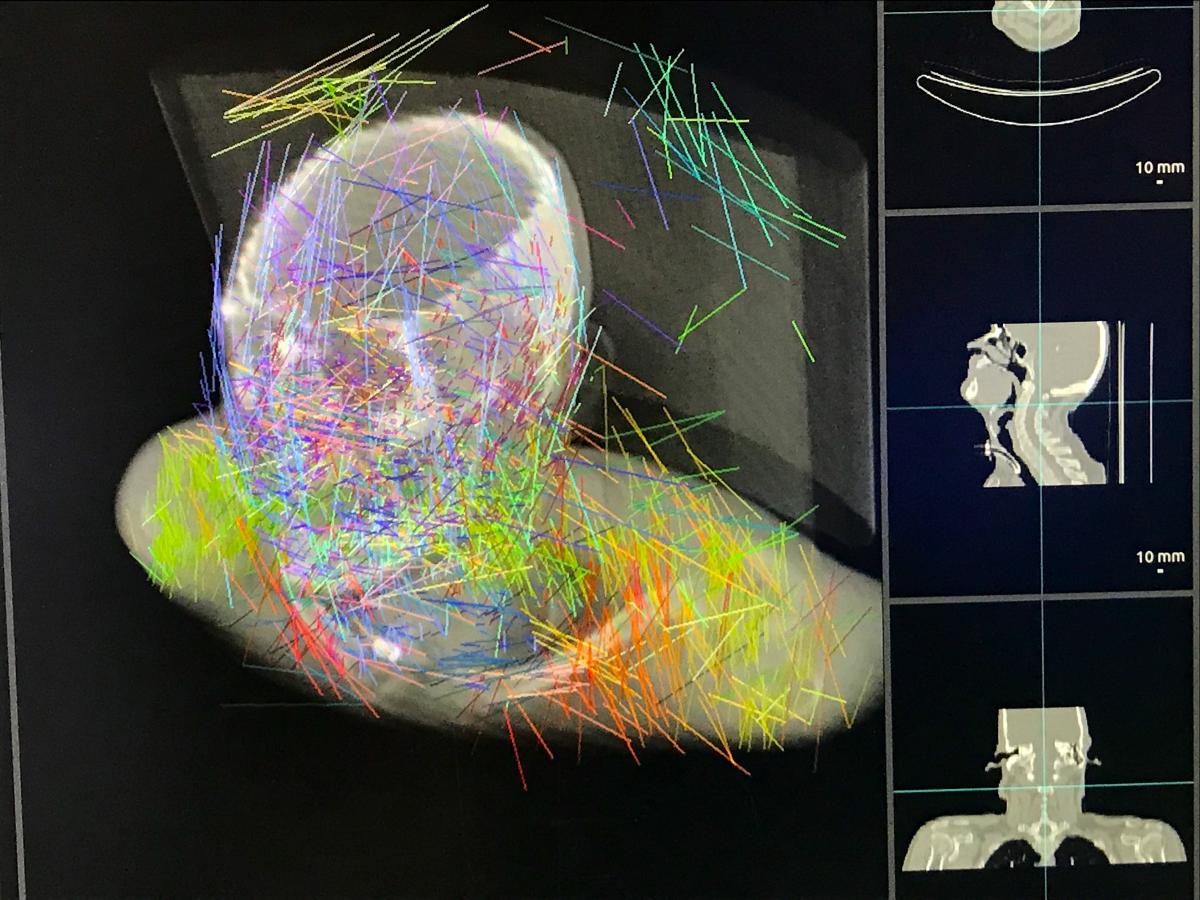 An example of the Pymedix AI Image Autofuse registration software demonstrated on the show floor at ASTRO 2021. This image shows colored lines that the AI is working on as registration reference points to fuse together multiple CT exams, a treatment plan and contouring into one dataset to save time. 
7. Increasing Speed of Treatment Planning Systems and the Integration of AI 
There have been big leaps in treatment planning systems over the past few years, where the time involved has been significantly reduced.
"The time for a quality plan is really starting to shorten," Curran said. "I remember the first intensity modulated treatment plan I ever did; we actually left the planning system overnight and came back in the morning to see the plans. That is now the type of plan that can just take minutes to do. So, we have a whole new paradigm of care."
He said artificial intelligence is starting to play a bigger role, but there is still a lot of human decision-making involved in picking the best plans. 
"The AI is only as smart as its human input, so we have set things up where we can see where it works well, but also just as importantly, where the AI cannot work," Curran said. He explained the AI is helpful as a second set of eyes to review work to find any issues or to offer suggestions. In the end, the humans make the decision to accept the plan, but the AI can help greatly speed the tedious parts of the planning process.
At Genesis Care, Curran said they are starting to use remote planning by experts at one center to help others located in remote or rural areas. He said they have created teams of dosimetrists that specialize in specific anatomical areas, like head and neck cancers, and they can be widely distributed geographically. But when there is a difficult case from one center, an expert dosimetrists can help remotely with the plan.  
Varian introduced its Ethos artificial intelligence driven adoptive planning therapy system in 2019. It uses onboard cone beam CT to create images while the patient is on the table. The AI uses the images to generate adaptive plans in a few minutes. The radiation oncologists can accept, edit or throw out the revised plan and go with the original plan. The system helps adapt to tumor size changes over the course of treatment, where the AI can shrink the treatment area in a plan. 
Find out more about how the AI-driven adaptive therapy with the Varian Ethos works in the VIDEO: Artificial Intelligence Driven Adaptive Radiotherapy System Begins Treating Patients — Interview with David Sjostrom, Ph.D., at ASTRO 2019.
Related ASTRO 2021 Radiation Oncology Content:
Radiation Oncology Research Featured at ASTRO 2021 
Photo Gallery of Technologies at ASTRO 2021
VIDEO: Sedating Children With Movies Rather Than Drugs for Radiation Therapy — Interview with Jeffrey T. Chapman
VIDEO: 4 Radiation Oncology Technologies to Watch — Interview with Anthony Zietman, M.D.
VIDEO: Advances in Radiopharmaceutical Therapy — Interview with Ana Kiess, M.D., Ph.D.
VIDEO: MRI-Linac and PSMA PET Imaging Technologies Aids Therapy at GenesisCare — Interview with Walter Curran, Jr. M.D., 
VIDEO: Elekta Harmony Radiotherapy System Walk-around
VIDEO Example of the Varian Noona Bidirection Oncology Patient Interface Software
VIDEO: Examples of Cherenkov Radiation Imaging During Radiation Therapy
---
If you enjoy this content, please share it with a colleague