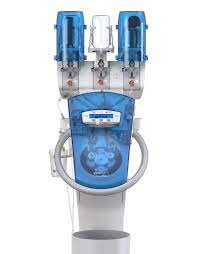 The ulrich CTmotion
According to a new research report1 on the contrast media injectors published by MarketsandMarkets, the market was estimated to be $1.3 billion in 2020 and projected to reach $1.9 billion by 2025, at a compound annual growth rate (CAGR) of 7.4 percent over 2020-2025.
The pandemic has had a devastating global effect on healthcare and the economy. Many medical facilities were instructed to stop performing elective surgical procedures and medical examinations to slow the spread of disease and conserve healthcare resources for COVID-19 patients. Radiology departments also took a hard hit, and saw a steep decline in imaging volume. According to the report, radiology practices should anticipate seeing a 50-70 percent decreases in imaging volume that is projected to last a minimum of 3 to 4 months, if not longer. 
"The demand for contrast injectors will mostly depend on the diagnostic imaging volume and installations of CT and MRI," stated the report's authors. "In a few months down the line, we can expect the demand for diagnostic imaging to return to normalcy, which could also lead to recovery of demand for contrast injectors. COVID-19 had a major impact on the contrast media injector market in 2020 with around 20 percent decrease in sales. The market will likely return to peak levels of 2019 by 2022."
Today's contrast media injectors are now enabled with an LCD screen to maintain flow rates and monitor patient status. Many companies are introducing new software for injector systems that can generate data in real-time, and include information such as contrast media flow rate, injection pressure, injection speed and type of contrast media. "The IT department of a hospital can connect this software directly to their hospital information systems or electronic medical records and access patient data from picture archiving and communication systems," according to the report. "This reduces the time, error rate and effort to upload statistical data and images manually."
RSNA Highlights
Several companies displayed contrast media injector systems, solutions and technology at the virtual Radiological Society of North America's (RSNA) 2020 conference. 
Guerbet showcased its UNIK solution at RSNA20. UNIK is a flexible solution designed to create value by reflecting healthcare professionals' specific needs and improvement areas. By understanding customers' internal processes, Guerbet can provide an ecosystem of value by interconnecting its comprehensive portfolio of contrast media, injection solutions, digital solutions and technical support. Its key benefits include traceability of the injected contrast media, enhanced clinical operation through optimal product combination, and potential cost savings, achieved through integration, improved workflow and smart financing services.
Bracco highlighted its EmpowerCTA Injector System that meets the needs of today's computed tomography (CT) suites by facilitating high-quality CT imaging. Unique safety enhancements combined with a digital touch screen at the patient's side and voice prompts give EmpowerCTA+ Injector System users increased process control and a more streamlined workflow. Its unique safety enhancements include saline advance, saline jump patented extravasation detection accessory (EDA) and eGFR calculator. It also offers a streamlined workflow that simultaneously operates dual syringes, auto initialization for efficient preparation of syringes for filling, and protocol fill which automatically fills syringes to volumes based on the selected protocol.
Workflow Efficiencies
GE Healthcare announced it has been working with ulrich medical to deliver the ulrich CTmotion in the United States since 2019. The company focuses on advancements in medical technologies, and its contrast media injectors have been used for more than 30 years in hospitals and radiology practices around the world.
The CTmotion supports workflow efficiencies, such as quick and easy set-up and patient turnover. The injector can help remove the need for manual syringe filling, which can minimize examination preparation time and minimize contrast media waste. The ulrichINJECT CT Motion is used in computed tomography procedures for the delivery of Omnipaque (Iohexol) Injection contrast medium as supplied in Imaging Bulk Packaging.
Personalized Imaging
Speaking to the need for personalized imaging, Bayer announced the introduction of the Medrad Stellant Flex computed tomography (CT) injection system about a year ago. Stellant Flex offers Bayer's CT injection technology with a user-driven design, minimal required technologist training, and automation that drives individualized patient protocols and personalized imaging.
With this injector, Bayer said it addresses the changing U.S. healthcare environment, which has seen an overall decrease in capital funding. This often results in reduced operational budgets for hospitals, creating the need for institutions to work more efficiently and economically, while maintaining quality patient care. The Medrad Stellant Flex CT injection system was designed to help address these clinical and financial challenges.
Reference:
www.marketsandmarkets.com/Market-Reports/contrast-injector-market-96046959.html. Accessed Jan. 7, 2021.
---
If you enjoy this content, please share it with a colleague