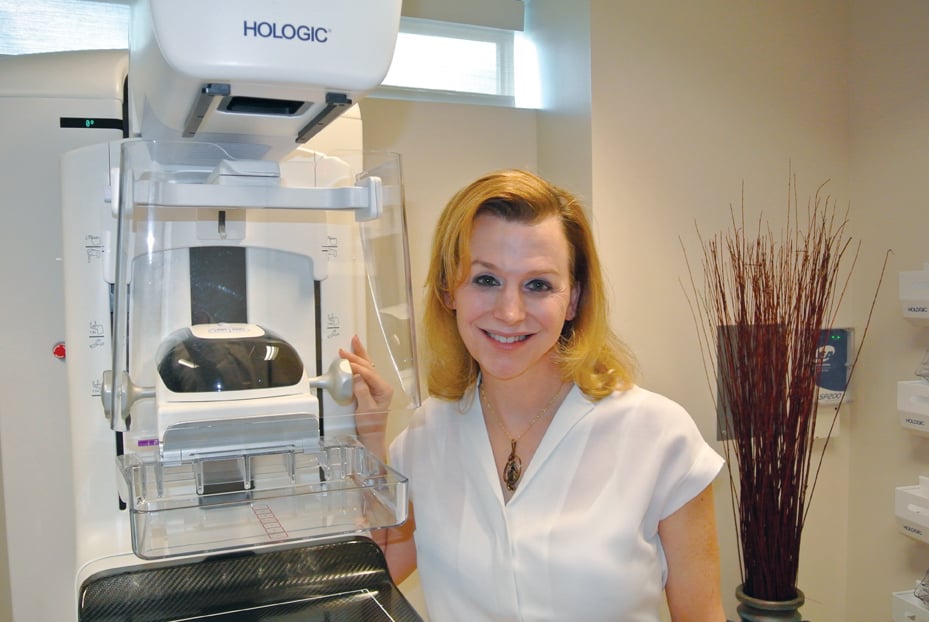 According to Christin Reisenauer, M.D., \"We have had patients from as far away as 100 miles come to Gritman to get a 3-D exam.
Despite its small size, Gritman Medical Center, a 25-bed hospital in Moscow, Idaho, has a reputation for thinking big, especially when it comes to women's health. That's why in May 2014 the hospital became the very first facility in the region to install a Hologic 3D mammography system and began to offer breast tomosynthesis services to its patients. The addition of the Hologic system represents a significant capital investment for the hospital, especially since they decided from the start not to charge women an additional fee for 3D mammograms. "3D was not a financial decision, it was a decision based upon what is the right thing to do for the women we serve," noted Christin Reisenauer, M.D., director of imaging at the hospital's Patricia J. Kempthorne Women's Imaging Center. "We knew we were missing breast cancers with 2D mammography, cancers potentially visible with breast tomosynthesis, and that just wasn't fair to the women of our area." 
The Women's Imaging Center performs more than 2,500 mammograms annually in addition to providing breast ultrasound, biopsy and bone density testing. Several larger hospitals in the region also offer mammography services, but it was up to the small, nonprofit facility to lead the way in bringing the latest breast cancer screening technology to the area.
The results are impressive. The number of women coming for screening mammograms has increased by 30 percent, and in the short time the technology has been in use the staff has diagnosed five breast cancers they would not have seen with a traditional 2D mammography system, cancers that could have gone undetected for at least another year. 
Gritman has also doubled its detection rate. Last year, Gritman detected 4.45 cancers per 1,000 mammograms, using 2D technology. Since the Hologic 3D mammography system was installed in May 2014, Gritman has detected cancers at a rate of 9.36 per 1,000. Nationally, clinics detect five breast cancers per 1,000 mammograms. 
"We discovered breast cancers are much more visible with 3D than they are with 2D mammography. We're making an impact on women getting mammograms. And, I have a much greater sense of security as a radiologist knowing I have this powerful tool to ensure I get the best possible results for patients. 3D has exceeded our expectations," declared Reisenauer. 
Patients also benefit with breast biopsies; under 2D, 30 percent of biopsies resulted in a confirmed cancer diagnosis but with the 3D system that has jumped to 50 percent. That means the new technology is successfully weeding out false positives and more accurately pointing out possible breast cancers than 2D.
Run for Women by Women
When it opened in 1997, the Patricia J. Kempthorne Women's Imaging Center was the first facility in northern Idaho dedicated solely to women's imaging. "Our concept was to create a center specifically for women, staffed by women," explained Reisenauer. "At the time, Idaho had one of the lowest rates for screening mammograms. So we decided to see if we could increase the compliance rate by improving the experience."
The Center has earned a reputation as the premier center for women's health, and now with the addition of the Hologic 3D mammography system, women are traveling from surrounding areas. "We have had patients from as far as 100 miles away come to Gritman to get a 3D mammogram," stated Reisenauer.
Reisenauer reports the new technology is enabling the staff, which includes three board-certified radiologists, to find smaller breast cancers, in much denser tissue. "With traditional 2D mammography you are looking through the entire bulk of the breast tissue in one image, which can obscure masses and abnormalities within the breast. Our new system lets our radiologists scroll through the image in one millimeter slices, which eliminates all the overlapping dense breast tissue so there's no place for cancer to hide."
Working Together to Advance the Technology 
Radiologists at Gritman have been using computer aided detection (CAD) systems for years as a second pair of eyes when interpreting 2D images. So when the hospital first installed the Hologic 3D mammography system they used the combination 2D+3D mode, which provides the traditional 2D digital images as well as the 3D scan. "Using the traditional 2D images in combination with the 3D data provides several advantages and allows us to continue to use CAD with the 2D image," stated Reisenauer. 
However, the Center's goal was to reduce the radiation dose by eliminating the need for 2D images. They considered Hologic's C-View software, which provides a computer-generated 2D image of the breast using the 3D data set, but were reluctant to give up the use of CAD for their 2D images. So, for the past several months, Gritman has been one of just nine hospitals in the world working with Hologic to evaluate its CAD application for C-View images. The Center now uses the 2D images generated from C-View software, along with CAD for the C-View images in place of traditional 2D images, eliminating the need for the 2D exposures. 
"C-View plus 3D enables us to lower the dose to what is comparable to a standard 2D mammogram and gives us all the benefits of CAD. It is really tremendous," stated Reisenauer.
Setting an Example for the Community
The staff at Gritman considers the fact that other hospitals in the area are adding breast tomosynthesis technology a win for women. "We knew when we led the way other hospitals would soon follow, and the bottom line is now more people will have access to this technology. This is one way we are being true to the mission of our hospital, to lead the way to wellness.
"The data is very strong now that 3D does diagnose breast cancers earlier," continued Reisenauer. "Within the first six months of using 3D our breast cancer detection rates per 1,000 screening asymptomatic mammograms surged by more than 100 percent and our callback rates for additional imaging have decreased by more than 20 percent. It was a leap of faith to put in this technology, but as a result we are finding many more breast cancers and we know we are saving lives. That is why we are here. We're very, very pleased with 3D."
Case study supplied by Hologic, Inc.
The views and opinions expressed herein are those of Gritman Medical Center and are not necessarily those of Hologic. This information is intended for medical professionals in the U.S. and other markets and is not intended as a product solicitation or promotion where such activities are prohibited. Because Hologic materials are distributed through websites, eBroadcasts and tradeshows, it is not always possible to control where such materials appear. For specific information on what products are available for sale in a particular country, please contact your local Hologic representative or write to [email protected].
Hologic, C-View, Hologic 3D mammography, and 3D mammography are trademarks and/or registered trademarks of Hologic and/or its subsidiaries in the U.S. and/or other countries.