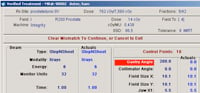 May 5, 2011 – At the 2011 European Society for Therapeutic Radiology and Oncology (ESTRO) exhibition at the ExCel Centre in London, Elekta will demonstrate advanced solutions that provide clinicians with the tools to save and improve lives of cancer patients worldwide. This includes Elekta's new RFID system, Identify, which is designed to increase staff confidence in the integrity of patient identification and set up.
Identify harnesses precision radiofrequency identification technology and will ensure the right patient is being treated at the right location and with the correct set up and equipment. Identify will feature complete integration with Elekta's Mosaiq Oncology Information System, enabling patient queuing, selection of patient details in monitoring of set-up position, optimizing workflow and enhancing safety. Identify will be a scalable solution – from the treatment room to the entire department – allowing centers to grow as needs change.
Throughout the five major solution areas at the Elekta booth, the company will demonstrate how its digital platforms offer robust upgrade paths to accommodate a wide range of clinical requirements. The solution areas are:
Secure Workflow – personalized efficiency
Stereotaxy – premium solutions for the most challenging cases
Delivery – clinically focused, digitally controlled
Imaging – inspiring clinical confidence
Quality Assurance – completing the picture
In addition, Elekta will host a lunch symposium titled Throughput with Confidence on Monday, May 9 at the Capital Suites. The symposium will feature presentations by notable experts in the field of radiation oncology:
Professor Frank Lohr, University Hospital, Mannheim, Germany: Efficient VMAT Planning and Delivery
Ben J. Mijnheer, Ph.D., NKI/AvL, Amsterdam, Netherlands: Experiences from AvL with EPID-based In-Vivo Dosimetry
PD Reinhart A. Sweeney, University Hospital, Wurzburg, Germany; Christian Hieronimi, Elekta: Identify - who, what, where and how. Now!
For more information: www.elekta.com
---
If you enjoy this content, please share it with a colleague