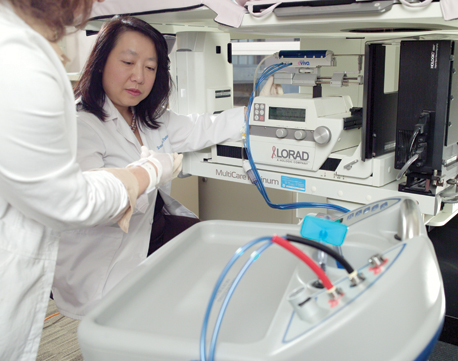 Dr. Leung, pictured, says having an efficient system is key to minimizing patient wait times and handling a large volume of patients.
When your practice sees an average of 150 women a day, efficiency is key to ensuring that each patient receives the best possible care. For the past several years, the Breast Health Center at California Pacific Medical Center, part of the Sutter Health network, has chosen to standardize on Hologic equipment, from its Selenia digital mammography systems and SecurView workstations to the majority of the elements used in its biopsy practice, including the Multi-Care Platinum breast biopsy guidance system; Eviva, ATEC and Celero vacuum-assisted breast biopsy devices, and biopsy site markers.
"Having an efficient system is key for us to do everything well and minimize patient wait times, while being able to handle a large volume of procedures," says Jessica Leung, M.D., medical director of the CPMC Breast Health Center. "Using one vendor for the most part that supports us at many levels of care and provides a seamless integrated product line is an important part of this."
The Breast Health Center is one of the largest single-site practices in the region and, as such, it sees an exceptionally diverse cross-section of patients.
"We need devices that allow us to choose the most appropriate imaging modality for the patient, whether that modality is stereotactic X-ray, ultrasound, magnetic resonance imaging (MRI) or even tomosynthesis in the future," says Leung. "Plus, five of our seven radiologists who specialize in breast imaging and perform biopsies have his or her own individual preferences. Hologic provides multimodality systems that allow us to be prepared for virtually any patient who comes through our doors, as well as features other options for specialized needs."
As one example, the Eviva breast biopsy petite needle design accommodates many patients who would otherwise require surgical excisions due to the location of the lesion and size of their breast.
It isn't simply the breadth of products on which Leung and her team place a high priority. Technological advances are just as critical and, says Leung, a key reason she chose Hologic in the first place. For example, Hologic was the first to come out with a closed tissue collection chamber. "Everything is collected at once instead of piecemeal," notes Leung.
That original piece of equipment was the ATEC breast biopsy and excision system. The tissue collection chamber of the ATEC — and now the Eviva device — is closed, with all tissue specimens collected at the back of the hand piece. This eliminates the need for the operator to manually handle each biopsy core as it is acquired, so there is no need to continuously stop and re-start the procedure to remove or review samples.
"There's a debate about collecting tissue samples together. From our years of experience, the distance between each successive tissue sample is quite small, such that it usually makes little clinical difference to collect tissue samples as separate and distinct pieces," says Leung, who adds that many of the biopsy device manufacturers are following Hologic's lead by adopting a closed tissue collection chamber because of its time-saving benefit. The Eviva device's integrated end-deploy biopsy site marking solution further streamlines the process, because there are no calculations required at the end of the procedure to accurately mark the biopsy area.
Leung notes that one of the most valuable recent advances from Hologic in the biopsy arena isn't designed to streamline workflow, but rather to improve patient care: the pneumatic mechanism for rapid needle advancement, which was incorporated when Hologic introduced the Eviva device.
Stereotactic X-ray guided biopsy devices have traditionally utilized a spring-loaded adapter system to advance the needle into the breast, resulting in a loud noise that sounds much like the firing of a staple gun. Says Leung, "The average patient should not feel much sharpness or pain after we administer the Lidocaine. But the loud noise tells them something is piercing the breast and sends a pain signal to the brain, essentially a psychological versus physiological response. They also get so startled when they hear that noise, they often jump as a reflex. The quiet deployment — it sounds like a little puff — is a big advance in patient comfort."
The Eviva device offers another feature that makes a significant difference to Leung's patients and saves time: the inclusion of a continuous pain management system, which was first introduced with the ATEC device. Pain medication is delivered directly into the cavity in a radial pattern, covering the necessary area to anesthetize the tissue with each biopsy cycle. This eliminates the need to stop the procedure should a patient feel pain and inject the anesthetic into the cavity before continuing. The result is a faster procedure that minimizes the time the patient spends on the biopsy table with her breast in compression and maximizes room turnover for the Center.
For a busy facility like the CPMC Breast Health Center, the service and support built into its equipment can make or break a practice. As Leung notes, its service contract with Hologic provides a dedicated technical support team that's available around-the-clock to keep them up and running at all times.
Case study supplied by Hologic Inc.
Hologic, ATEC, Celero, Eviva, MultiCare, SecurView and Selenia are trademarks and/or registered trademarks of Hologic and/or its subsidiaries in the U.S. and/or other countries.
The comments included in this article are the opinions and personal stories of the individuals quoted and not necessarily those of Hologic.
This information is intended for medical professionals and/or specific product users residing in the United States and other countries and should not be considered as a solicitation or promotion of any product or of an indication of any product that is not authorized by the laws and regulations of another country where the reader resides. This article could refer to products that are or may not be available in any particular country and/or may not have received market clearance by a governmental regulatory body for indications and restrictions in different countries.