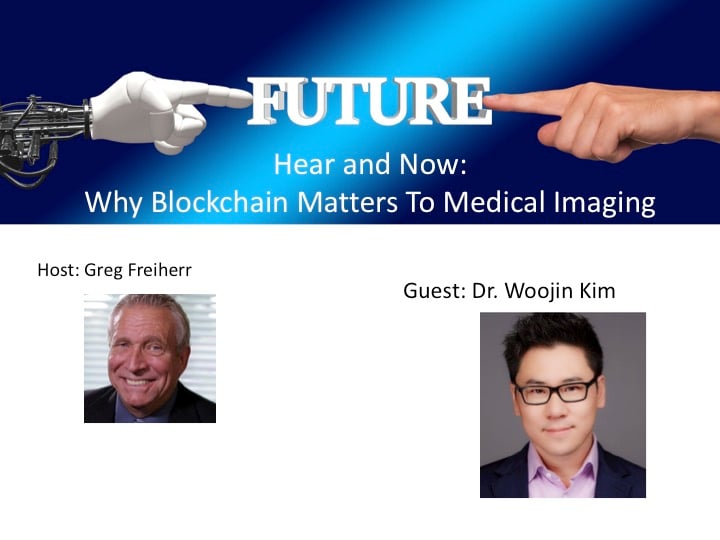 Blockchain has been framed as an emerging disruptor in healthcare. This technology, initially developed for the financial world, promises to make health care more secure than ever before.  But its future is anything but a slam dunk.
In a podcast published by Imaging Technology News (ITN), Woojin Kim, M.D, described blockchain as having potential for medical imaging but also "a lot of limitations."
Kim, formerly a practicing radiologist at the University of Pennsylvania Health System and currently the chief medical information officer for Nuance Communications, explained that blockchain is composed of blocks of data strung together. Every addition to this chain is documented by what he described in the podcast as hashes. These serve as unique identifiers, which is why, in this time of heightened concern about cybersecurity, blockchain is so appealing.
On June 28 at the annual meeting of the Society for Imaging Informatics in Medicine in Denver, Kim and other faculty will describe the effects that blockchain might have on medical imaging. He will be one of three speakers during the Friday morning session titled "Demystifying Blockchain Technology: What is it and how is it Relevant to Medical Imaging?"
In the ITN podcast, Kim explained whether and how blockchain might fit into medical imaging and what purposes this technology might serve. To start, novices should "pick a really, really small project," he advised.
Most important, Kim said, is having clean data: "If you have dirty data, it doesn't really matter what kind of technology you put top of it. Garbage in, garbage out."
Greg Freiherr is a contributing editor to Imaging Technology News (ITN). Over the past three decades, he has served as business and technology editor for publications in medical imaging, as well as consulted for vendors, professional organizations, academia, and financial institutions.
Editor's note: This podcast is the sixth piece in a content series by Greg Freiherr covering the Society for Imaging Informatics in Medicine (SIIM) conference in June.
Related content:
DeepAAA Uses AI to Look Automatically For Aneurysms
Making AI Safe, Effective and Humane for Imaging
Cinebot: Efficient Creation of Movies and Animated Gifs for Presentation and Education Directly from PACS
5 Low-Cost Ways To Slow Hackers
Imaging on Verge of Game-changing Transformation
How to Fix Your Enterprise Imaging Network
MDW Partners With Bitfury and Longenesis to Deliver Next-Generation Healthcare Blockchain 
Webinar: Blockchain Explained, What Radiologists Need to Know 
Video: Understand the Blockchain in Two Minutes 
Blockchain: The New Technology of Trust - Goldman Sachs 
---
If you enjoy this content, please share it with a colleague