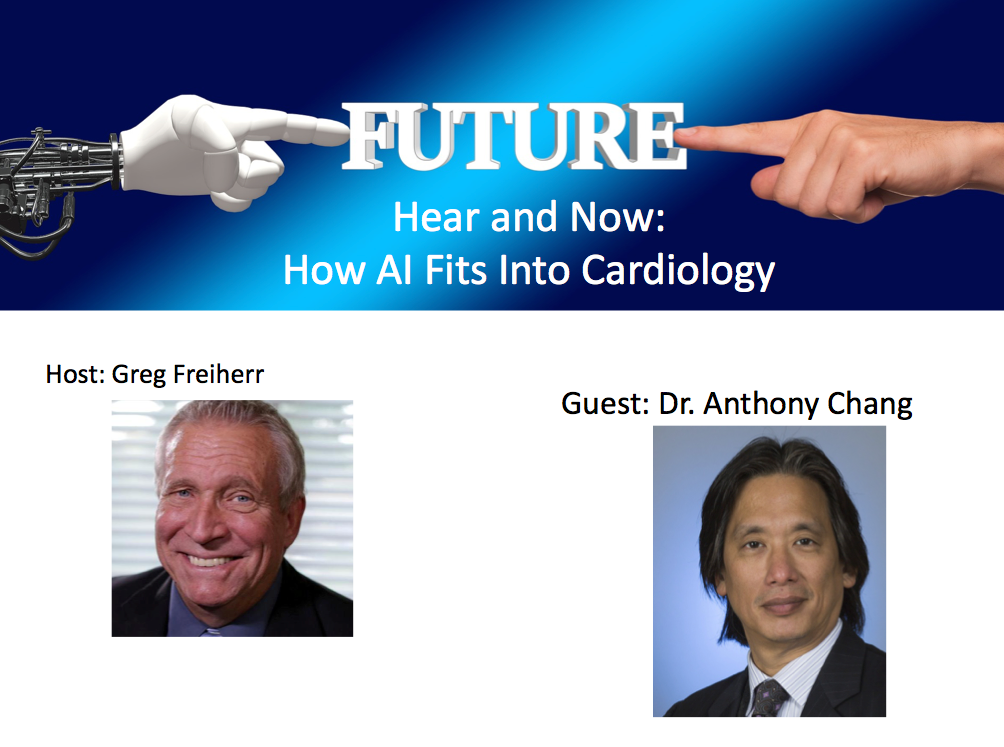 Smart algorithms could make cardiology "more fun and less burdensome," said Anthony Chang, M.D., a pediatric cardiologist at the Children's Hospital of Orange County in California (CHOC), internationally acknowledged as an expert in artificial intelligence.
Artificial intelligence (AI) might reduce or even eliminate the hours spent processing medical records information or even taking notes "while he or she is talking to the patient," said Chang, whose nickname is Dr. A.I.
Needed will be algorithms that do the tedious work now done by cardiologists, he said in a podcast published by Imaging Technology News (ITN). The burden of doing this grunt work is one reason cardiologists are burning out, Chang said in the ITN podcast: "That needs to go away."
At the 2019 annual meeting of the American College of Cardiology, the pediatric cardiologist, who also serves as CHOC's chief intelligence and innovation officer, will describe how AI can boost the quality of cardiological practice and how its use can help prevent burnout. At noon on Monday March 18, Chang is scheduled to kick off the session entitled "Rise of Intelligent Machines: The Potential of AI in Cardiovascular."
Watch an interview with Chang in the VIDEO: Artificial Intelligence Applications for Cardiology.
Deep Learning Is Both Plus and Minus
Algorithms created through deep learning, in which algorithms get smart about the rules governing medical practice, often through unsupervised learning, will be featured prominently. But deep learning (DL) is both boon and bane for cardiologists, according to Chang, who described DL in the ITN podcast as a kind of black box whose opacity threatens the credibility – and, consequently, adoption – of AI.
"We have to do our best to make it a glass box – not a black box … Maybe (cardiologists won't) fully understand" what's in the box, but they definitely have to "see things as more transparent," he said in the podcast.
Cardiologists must do their part by trying to understand the fundamental of AI tools, said Chang, who recommended that cardiologists "at least take a few courses (or) watch a few videos" to better understand the basics of data science and become comfortable using tools that he predicted will be "here to stay for medicine."
The pediatric cardiologist said AI will "get to the point where it is a very, very nice augmentation of (cardiologists') human skills." Chang went on to predict that AI will complement human cognition. While stopping short of forecasting the end of deep learning, he said "deep learning is certainly going to start to recede into the background a little bit – and human cognition ultimately is going to be needed. That is when AI matures."
In the meantime, cardiologists should take advantage of smart algorithms when and where they can, he recommended. Doing so will be necessary if cardiologists are to stay ahead of the mounting wave of information. "Only a computer can put all of the analytics together with multilayered data and very few if any humans can really do that well and consistently without fatigue," he said.
People And AI To Form Synergy
Chang forecasted "a great synergy" between cardiologists and machine intelligence, one that will get increasingly strong. But cardiologists have a ways to go to reach this point. He described cardiology as being generally at "a relatively low trajectory" on the curve needed to take advantage of AI. This can – and will – be corrected, he said in the podcast, "because cardiologists inherently are data savvy and very innovative. I think we just need to bend that curve up." Doing so, however, is going to take "a lot of education" and "a lot of application demonstrations," he said.
If cardiologists are to reap the full benefits of AI, they must reorganize their data, Chang said in the ITN podcast. He compared the needed organization to that of a pyramid: "The bottom layer – the foundational layer – is the data. Then you have information as the next layer; then you have knowledge; then you have wisdom and intelligence."
The topic of AI will be increasingly prominent at cardiology meetings, Chang predicted in the ITN podcast: "I think within a year cardiologists will be talking about this fairly routinely at meetings, particularly ACC, because it is known for innovation."
Chang is head of the artificial intelligence organization AIMed, which hosts educational sessions and an annual meeting on AI applications in medicine.
Greg Freiherr is a contributing editor to Imaging Technology News (ITN). Over the past three decades, Freiherr has served as business and technology editor for publications in medical imaging, as well as consulted for vendors, professional organizations, academia, and financial institutions.
Related content:
Technology Report: Artificial Intelligence 
PODCAST: How Technology Is Changing Cardiology
PODCAST: Shortcomings of CTA in Cardiology 
ACC.19 Future Hub Hosts "Shark Tank" of Emerging Technologies In Cardiology 
---
If you enjoy this content, please share it with a colleague