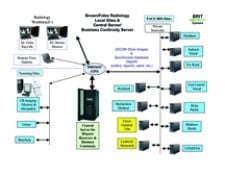 BRIT is a completely IBM-based system and the software is very user-friendly.
With the evolution of information systems (IS) in healthcare, the delivery of patient care has transformed the way clinicians work. In rural healthcare settings this metamorphosis is pronounced. Radiologists can provide service across a wide region, servicing hospitals and patients with advanced IS such as PACS.
X-Ray Delays at Rural Hospitals
After 30 years in a leading, tertiary hospital in New Orleans, Edward Brown, M.D., moved to northern Louisiana where he began his radiology practice. While Dr. Brown was practicing in the city, Craig Folse, M.D., spent 28 years in Richland Parish servicing two hospitals, which over time grew to five hospitals, in rural north-eastern Louisiana.
"To cover the hospitals, I would drive 1,200 miles each week, covering the circuit of hospitals," Dr. Brown said. Dr. Folse also drove great distances during the course of his solo practice. "Some of these hospitals had absolutely no radiology coverage," Dr. Folse explained. "In many instances, they would courier films and wait up to four days for the report. These are all critical care hospitals with ERs and the delay for receiving reports would negatively impact patient care."
Both doctors knew that with today's computer technology, a better option existed. Dr. Folse began exploring PACS prior to the creation of the Brown-Folse PACS LLC project. Together, Drs. Brown and Folse decided to bring PACS to rural Louisiana with the creation of their partnership.
Leader of the Pack
In late 2003, Dr. Brown attended the annual Radiological Society of North America (RSNA) in Chicago and met with 15 to 20 PACS vendors, large and small. One of the last vendors he visited was BRIT Systems. At the same, Dr. Folse worked with a PACS consultant from California, who highly recommended BRIT. "This consultant, with 20 years of experience, believed that BRIT was one of the best PACS companies in the country," Dr. Folse added.
As Drs. Brown and Folse continued evaluating PACS the following spring, BRIT Systems kept rising as a leader of the pack.
"With a rural setting, the system's cost was a big factor. Some vendors were charging high costs per case or study," Dr. Brown explained. Other key issues for Drs. Brown and Folse were stability and redundancy. "BRIT is a completely IBM-based system and the software is very user-friendly," he added.
Mary Sims, PACS administrator, was also involved in evaluating PACS vendors and systems. She too was very impressed with BRIT. "We looked at the quality of the images, redundancy and HIPAA-compliant storage, and had to be sure that if something happened to a server, we could still access images and continue service to the hospitals," she explained.
Disaster Recovery Passes the Katrina Test
The final key to selecting BRIT for the Brown-Folse PACS Project lay in the system's redundancy and disaster recovery features. "It not only looked good on paper, but it works," Dr. Brown added.
BRIT's Roentgen PACS is built around a model of redundancy at an affordable price. According to Sims, BRIT designed the Brown-Folse system so there would be no major interruption of service. A central server, owned by Brown-Folse, was situated in Metairie, LA, a suburb of New Orleans, with a back-up central server near BRIT Systems' headquarters in Dallas. Each hospital would also have a separate server. In the event of any disaster, images and data could be routed to/from any server through any workstation or laptop by an authorized user. "It was very important that each hospital could stand on its own," Dr. Brown said.
With this configuration, BRIT would customize the PACS for each site. The hospitals ranged in size from 10 to 60 beds. "BRIT was excited by the challenge," Dr. Folse mused. "This company gave us the most confidence of any vendor that this could be done."
The installation began in February 2005 at Hardtner Medical Center in Olla, LA. Within one year, 12 hospitals/medical centers and two mobile X-ray units were added, with Citizens Medical Center in Columbia, LA going live on Feb. 7, 2006. "BRIT was flexible and was able to architect the system to our specific needs and the way the radiologists wanted it. They have a very 'can-do' attitude," Sims said. An example of this is the way exams are sorted. When the project was first implemented, exams were sorted by hospital. However, as more hospitals were added, this method became cumbersome so BRIT designed a way for the radiologists to sort exams in any way they need.
The system's redundancy and disaster recovery was put to the test when Katrina came ashore. The server, while undamaged in Metairie, was inaccessible. BRIT immediately switched over to local servers at each hospital for access to exams and made additional room on the Dallas server to act as the primary server in place of the Metairie unit. The radiologists continued to read without any glitch in service. Six weeks after Katrina and a full evaluation of the server to ensure it had not been damaged, BRIT backed up all the local data from the hospitals and switched the system back to its original configuration within one week.
Servicing Rural Areas
For Sims and Drs. Brown and Folse, the real difference PACS has made for their practice is the ability to better serve rural communities.
"What really strikes me is the speed of diagnosis, which is so important, especially in the ER," Sims explained. "A physician can have the report in the ER by the time the patient returns from radiology. Quicker diagnosis leads to better patient care and outcomes."
"Our project has made a tremendous impact on the acuity of patient care," Dr. Folse added. "Today, we can service a multitude of hospitals, 24/7 and cover a wider area." With the radiologist shortage in the U.S., many of these hospitals could not attract radiologists, full-time or part-time. These needs have been served, with a typical two-hour turnaround on exams, providing the same quality of care that can found in most urban areas. For the group at Brown-Folse, this translates to greater personal job satisfaction.
"From a radiologist's perspective, this is the way to practice," Dr. Brown said. "With PACS, I have tools to enable the continuity of care, from pulling up old cases to instantaneous reporting. This technology can help us bring the expertise of leading teaching hospitals to the doorsteps of rural hospital."
Bringing state-of-the-art technology to rural Louisiana that improves the quality of care is perhaps one of this team's greatest achievements.
---
If you enjoy this content, please share it with a colleague