WEBINAR: Building the Bridge - How Imaging AI is Delivering Clinical Value Across the Care Continuum
The webinar will be held on August 5 at 2 pm ET / 1 pm CT
Imaging AI has come a long way in just a few years. More than 30% of radiologists have adopted AI, citing improved efficiencies and increased quality as primary drivers. Triage apps are prioritizing worklists, and image analysis algorithms are detecting and measuring lesions—but we are just scratching the surface of AI and its impact on patient care. From neurology to women's health to pulmonology and beyond, the downstream clinical benefits to providers and patients can be profound. To get there we need to focus attention on how AI is being communicated, applied and consumed throughout the care cycle. This webinar will discuss imaging AI across the care continuum, and how these maturing technologies are supporting radiologists and care teams to improve outcomes. We will explore how AI outputs are informing providers and specialists downstream and how they are integrating these insights into their clinical practice. 
Learning Objectives
Discuss the current state of AI adoption in radiology and expected trajectory

Explore the role of AI in healthcare beyond the radiology reading room 

Identify key downstream beneficiaries of imaging AI and its potential impact on their clinical practice and outcomes
Speakers

Sheela Agarwal, M.D.
CMIO Diagnostic Imaging
Nuance Communications
Sheela Agarwal, M.D., is Chief Medical Information Officer for Diagnostic Imaging at Nuance Communications. She is an experienced leader with a history of working in academics and industry, has written multiple AI-related publications through her work with the American College of Radiology DSI and was recently involved in establishing "AI Central," the FDA-Cleared Algorithm Catalog.
Agarwal completed her undergraduate and graduate degrees in Economics, as well as her MD from Duke University, her graduate radiology training subspecializing in abdominal radiology and MRI from Massachusetts General Hospital/Harvard Medical School and her MBA from the University of Chicago Booth School of Business. She continues to practice as an abdominal radiologist at Lenox Hill Radiology in New York City.

Professor of Medicine, Division of Pulmonary and Critical Care Medicine
Augusta University and Morehouse School of Medicine
Rabih I. Bechara, M.D., is a professor of medicine within the Division of Pulmonary and Critical Care Medicine at Augusta University and Morehouse School of Medicine in Atlanta, Georgia. He formerly served as the director of the Thoracic Institute, as well as chief of the Division of Pulmonology and Critical Care Medicine at the Cancer Treatment Centers of America.
Bechara attended the Emory University School of Medicine for his residency and completed the school's Pulmonary and Critical Care Fellowship. Additionally, he completed a fellowship in Interventional Pulmonology with the Beth Israel Deaconess Medical Center at Harvard University.His research primarily focuses on endoscopic therapy of lung cancer and endoscopic lung volume reduction. Several of his recent peer-reviewed publications include his extensive lung and breast cancer research.
Bechara is currently a member of the American Lung Association's Southeast Board of Directors and is chairman of the American Lung Association of Georgia and LUNG FORCE in Georgia.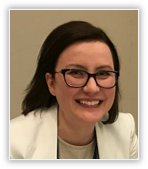 Kate Kovalenko
Director, Diagnostics AI and Reporting
Kate Kovalenko is responsible for the global commercial and development strategies for the growth and acceleration of Nuance's AI Marketplace and other diagnostic AI initiatives. She draws on her more than 17 years of healthcare technology product management experience specializing in radiology, interventional cardiology, and surgery solutions. Kate holds a Bachelor of Science in Industrial Management with a concentration in computer programming from Grove City University and an MBA with concentration in Healthcare Administration from Northeastern University.
UNABLE TO ATTEND THE LIVE EVENT?
Registrants will automatically receive a link to the on-demand version when available.
About Nuance Communications
Nuance Communications is a technology pioneer with market leadership in conversational AI and ambient intelligence. A full-service partner trusted by 77 percent of U.S. hospitals and 85 percent of the Fortune 100 companies worldwide, Nuance creates intuitive solutions that amplify people's ability to help others.
Subscribe Now