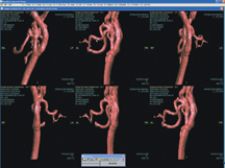 Enterprise-level, scalable, NovaPACS offers fast image retrieval, full-feature viewer, intuitive interface, seven-year on-site archive and off-site emergency backup.
In today's environment of increasing accountability and cost optimization, radiology centers are seeking ways to manage their capital expenses, their operational expenses and achieve ROI for their investments.
When Larry Lempka, director of Radiology at Campbell County Memorial Hospital, evaluated a PACS for his 90-bed community and trauma hospital, his selection criteria included system functionality, scalability and affordable upfront cost as well as minimal continuing operational expenses.
Located in Gillette, WY, the JCAHO-accredited hospital offers on-site radiology services, including MRI, CT, mammography and nuclear medicine.
Following an extensive review, NovaPACS by NovaRad Corp. was selected as the provider that had the system capabilities, an affordable price point and a proven track record of delivering a return on investment.
Affordability and ROI
"Within two months of the NovaPACS installation, return on investment was evident," said Lempka. "Because of the pricing model we not only were saving nearly $140,000 on film and its related costs, but we saved the cost of purchasing equipment for the PACS and system software upgrades."
Pricing for NovaPACS is based on a subscription model. In contrast to a more traditional capital purchase model that requires a significant capital outlay or the Application Service Provider (ASP) model with a pay-per-exam fee structure, NovaRad's subscription model uses the department's annual image load to determine a low up-front fee combined with a fixed recurring monthly fee. Everything is included — software, hardware, training, integration services and support.
"Choosing a system that had a small capital investment and a low monthly usage fee made sense for our hospital," said Lempka. "We wanted a solution that would work for us financially in the short term and the long term. NovaRad's subscription model was ideal as we could avoid a large initial capital outlay, budget for the future and achieve a return for our investment — quickly."
To ensure that the PACS will meet the needs of each individual facility, NovaRad customizes the system, software and hardware to the needs of each radiology department. Its customers typically achieve a return on their NovaPACS investment within a year and most in fewer than six months. In addition, to help ensure value, it guarantees that its software and hardware will never become obsolete. Both the hardware and the software are updated with no additional charges.
NovaPACS is a complete, fully-featured PACS that offers 3-D imaging, fast image retrieval and includes servers, viewers, on and off-site archives, prep and workstations. The system is developed to fit the imaging needs, spanning small hospitals and large, multisite hospitals or imaging center group.
Campbell County Memorial Hospital is also saving by utilizing NovaRad's off-site archiving. This is required under the HIPAA security regulations and helps the facility meet some of the more expensive and challenging requirements for data protection.
In addition to the tangible savings on film and processing costs, Campbell County Memorial is realizing additional returns from its PACS installation, including:
• Improved workflow processes;
• Enhanced access as images are conveniently and securely accessible through the Web; and
• Reduced report turnaround time, which is helping to further enhance patient care.
Enhancing Workflow, Patient Care
With NovaPACS, access to images is immediate, whether in the ER, physician offices or from the radiologist's home. Radiologists at Campbell County Memorial hospital are able to read images upon completion of the exam or the images can be routed to an outside hospital so that a physician can be reviewing the images, while the patient is being transferred to the facility for treatment.
"The ability for staff radiologists and referring physicians to access images from any location has enhanced patient care as the nursing department doesn't have to wait until the next morning for results," said Lempka. "Time spent on each case has been significantly reduced and we're realizing improved turnaround time."
Because the PACS has been cost effective and beneficial for Campbell County, it is installing three NovaPACS workstations in an off-campus orthopedic surgery center. The system is easily scalable. Installation took just days and training took only a few hours.
"We really feel like NovaRad is our partner. Its dedication to its customers combined with a robust and affordable PACS reinforces to us that our investment in NovaPACS was the right choice," said Lempka.
---
If you enjoy this content, please share it with a colleague