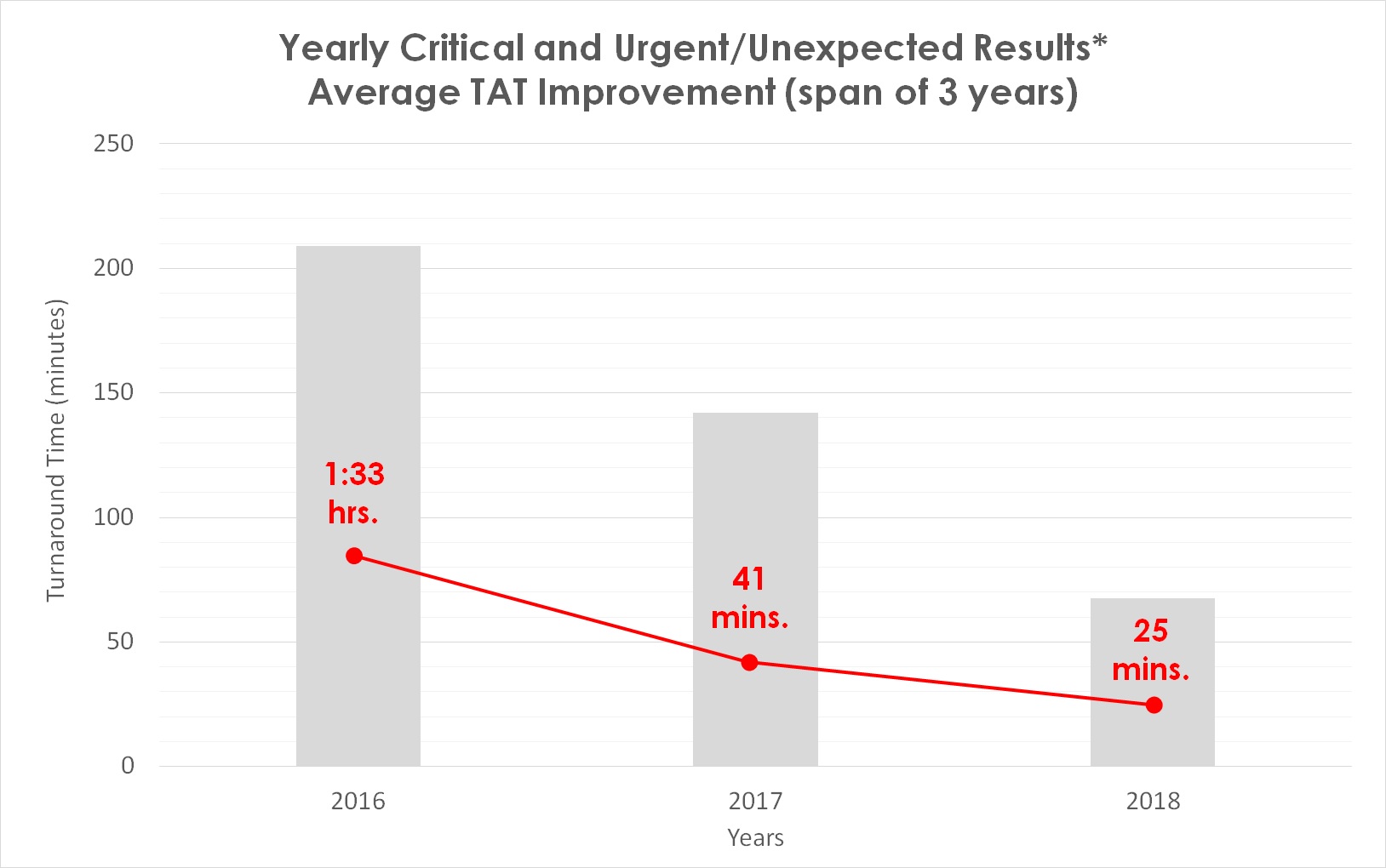 Figure 1
In this study, the client was a large enterprise health system serving 1.4 million patients across the United States with over 11 hospital locations, over 6,000 in bed capacity and over 50 satellite clinics. They processed over 1.5 million studies annually and used various picture archiving and communication systems (PACS) across the organization.
In 2016, the client reached out to the healthcare services industry for assistance to transform their radiology practice, focusing on key areas including critical results communication. Change Healthcare was selected as the solutions provider and helped the client achieve success throughout the transformation journey.
Challenges
The client was facing challenges in the following areas:
1. Ineffective communication of critical and unexpected results.
The referring physicians' contact information was poorly documented, which caused radiologists to waste valuable time trying to locate them. The enterprise lacked a clearly defined escalation policy, causing delays in communicating critical results. Streamlining the physician communication process would guarantee proper results delivery in a timely manner.
2. Providing quality and undisrupted care to patients.
Radiologists were dealing with an increasing number of disruptions during shifts, which meant they read fewer cases or worked longer hours. Communication barriers impeded physicians' ability to provide better care. Smoothing out these barriers would help improve timeliness and more nuanced interpretations.
3. Maintaining continuous improvement for their imaging operations.
The facility had an incomplete picture of their operations due to a lack of effective reporting. Establishing standard key performance indicators (KPI) and reporting measures and tracking workflow efficiency would give the client meaningful insight into their business.
Solution
The enterprise health system acquired Change Healthcare's Provider Communication Service (PCS), a value-added solution that integrates people, process and technology to improve provider-to-provider communication of critical, unexpected and incidental findings by optimizing the overall workflow. PCS also includes the option of managing incidental findings and follow-up management for both the referring community and patients. The client's solution involved the following components:
1. Establishing a 24/7 communication command center.
The infrastructure and amenities were developed, and a team of communication coordinators was built to manage the results delivery workflow process. The facility established 24/7 staff coverage based on scheduling and peak trends, supporting radiologists at more than 11 client sites. The PCS team connected with referring physicians on behalf of the radiologists, freeing them up to focus on delivering patient care.
2. Developing workflow automation.
Based on best practices, workflow rules were implemented on case urgency, response times and case types (e.g. stroke, critical results, significant abnormal). This helped to consistently meet The Joint Commission (TJC) National Patient Safety Goal No. 2 and American College of Radiology (ACR) critical results reporting guidelines by implementing enterprise-level escalation policies and system downtime protocols.
3. Implementing sustainable governance and change adoption.
A radiology steering committee was established with key stakeholders and radiology directors. On a continual basis, the committee reviewed performance measures, identified opportunities for improvement and prioritized recommended actions. Through this change management program, the client was able to successfully adopt Provider Communication Service throughout their diagnostic imaging operations across the organization.
Impact
As a result of using Change Healthcare's Provider Communication Service, the client achieved significant clinical and business outcomes.
1. Improved turnaround times for results communication.
Through streamlining communication and information sharing between radiologists, referring physicians and patients, the client experienced considerable improvement in weekly critical results turnaround times (TAT).
Within three years of operating with PCS, their average TAT reduced by 68.7 percent from 1:33 hours to 25 minutes (see Chart 1).
The average turnaround times for the communication of critical and urgent/unexpected findings greatly exceeded service level agreement expectations (see Chart 2).
The adoption of PCS enabled more efficient and accurate patient diagnosis for the client, which means higher quality care for their patients.
2. Enhanced visualization of turnaround times.
Through enriched data analytics, the facility obtained a clearer picture of the current state of patient service levels and their clinical and operational implications, which ultimately improved the effectiveness of communication among physicians. The added visibility and clarity of data enabled it to:
•Improve patient safety by ensuring the referring physicians are notified in a timely manner of unexpected findings that totaled 10 percent of their overall volume.
•Optimize resource utilization by monitoring exam capacity, access time and TAT, and identifying outliers to better determine appropriate staff scheduling and coverage.
•Perform cost-benefit analysis and make better hiring decisions by monitoring patient event volumes.
Overall, PCS provided valuable business insight that helped the facility monitor its performance against benchmarks to maintain continuous improvement in the future.
Change Healthcare's Provider Communication Service delivered satisfactory return on investment to the client by reducing unnecessary disruptions in the radiologist workflow and improving their productivity. The streamlined communication workflow improved report turnaround times, reduced risk for error and minimized physician burnout, thereby enhancing patient care and safety and generating business growth for the healthcare enterprise.
---
If you enjoy this content, please share it with a colleague