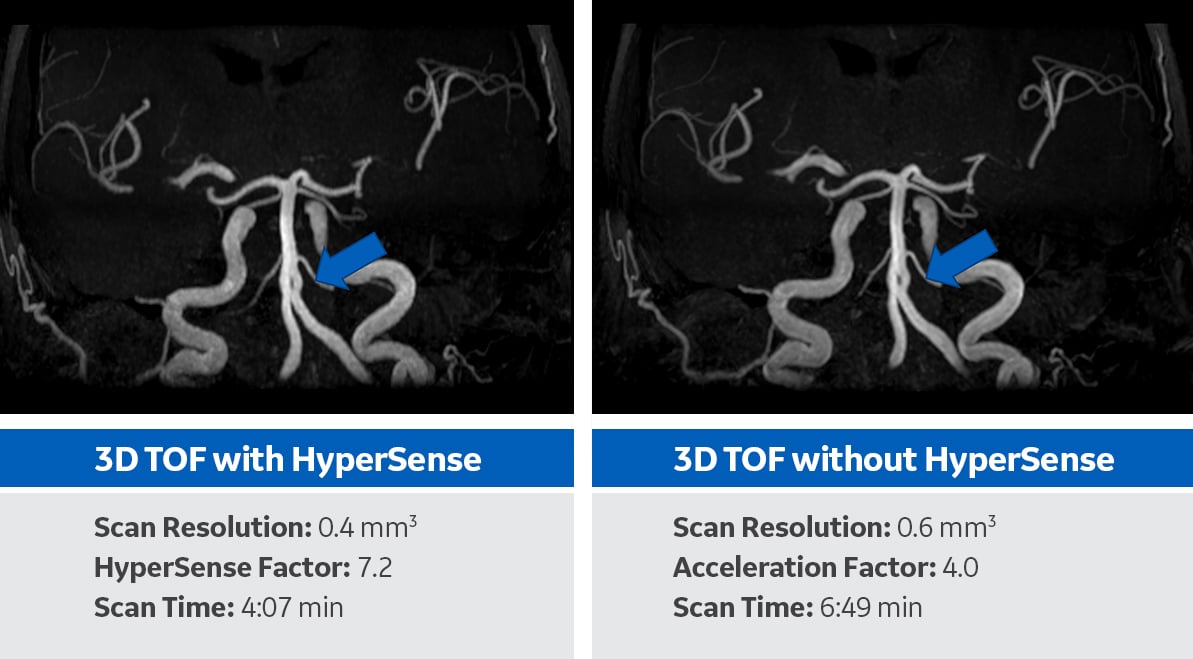 The SIGNA Architect is GE Healthcare's most powerful 3.0T MR system to date, delivering the latest in performance with 128 channels. Fueled by the SIGNAWorks productivity platform, this novel technology is a harmonious design of form and function. Versatile and adaptable, the SIGNA Architect addresses 99.99 percent of the population with the 48 Channel Head Coil, a fit-adaptable coil design that preserves the highest SNR and supports advanced imaging applications, such as HyperWorks technologies. Within the HyperWorks family is HyperSense,* a compressed sensing technique that accelerates scans by filling less k-space data and uses a special reconstruction algorithm to recover missing information without impacting SNR, as traditional acceleration techniques often do. Advance your clinical capabilities with the SIGNA Architect.
A 73-year-old patient presented with a TIA and was referred to MR as a follow-up. An MR angiography of the intracranial vessels was performed. The 48 Channel Head Coil, available on the SIGNA Architect, was used for scanning. The first scan shows 3D TOF using HyperSense, a compressed sensing technique available within the SIGNAWorks productivity platform. The second scan shows 3D TOF without HyperSense. Scanning with HyperSense showed significant increase in spatial resolution, up to 50 percent, and a 40 percent reduction in scan time. Inspection of the TOF with HyperSense angiogram showed fenestrated basilar artery.
For more information, visit our SIGNA Architect or SIGNAWorks sites.
*HyperSense is 510(k) pending with the FDA. Not available for sale in the United States and may not be commercially available in other regions.
---
If you enjoy this content, please share it with a colleague