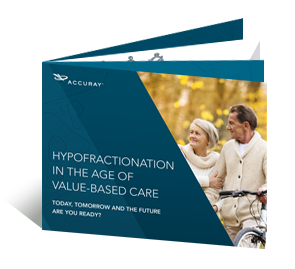 eBook on Hypofractionation in the Age of Value-based Care
Hypofractionated and ultrahypofractionated radiation therapy — increasing dose per fraction to enable significantly fewer overall treatments — promises to unlock significant wins for public and private healthcare providers as well as the radiation oncology teams at the patient end of cancer treatment. While the drivers for hypofractionated procedures such as stereotactic body radiotherapy (SBRT) have been clear for some time — improved patient experience, increase d patient throughput and reduced cost of care — the challenge now is to identify new treatment tools and protocols to realize these clinical and economic outcomes at scale.
For starters, clinicians need the ability to maintain submillimeter accuracy and precision throughout treatment delivery — identifying the target location in the body; automatically detecting, tracking and correcting for target motion; and accurately repointing the beam in real-time to support the clinical use of smaller margins to reduce the side-effects of treatment. Between treatment fractions, radiation oncology teams also need tools to efficiently and seamlessly rework treatment plans to account for anatomical changes (see "Adaptive planning," below). What's more, none of this cutting-edge functionality can come at the expense of system versatility or patient throughput.
Put another way: the new standard in hypofractionated radiation therapy will be a treatment system that can deliver the highest level of accuracy and precision to both stationary and moving targets, along with the "workhorse versatility" to efficiently treat the full range of clinical indications.
To learn more, download the Accuray eBook on Hypofractionation in the Age of Value-based Care here: https://www.accuray.com/ebook/