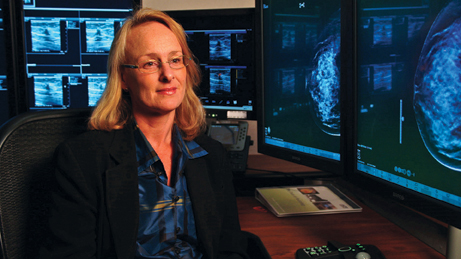 Twenty-seven radiologists at Washington Radiology Associates (WRA), a large private imaging practice in the Washington, D.C., metropolitan area, perform 85,000 mammograms annually at six clinical offices. In 2011, WRA replaced all of its 2D mammography systems with 15 Hologic Selenia Dimensions systems. Between August 2011 and June 2012, WRA phased in tomosynthesis on all 15 machines and began offering the 3D exam to patients. WRA was the first practice in the region to offer breast tomosynthesis, and the purchase made WRA the largest user of the Hologic breast tomosynthesis system in the world.
"As a mammographer, I've been waiting 30 years for something like tomosynthesis," says Edward R. Lipsit, M.D., radiologist and president of WRA. "The conventional 2-dimensional mammogram is a good test, but it's imperfect. The Hologic tomosynthesis system is more sensitive and more specific, and that is a tremendous advantage."  
Firmly believing all patients will benefit from tomosynthesis, Lipsit and his colleagues offer all their patients the option of adding a 3D exam to their mammogram, charging a fee to cover costs for the 3D component. Almost 50 percent of WRA's patients opt for the tomosynthesis option, but that number is rising as the word gets out about the advantages of 3D mammography.
"A key focus of our educational efforts is spent on educating referring physicians about tomosynthesis," explains Patrick Waring, the WRA practice administrator. "The response has been really favorable; our referring physicians are impressed by the technology and tell us they will recommend 3D breast imaging to all their patients."
Tomosynthesis is just the latest investment WRA has made in leading-edge imaging technology. The physicians at WRA were the first in the Washington metropolitan area to offer mammography services in the early 1960s, the first to introduce computer-aided detection for all mammograms, and the first to transition to full-field digital mammography.  
"We think breast tomosynthesis is the game-changer, the biggest in breast imaging in quite some time," states Waring. "We are 100 percent committed to this technology and this investment."
Case study supplied by Hologic Inc.
The views and opinions expressed herein are those of the physicians and staff of Washington Radiology Associates and are not necessarily those of Hologic. This information is intended for medical professionals in the U.S. and other markets and is not intended as a product solicitation or promotion where such activities are prohibited. Because Hologic materials are distributed through websites, eBroadcasts and tradeshows, it is not always possible to control where such materials appear. For specific information on what products are available for sale in a particular country, please contact your local Hologic representative or write to [email protected].
Hologic, Dimensions and Selenia are trademarks and/or registered trademarks of Hologic and/or its subsidiaries in the U.S. and/or other countries.
---
If you enjoy this content, please share it with a colleague