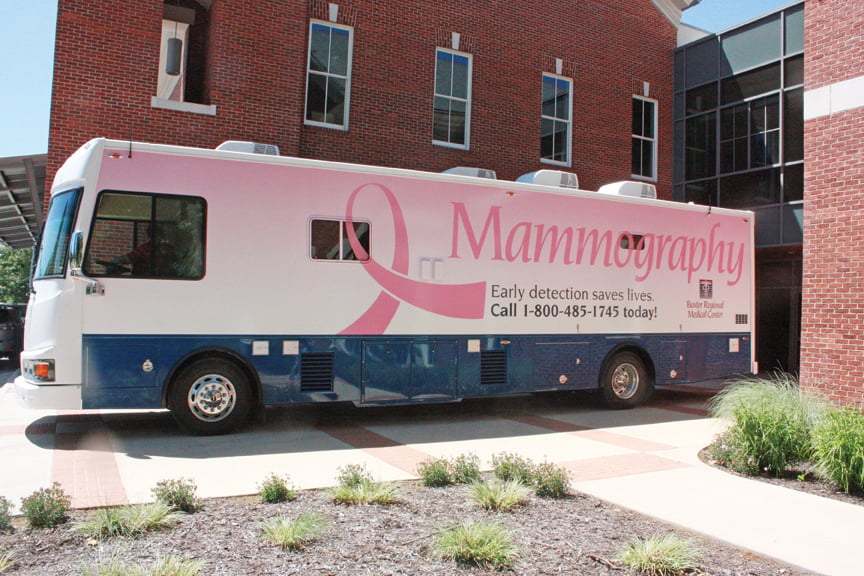 The Baxter 3D mammography coach has become a critical resource for the women of northern Arkansas and southern Missouri in obtaining their annual breast cancer screening.
Baxter Regional Medical Center is going the extra mile to make sure women in the rural communities of northern Arkansas and southern Missouri have access to state-of-the-art screening mammograms. The nonprofit community hospital is the first in the country to offer 3D mammography in its mobile breast cancer screening program. 
Located in Mountain Home, Ark., Baxter Regional took breast imaging on the road 10 years ago with a groundbreaking mobile mammography program that travels to smaller communities within a 60-mile radius of the hospital. In May of this year, Baxter Regional took another major leap forward when it transitioned the coach's analog mammography system to a Hologic Selenia Dimensions breast tomosynthesis system. 
"The goal of our mobile mammography program is to overcome some of the barriers women face in getting their screening mammograms," explains Randy Gonten, director of radiology. "With the mobile unit, we reach a lot of women we wouldn't reach any other way, and 3D mammography provides us with the best available technology for the early detection of breast cancer." 
Baxter Regional also replaced
the two analog systems in the hospital's breast imaging center with Hologic's tomosynthesis systems, becoming the first healthcare provider in Arkansas and Missouri to offer 3D mammography.  
All Women Receive 3D Screening Mammograms
"We use 3D on all patients, on the coach and in the hospital," states Kyle McAlister, M.D., mammography medical director. "We want to provide all women in the community with the best breast imaging technology. At this time there is no extra charge for the 3D portion of the exam."  
McAlister adds that the hospital was planning the transition from analog to digital mammography for several years, but waited to purchase new equipment until the U.S. Food and Drug Administration (FDA) approved breast tomosynthesis. 
The staff of Baxter Regional is excited about the benefits they are seeing from 3D mammography. "The quality of the digital image is far superior to analog, while 3D technology provides a more comprehensive view of breast tissue. With 3D images, we can see subtle changes that could be missed with conventional digital mammography," says McAlister.
State-of-the-Art Screening On the Go
Painted in large letters on the outside of Baxter Regional's new 35-foot, pink mobile mammography coach is "Early Detection Saves Lives." Inside, the coach is divided into three sections: a waiting room, private dressing rooms and a private mammography room. A mammography technologist and assistant operate the coach, performing as many as 3,000 exams each year. 
"We are seeing an increase in the number of mammograms this year," states Gonten. "Image acquisition is faster with digital technology, which contributes to shorter exam times and enables the staff to see more women."
Baxter Regional's mobile mammography coach travels as often as five days a week to locations as diverse as local businesses, community organizations, churches, healthcare facilities, even fire departments. Each host site advertises the availability of the mammography coach and schedules appointments. 
"Over the past 10 years, we have become an established service for many sites, and some patients schedule their next screening mammogram a year in advance," explains Gonten. "The mammography coach has become a critical resource for women to obtain their annual screening."
When the mammography coach returns to the hospital, the technologist downloads the day's images and hospital-based radiologists use a Hologic SecurView diagnostic workstation to read them. If radiologists find an abnormality on the screening mammogram, patients have access to a full suite of diagnostic and treatment services at Baxter Regional's new Breast Imaging Center, including biopsies, breast magnetic resonance imaging (MRI), surgery, radiation and chemotherapy treatment, and reconstructive surgery.  
Another important benefit 3D mammography brings to the program, according to Gonten, is the reduction in recalls. "We are seeing a decrease in diagnostic exams since we began using 3D technology. Tomosynthesis shows much more, so we do not need women to travel to the hospital for additional views."
Mobile Mammography — A Critical Community Resource
Baxter Regional's mobile mammography coach is helping to reach women who might never have a mammogram because of difficulty accessing the service. "The women love the coach and the fact it comes to them," concludes Gonten. 
"They don't have to drive an hour or more. Some women might not get a mammogram if the coach did not come to them," states McAlister. 
Case study supplied by Hologic Inc.
The views and opinions expressed herein are those of Randy Gonten and his colleagues at Baxter Regional Medical Center and are not necessarily those of Hologic Inc.
This information is intended for medical professionals in the U.S. and other markets and is not intended as a product solicitation or promotion where such activities are prohibited. Because Hologic materials are distributed through websites, eBroadcasts and tradeshows, it is not always possible to control where such materials appear. For specific information on what products are available for sale in a particular country, please contact your local Hologic representative or write to [email protected].
Hologic, Dimensions, Selenia and SecurView are trademarks and/or registered trademarks of Hologic and/or its subsidiaries in the U.S. and/or other countries.