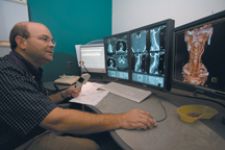 Chris DeAngelo, RIS/PACS system administrator at ARMC
Healthcare organizations around the world are actively looking for new ways to improve the flow of work throughout their facilities. With the goal of increased productivity, cost-savings and improved quality of care in mind, one such organization set out to improve workflows specific to its radiology department.
Alamance Regional Medical Center (ARMC), located in Burlington, NC, previously identified films management as an area of improvement for its imaging department. The department historically experienced issues associated with identifying sufficient retrieval storage space for filing and delivering of films where needed in a timely manner. ARMC realized that with the expanded deployment of digital imaging modalities in its radiology department, the timing was perfect to move from a film-based system to digital image management. As ARMC set out to create a completely filmless environment through digital image management, it recognized the need to take it one step further.
"As we evaluated our vendor choices, solution scenarios and our current Radiology Information System (RIS), it was evident that the only way to fully achieve the optimal workflow with digital image management was to transform our operations not only to a filmless workflow, but, with an integrated RIS/PACS, toward a RIS-driven workflow," explained Chris DeAngelo, RIS/PACS system administrator at ARMC.
Following its vendor evaluation process, ARMC partnered with Siemens Medical Solutions to implement the syngo Suite, which is a RIS/PACS solution that integrates the complete imaging management workflow in a unified work environment. syngo increases the efficiency of diagnostic and therapeutic cycles, providing fast, intuitive and role-based access to information. The teams from ARMC and Siemens worked closely together to plan and execute an implementation strategy. In addition to the radiology department staff members, the management team also remained very close to this project, providing senior level buy-in and support to all involved.
"The collaboration between our management team, staff members and information technology department was impressive and definitely contributed to our success," stated Jesse Long, chief information officer at ARMC. "Not only was this the smoothest implementation of a complex information technology project that I've ever experienced, but we went live two hours earlier than
originally planned."
ARMC recognized that its new system would not fully deliver the desired outcomes unless it was being utilized properly and in the most effective manner. Therefore, ARMC's RIS/PACS team set out to conduct comprehensive training sessions for all facility staff members who would be exposed to the system. When changing processes or evolving to new technologies, it is not uncommon for users to push back or voice concerns and skepticism. Some of the first steps to combatting resistance from users are to provide sufficient education on why the change is being made, train staff on the new technology and processes and communicate senior management's support and endorsement of the transition. Due to the ease of use and strong training provided by management, ARMC physicians and staff members embraced the new system.
"Most end-users were able to learn the system very quickly and perform all functions they needed to," said Carol Wilson, radiology director at ARMC.
"The software has a very easy-to-learn user interface. Many of our physicians and staff members were extremely receptive to our new system once they witnessed how easy it was to navigate the software."
With its new system, ARMC began seeing results right away. Geoffrey Browne, M.D., chief radiologist, explained, "We improved our productivity by 15 percent almost immediately after our go-live."
Through the new RIS/PACS workstations, emergency physicians are able to view all X-rays as well as document their interpretation of the images within the system. This allows for prompt clinical and therapeutic decisions to be made within the emergency department, as well as provides the radiologist with the initial interpretation. Communication between the two departments is now enhanced in a real-time environment.
"The immediate availability of the diagnostic images substantially improves our patient care and throughput," said Brian Carducci, M.D., chief emergency room physician at ARMC. "Concurrent review of images with our consultants is facilitated, enabling us to make the right therapeutic decision in the shortest time possible, supported by the most relevant images and expert advice."
In addition to the availability of workstations throughout the medical center that allow images and reports to be displayed quickly, ARMC's system also allows for easy access to information from home through a high-speed, encryption-enabled Virtual Private Network (VPN) connection. This functionality greatly improved physician satisfaction by eliminating the constant hunt for patient films. Furthermore, through the use of a password-protected VPN, ARMC has also increased the security of remote data access.
The new system has also delivered a significant time savings for staff members. Radiologists at ARMC appreciate the ability to secure images more quickly, especially large datasets generated by two multislice CT scanners. The availability of radiology reports for referring physicians has improved from two days to two hours.*
Through its commitment to fully integrating RIS/PACS, ARMC has been able to redefine the efficiency of diagnostic and therapeutic cycles, streamline workflows, define user-specific workflows and provide timely, high-quality patient care.
Advancing the radiology department is just step one in ARMC's plan to evolve its technologies and processes. Moving forward, the facility plans to continue working to improve workflows, increase productivity and provide better quality of care through the expansion of RIS/PACS to other departments and the implementation of an electronic health record system.
* Results may vary. Data on file.
---
If you enjoy this content, please share it with a colleague