Approximately thirteen men out of every 100 will get prostate cancer during their lifetime, and about two to three men will die from it, according to the Centers for Disease Control and Prevention (CDC). 
UroPartners, the largest urology practice in Illinois and top five in the nation, is no stranger to those statistics. With more than 30 locations and over 60 providers, the Gurnee-based group is deeply dedicated to ensuring their cancer patients receive the most accurate treatments and best results possible in a comfortable environment. 
"Once diagnosed, effective radiation treatment planning is a key factor in driving successful outcomes," said Yashbir Mehta, M.D., a radiation oncologist with UroPartners. "At UroPartners, we have found that a state-of-the-art oncology CT Simulation System that increases accuracy of treatment — while also keeping patients comfortable — is delivering excellent results for our clinicians to define treatment volumes."
Replacing a Worn Out System with State-of-the-art Technology 
Partnering with patients and collaborating with other specialists to make healing happen is a priority at UroPartners. By combining extensive experience and training with the latest technology, UroPartners is able to offer patients highly personalized care. 
The practice treats approximately 310 patients annually for prostate cancer. For treatment planning, the group was using an old computed tomography (CT) system that eventually became so outdated it could no longer be repaired when a problem arose. 
After a thorough search for a leading-edge oncology CT system, UroPartners selected the Persona CT system from Fujifilm Healthcare Americas Corporation. The group believed it was the best system on the market to standardize its practice for advanced oncology treatment planning. 
"The Persona CT's wide open bore, metal artifact reduction (MAR) and 4-D gating made it an appealing choice," said Mehta. "Since we installed the Persona CT in January 2021, we've had nothing but great success in treatment planning for prostate cancer."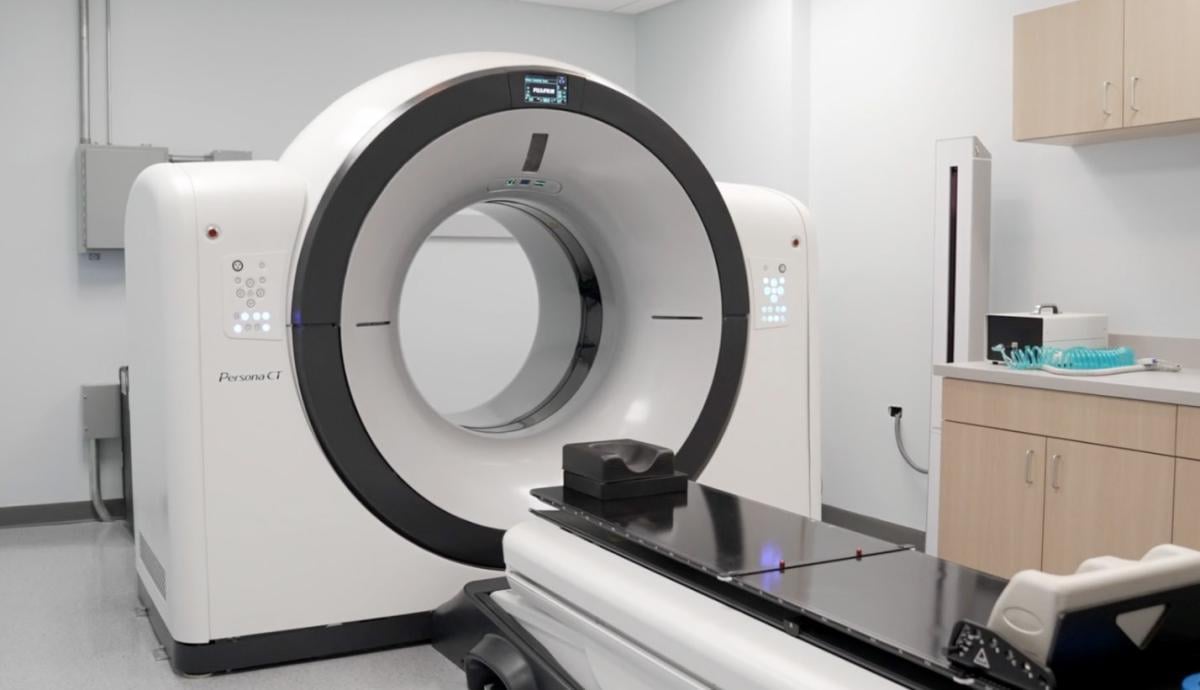 The Persona CT computed tomography system by Fujifilm at UroPartners' Gurnee, Ill., location.
Better Accuracy and Metal Artifact Reduction Improve Clinical Confidence
The treatment planning process begins after an initial consultation. Patients undergo a CT planning scan as the first step to ensure accurate targeting of the disease. The primary goal is to pinpoint the specific treatment area so that clinicians at UroPartners properly target the cancer and spare healthy tissue. 
"Accurate delivery of the radiation throughout a man's treatments is critical to a successful outcome," said Mehta. "Persona CT is absolutely helping us achieve that goal."
Prostate cancer treatment planning is complex. When developing a plan, it's important that the physician sees the prostate gland, seminal vesicles, lymph nodes, bladder, rectum and hip joint, noted Mehta. 
At UroPartners, clinicians have found that the Persona CT provides significant clinical and patient comfort benefits—both of which contribute to successful treatment planning. 
For starters, Mehta said the technology delivers clear, high-resolution images every time. That's because Persona CT is more accurate than traditional CT scanners. For example, it features a 128-slice image count as compared with an 8- or 16-image slice count of traditional scanners, according to Mehta. 
In addition, UroPartners has found that MAR is a very valuable tool. "From my personal experience using it, MAR is an excellent feature that allows us to better see prostate and lymph nodes when a patient presents with metal in their body," said Mehta. 
Specifically, MAR is a projection-based reconstruction technique that restores anatomical details often obscured by metal in conventional image reconstruction. MAR automatically identifies areas affected by highly attenuating objects and reconstructs improved images for increased clinical confidence. 
Prior to MAR, there was a dead zone in the CT scan where the clinician couldn't see what they needed to see in order to treat the cancer. This is especially problematic in the prostate because it sits between the two hips, and patients with double hip replacements presented a significant challenge. 
"Simply put, a metal artifact can interfere with our ability to design a treatment plan for a given patient. But now, with the Persona CT's MAR feature, our radiation oncologists have a sophisticated tool at their fingertips that allows them to find the anatomy quickly and effectively," said Mehta. "That, in turn, means we can create better treatment plans for patients with hip replacements or other metal objects in their body."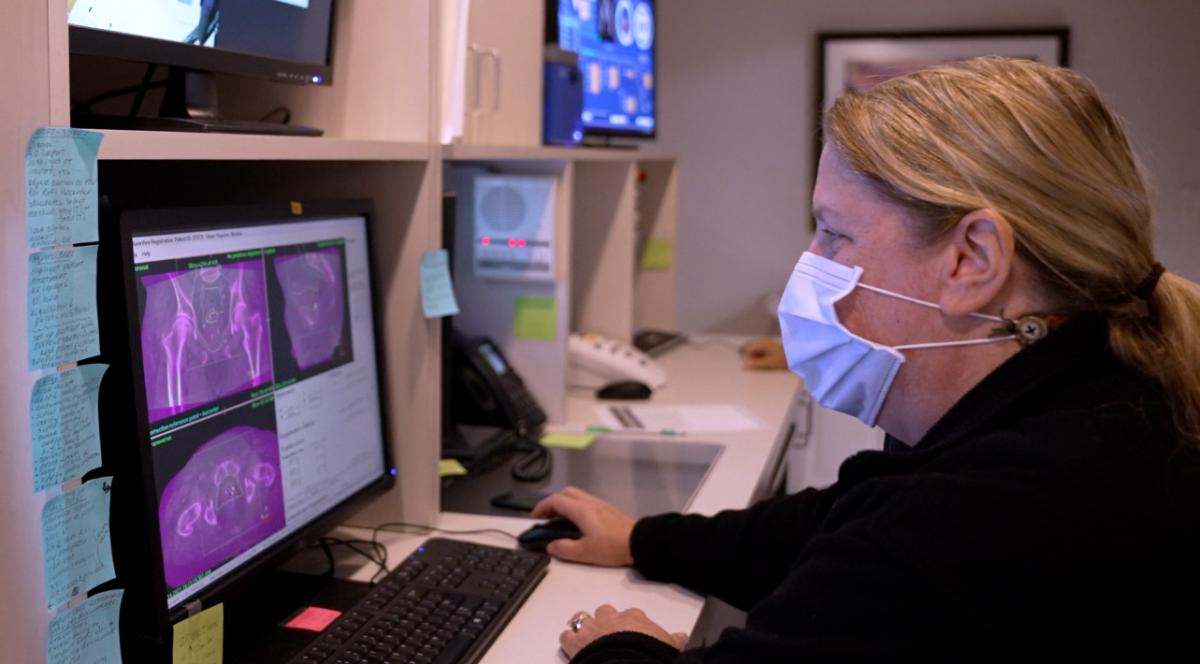 A technologist with UroPartners' reading CT scans with metal artifact reduction (MAR).
Boosting Patient Comfort Enhances Planning Process
Improving clinical confidence is key, but boosting patient comfort is equally important to the treatment planning process. 
The Persona CT's large, wide open bore keeps patients of all sizes calm, as it likely induces less claustrophobia than many other machines. Moreover, the Persona CT features high speed scanning which is especially welcome by patients who have trouble holding still. To help reduce side effects UroPartners treats patients with full bladders — another factor that can cause discomfort. However, with Persona CT the problem is alleviated because of the shorter scan time. 
"Reducing anxiety and discomfort in patients cannot be underestimated because it helps us deliver better care," said Mehta. "The sooner we can get the scan done, the sooner the patient can move forward with their treatment program."
Is Persona CT making a difference at UroPartners? Mehta replied with an emphatic 'yes.'
"In 2021 alone, there will be nearly 250,000 new cases of prostate cancer, so clinicians must do everything in their power to drive early detection and deliver proper treatment," said Mehta. "At UroPartners, having Persona CT to support our radiation therapy planning gives us an extra dose of confidence and our patients an extra dose of comfort."
For more information: healthcaresolutions-us.fujifilm.com
---
If you enjoy this content, please share it with a colleague