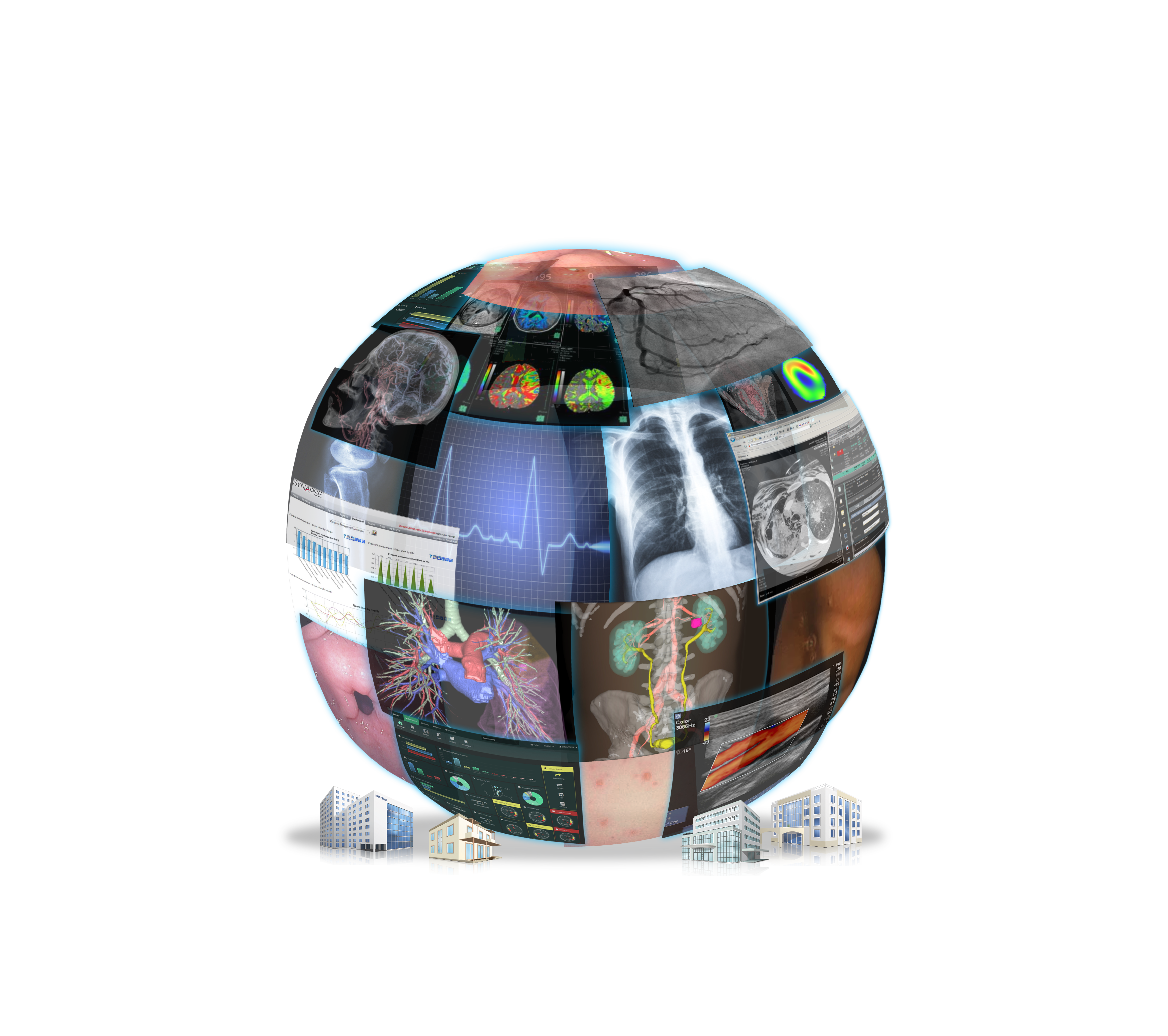 Image courtesy of Fujifilm
As healthcare technology continues to evolve at a rapid pace, the amount of patient data being collected continues to grow as well. Modern healthcare depends on getting that data to all members of the healthcare team (including the patient) in order to make the best decisions regarding treatment. For radiology, this means providing images to people both within and outside the department's walls, giving rise to the concept of enterprise imaging. Medical images are typically stored on one or more picture archiving and communication systems (PACS), but these are often department-specific and have their own sets of standards and rules that may impede workflow from the outside. Vendor neutral archives (VNA) offer one solution to unify imaging data in one central hub, normalizing different vendor systems and different data formats to something more universal.
Today's VNAs go beyond simply storing and distributing images, however. Vendors are offering integration with the electronic medical record (EMR) to ingest and connect non-imaging data as well to create a full picture of the patient's health. Protecting the data is paramount, and many companies offer some form of disaster recovery plan in the event that data is lost, accidentally or otherwise.
EMR Integration
While they have yet to achieve universal adoption, EMRs are quickly becoming an essential tool for healthcare professionals. According to the Centers for Disease Control and Prevention (CDC), as of 2015, 86.9 percent of office-based physicians were using an EMR system.1 Providers are using EMRs to take a more patient-centric approach, particularly as healthcare reimbursement in the U.S. switches from volume- to value-based. Vendor neutral archives can provide a bridge between the imaging and textual portions of the EMR to help create the bigger picture.
Imaging data stored in a PACS is typically archived in DICOM format, meaning that non-imaging data will not present correctly if ingested directly into the PACS. The latest generation of VNAs addresses this issue by allowing integration of both DICOM and non-DICOM objects. This can be achieved through a feature known as DICOM tag morphing, which transforms the values of various DICOM data pieces to make them compatible with other systems.
Infinitt North America unveiled its new Infinitt Healthcare Platform (IHP) at the 2018 Radiological Society of North America (RSNA) annual meeting in November, offering full integration with EMRs for content sharing and display. The platform fully supports a variety of data formats beyond DICOM, managing DICOM and non-DICOM data on an Oracle database.
Change Healthcare's Conserus Image Repository integrates with all major PACS, cardiac PACS and EMR vendors through a standard EMR web application programming interface (API), featuring HL7 notifications.
PaxeraVNA from PaxeraHealth is fully interoperable with all EMR and radiology information system (RIS) vendors, according to the company, and accepts non-DICOM objects. Image sharing is accomplished through HIE and XDS protocols, with an integrated universal viewer for all-departmental studies. Provider-to-patient image sharing is offered through native apps.
Disaster Recovery
While improved technology offers numerous benefits for patients and providers, it also comes with its own set of vulnerabilities. Several high-profile cyberattacks in recent years have resulted in patient information being stolen, and healthcare facilities can be subjected to natural disasters, power outages and any number of other catastrophic events.
When looking at VNA vendors from a disaster recovery perspective, there are several key elements providers should consider:
Track record for responding in actual disasters;
Whether the company has resources available to respond to multiple disasters simultaneously;
Whether the company has the procedures and technology in place to move massive quantities of data in short time frames; and
Application-level silent corruption/delete protection.
Intelerad introduced the Nuage Disaster Recovery Platform just before RSNA 2018 as a complement to its VNA offerings. The platform offers a flexible managed public cloud infrastructure designed to significantly minimize the impact of disaster recovery processes for medical imaging enterprises. It provides a cost-effective, cloud-based option that eliminates many of the information technology (IT) costs associated with an on-premise solution, offering high availability and elastic on-demand scalability while complying with regional patient privacy regulations. 
Reference
1.    Electronic Medical Records/Electronic Health Records (EMRs/EHRs). Accessed Jan. 3, 2019 from www.cdc.gov.nchs/fastats/electronic-medical-records.htm