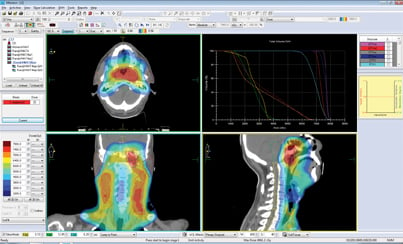 Although VMAT can be used for more complex tumors, it increases the time and complexity of treatment planning.
Tomotherapy and volumetric modulated arc therapy (VMAT) have emerged as two popular types of intensity modulated radiation therapy (IMRT) for the treatment of complex tumors. Because physicians can modulate or control the intensity of the radiation beam in VMAT and tomotherapy, both treatments provide high precision radiation with which tumors that are curved around critical organs can be treated.
While tomotherapy has been available for many years, VMAT has come forth in the past few years as a faster and more efficient treatment for certain cancers. Having uncovered the strengths and weaknesses of both VMAT and tomotherapy, physicians are using each treatment's distinct differences to advance the treatment of specific tumors. 
Uncovering the Basic Technical Difference
A major difference between the two treatments is a technical one. According to Todd McNutt, Ph.D., associate professor of radiation oncology physics and director of clinical informatics at Johns Hopkins, tomotherapy delivers treatment like a computed tomography (CT) scanner. "Tomotherapy delivers radiation in a modulated fan beam in a helical rotational pattern, which means that it does several rotations of a slice beam while the patient moves through the scanner," he explained. "VMAT is a broad beam that is shaped by a multileaf collimator as it goes around the patient. It's usually just a single arc, and the table with the patient doesn't move at all."
This technical contrast between the technologies makes for a distinct difference in treatment experience. "VMAT is a very fast treatment," said John Wong, Ph.D., professor and director of medical physics at Johns Hopkins. "One arc is typically delivered in less than two minutes." Tomotherapy, on the other hand, has a longer delivery time because of its use of multiple arcs.
Speed and Efficiency in Treatment
While there are some instances in which VMAT and tomotherapy can be used interchangeably, the aforementioned technical difference often makes one treatment more efficient for certain applications. According to Wong, if the planning is simple, such as in centrally located prostate and pancreas tumors, VMAT is the preference for many physicians because it is a faster treatment. McNutt agreed. "VMAT is going to be preferable on tumors where you can gain significant efficiency in the delivery of radiation and still get the dose distribution that you want out of it," he stated.
However, when VMAT is applied to more complex cases, the benefit of efficiency is often lost. "When you use VMAT on more complex cases like head and neck, you need to do multiple passes of the arc. By the time you get a plan that has the quality of conventional IMRT or tomotherapy, you're no longer gaining the delivery time because it takes so long to do the multiple arcs with VMAT," McNutt said. 
In addition to losing the benefit of speed, using VMAT for more complex tumors also increases the complexity of treatment planning. "With VMAT, when you do an arc, you basically have to calculate the whole volume for every small number of degrees because the beam is being modulated as you go around," said Wong. For those complex tumors that require multiple passes of the arc, dosimetrists would have to do quite a bit of long calculation. So, although tomotherapy is a slower treatment, it is usually the preferred treatment for complex tumors because its higher degree of intensity modulation allows physicians to achieve a more complex dose distribution. 
Preferential Treatment
There are also subtle differences between VMAT and tomotherapy that uniquely increase efficiency when treating certain tumors, making one technology more preferable for certain applications. For example, VMAT can be better at accommodating breathing motion due to its quick delivery. "When we do stereotactic body irradiation and want to perform breathhold type treatments on VMAT, the patient can hold their breath. When they release their breath we can stop the arc and go back and have them breathhold again," explained McNutt. "Because you can start and stop easier, breathing management is easier with a VMAT technique." 
Although it is possible to manage breathing motion with tomotherapy, it requires physicians to be a little more resourceful, drawing a bigger margin around the target and in some cases, using a gated delivery, which utilizes a breathing signal, based on breathing motion, that alerts physicians when they can turn on the beam. "With tomotherapy you are treating slice-by-slice, and trying to manage the breathing motion is a much bigger challenge than when you are just treating a volumetric arc," McNutt said.
Another feature that differentiates the two treatments is the ability to treat large volumes. "One of the advantages of tomotherapy is its ability to handle long treatment lengths. If a treatment volume extends more than 40 cm along the patient, a conventional linear accelerator can't treat it," McNutt said. "With cranio-spinal cases, for instance, you can continue to move the patient through with tomotherapy and cover up to a 160 cm treatment volume." 
Again, there are ways to achieve longer treatment volumes with VMAT, but it is much more complex. "We would have to do field junctioning and figure out various ways of doing it on a conventional linear accelerator," McNutt said.
A Shared Future
Because tomotherapy is an older treatment, many of its benefits have already been discovered, and according to McNutt, the technology has trended out. "It's sort of stable at this point," he said. VMAT, however, is still being rapidly adopted. "The uptake of VMAT is increasing as the numbers of accelerators that are getting installed have the capability," McNutt explained. 
As newer accelerators with VMAT capabilities continue to make their way into healthcare facilities, McNutt predicted that the use of VMAT will increase substantially over the next five or six years. "I think VMAT will take some of the market away from tomotherapy because it offers a conventional accelerator the ability to take patients away that would have normally been good candidates," he said. 
Not only is VMAT often a more efficient treatment technology that can give much better dose distribution information more quickly for simpler tumors, its use of a conventional linear accelerator (linac) provides physicians with flexibility and versatility in utilization that tomotherapy cannot offer. 
"If you look across all cancer and treatment sites, it's hard for tomotherapy to be the only machine in the department. The conventional accelerator offers electrons and other treatment techniques," McNutt said. For those single-linac clinics, opting for a VMAT that can perform a variety of treatments is oftentimes more economically feasible than investing in tomotherapy, which can only deliver photons — a trend that can already be seen in the healthcare community. Although Johns Hopkins has both VMAT and tomotherapy options within its network, Wong noted that for many facilities, it is most common to just have VMAT because it can be delivered by a standard accelerator.
And while the future seems to lean in favor of VMAT, both Wong and McNutt agreed that there is still a place for tomotherapy in radiation oncology. "I think tomotherapy will be for more special cases — more complicated dosimetry will still use tomotherapy," Wong concluded.
---
If you enjoy this content, please share it with a colleague